The Untold Story Of How BTS Met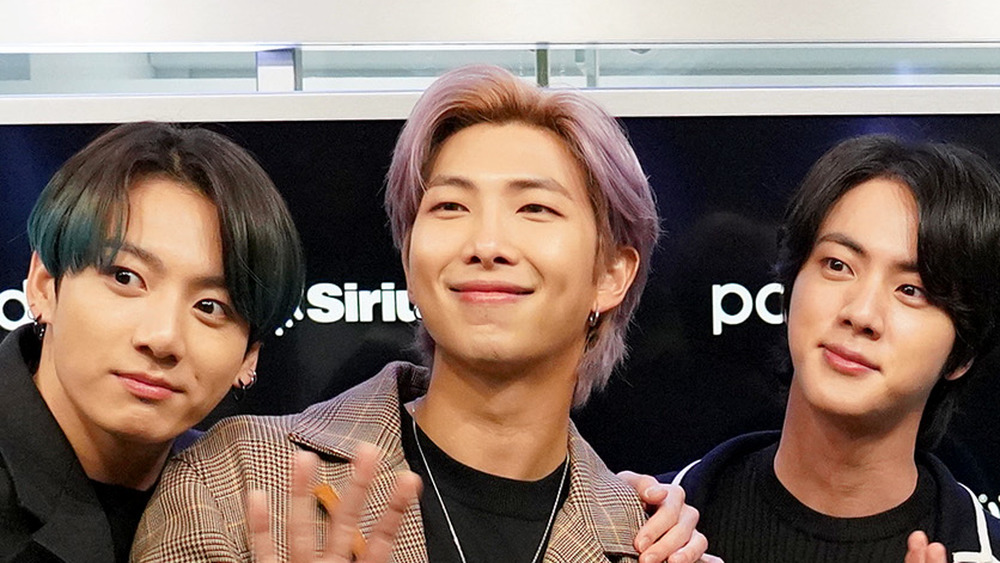 Cindy Ord/Getty Images
BTS is one of the biggest bands on the planet, but you might be surprised to learn how this Korean pop music sensation formed. While many Western musicians first meet and then decide to join talents as a group, most K-pop bands are organized by record labels who match young singers with one another. BTS debuted in 2013 with their song, "No More Dream," but went through formation and training for three years before their launch (via Stylecaster).
In 2019, Time profiled Bang Si-hyuk, founder and co-CEO of Big Hit Entertainment, who is credited with masterminding the world's largest seven-member boy band. "It's difficult for me to say things like A led to B," Si-hyuk told the magazine. "But what I can say is that BTS' success in the U.S. market was achieved by a formula different from the American mainstream formula. Loyalty built through direct contact with fans had a lot to do with that."
Si-hyuk largely credited good timing and luck in finding BTS members RM, Jin, Suga, J-Hope, Jimin, V, and Jungkook, who came together in 2010 to create the band, which is also known as Bangtan Boys in their native South Korea.
The group was formed around RM
Dia Dipasupil/Getty Images
Kim Namjoon is known by fans of the group as RM, which stands for Rap Monster, and is considered by many to be its frontman. He was a 15-year-old underground rap artist when he was discovered and invited to audition for Big Hit Entertainment, according to Entertainment Tonight. He speaks English and is the tallest member of the band. During a Q&A for The Ellen Show, he admitted to loving his height of 5'11".
Bang Si-hyuk told Time that when he heard RM's demo, he "signed him immediately. I had considered putting together a hip-hop crew, not an idol group. But when I considered the business context, I thought a K-pop idol model made more sense."
Suga and J-Hope were the next members to be found, with the others following quickly after. "From there, through auditions, we discovered and added members that had more of an idol-like quality to the group," Si-hyuk said.