Why Anderson Cooper Is Living With His Ex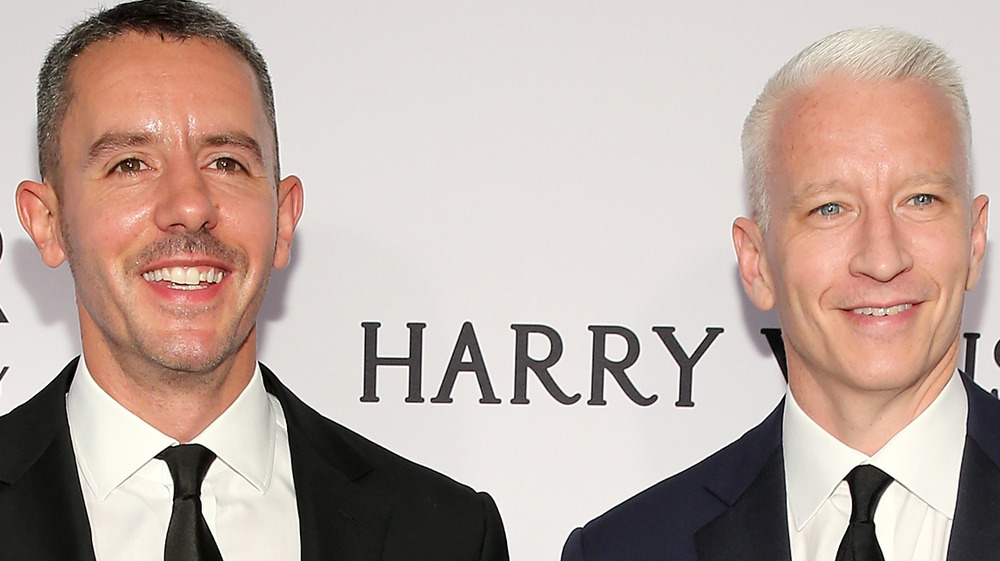 Neilson Barnard/Getty Images
Back in April of 2020, CNN host and New York Times bestselling author Anderson Cooper became a father. Despite the fact that he was no longer with his ex-boyfriend, Benjamin Maisani, at the time of Wyatt Cooper's birth, the pair still decided to actively co-parent together (per Entertainment Tonight).
The pair ended their 10-year relationship in 2018, citing that while they loved one another, they were no longer able to move forward as a couple. "Benjamin and I separated as boyfriends some time ago," Cooper told People. "We are still family to each other, and love each other very much. We remain the best of friends, and will continue to share much of our lives together."
A few days after his son was born, Cooper posted an emotional tribute to Wyatt's surrogate and others who made it possible for him to become a father. "As a gay kid, I never thought it would be possible to have a child, and I'm grateful for all those who have paved the way, and for the doctors and nurses and everyone involved in my son's birth," Cooper posted on his Instagram. "Most of all, I am grateful to a remarkable surrogate who carried Wyatt, and watched over him lovingly, and tenderly, and gave birth to him."
Until appearing on The Ellen DeGeneres Show this past Wednesday, February 10, it was apparently not clear that the pair's co-parenting efforts included living in the same space.
Cooper and his ex are striving to create a large support system for their son
On Wednesday, Anderson Cooper revealed that he was still, in fact, living with his ex to ease the co-parenting strain. "We actually still live in the same house because we get along really well," Cooper told DeGeneres (per Page Six).
Cooper went on to explain that prior to becoming a father, Maisani was hesitant to become a parent at all. "It was interesting because he wasn't really sure he wanted to have a kid, which was one of the reasons we probably broke up," Cooper said. "But then he came around on the idea, and now he is just such a great parent." He then told a story that exemplifies Maisani's pure love for his new child. "We went to take Wyatt to get some vaccinations, you know, the regular course that kids get — he hasn't skipped the line for COVID or anything, these are just the regular vaccinations — and Wyatt doesn't cry when he gets his shot," Cooper said (per People) "But I turned around when Wyatt got his first shot, and Benjamin is weeping. He's become this, like, big softie. It's really sweet to see."
Though many have hoped to see the couple rekindle their romance, Cooper dismissed the thought altogether, stating that the couple would not be getting back together (via Page Six). One thing he did not rule out, however, was adding to the family. "I think it'd be great for [Wyatt] to have a sibling," Cooper said, then quickly adding, "I'm not sure I could handle another."