Things You Didn't Notice In Ariana Grande's Remix Video For 34+35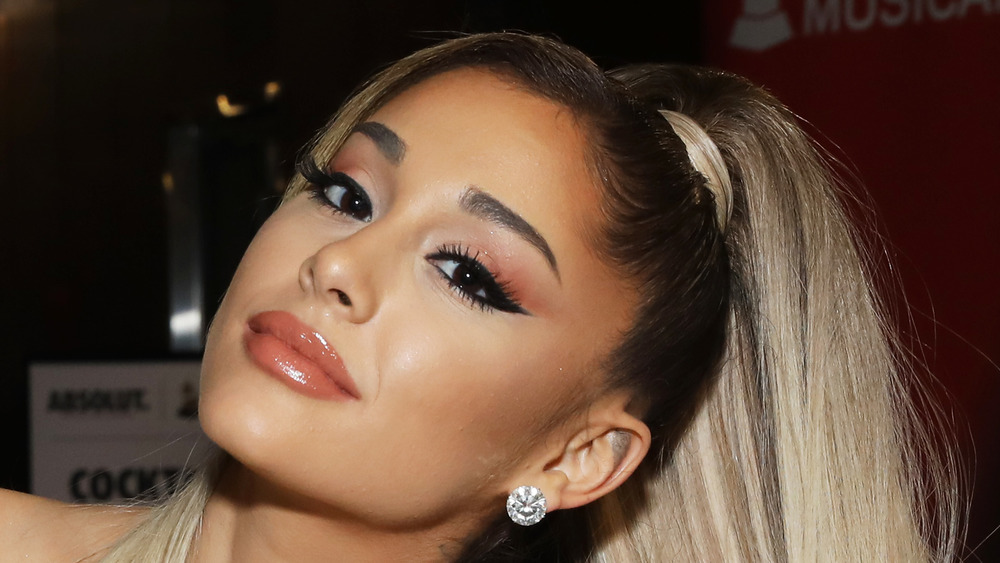 Robin Marchant/Getty Images
As the final hours of February 11 drew to a close, pop music and ponytail icon Ariana Grande released the music video for the remixed version of her song "34+35," featuring rappers Doja Cat and Megan Thee Stallion (per Pitchfork). After dropping hints as to what the music video might contain (after all, her music videos are usually packed full of hidden meanings) since early January of 2021, millions of viewers tuned in to soak in every second of the new music video. The original version of the song got its own music video in November of 2020.
In the music video, Grande and her friends, dressed in their finest lingerie, celebrate a steamy night in with poolside champagne, room service, camcorder shenanigans, and luxurious revelry in a '60s-inspired hotel suite. While Grande sits atop a vintage television set, Doja Cat is rapping next to a Dalmatian dog and Megan Thee Stallion is dancing in a bubble bath.
Apart from Grande's typical playful antics, there are a few additional elements in this music video that have fans questioning whether or not the singer has purposefully planted some hidden messages in the "34+35" video.
Fans have noticed the little details in the music video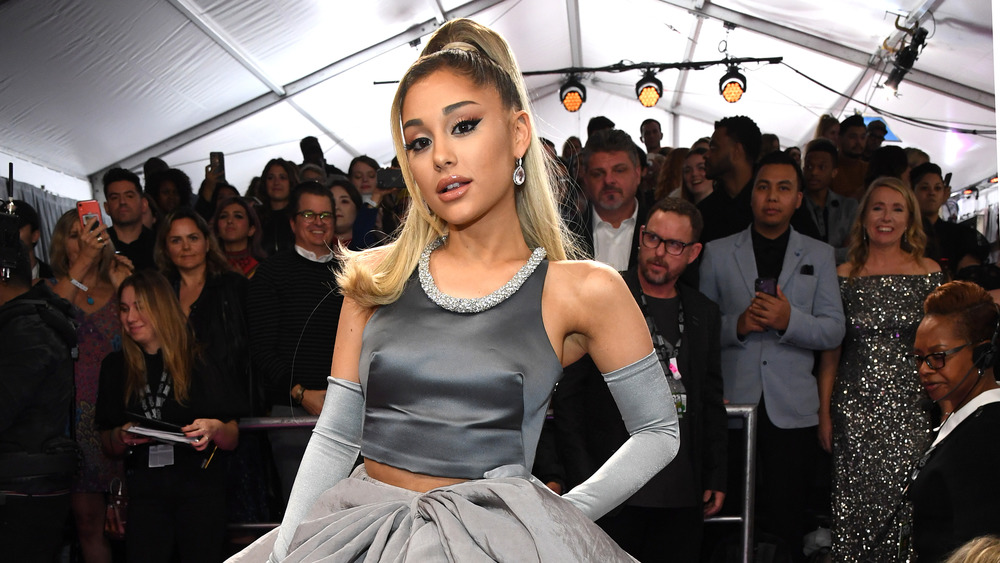 Kevin Mazur/Getty Images
In December of 2020, Grande announced via Instagram that she was engaged to her boyfriend of nearly a year, luxury real estate developer Dalton Gomez (per BBC). Throughout the singer's "34+35 (Remix)" music video, Grande was proudly sporting her engagement ring (stans of the couple can now take a deep breath).
While the rest of the music video is full of sexual innuendos, there are a few brief moments in which Grande takes the time to order room service for her crew. Grande asks, through an intercom system, for the desserts that "come on fire." At the end of the music video, she realizes that she wanted Baked Alaska, a dessert that consists of ice cream and cake smothered in brown meringue. A few of her fans took issue with this portion of the music video, as Grande has stated on multiple occasions that she is vegan — and that dessert definitely wouldn't qualify as vegan (via The Focus).
And lastly, the fact that Doja Cat is rapping next to a Dalmatian dog while rapping a verse that throws shade at fellow rapper Tekashi 6ix9ine is not lost on us. Back in May of 2020, shortly after 6ix9ine was released from prison, he released a music video for his song "GOOBA," which contained multiple scenes of him playing with a Dalmatian puppy (per Hypebeast). Is Doja Cat making fun of her fellow rapper? We'd like to believe that coincidences do not exist in the music industry.