Inside Jennifer Lawrence's Romance Scenes With Chris Pratt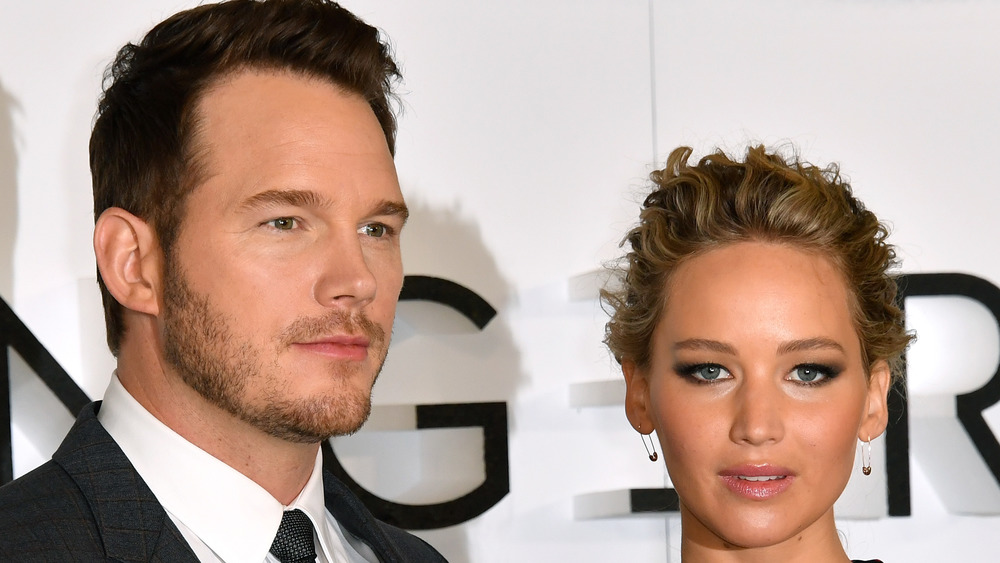 Gareth Cattermole/Getty Images
Jennifer Lawrence and Chris Pratt may have looked the part of a couple who were completely in love in the 2016 film Passengers but according to Lawrence, it wasn't easy making their love scenes look genuine.
During a 2015 roundtable discussion with The Hollywood Reporter and several other actresses, including Jane Fonda, Helen Mirren, and Cate Blanchett, Lawrence revealed that filming her very "first real sex scene" with Pratt was a "bizarre experience" before admitting to getting "really, really drunk" beforehand in an effort to calm the nerves she was feeling. "It was really bizarre. It was really weird," she shared.
Then, when Blanchett questioned what exactly she meant when she said it was her first "real" love-making scene, Lawrence clarified that nothing real had gone down between them, despite the many rumors that followed the production of the film. "It's just a bizarre experience," she explained.
While Lawrence attempted to use alcohol to loosen her up for the scene, she ultimately regretted the decision. "That led to more anxiety when I got home because I was like, 'What have I done? I don't know,'" she recalled. Understandably, Lawrence felt guilty about her romantic scenes with Pratt due to the fact that he was married to actress Anna Faris at the time.
Jennifer Lawrence and Chris Pratt's love scenes were a bit too convincing for some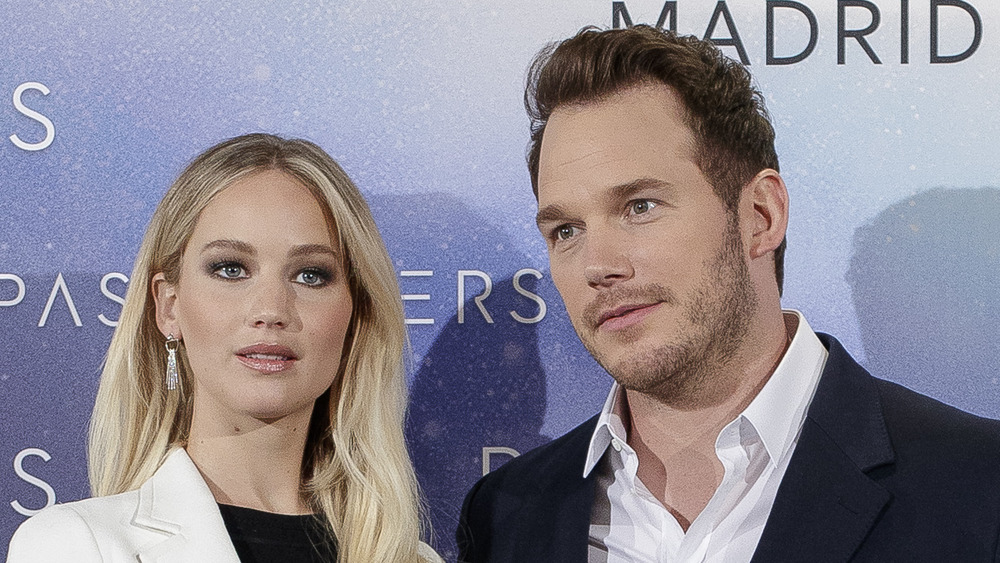 Eduardo Parra/Getty Images
Looking back on their first kiss of the film, which was taped as their characters wore oversized spacesuits, Lawrence told USA Today that as they leaned in to film the scene, their chest plates collided. Lawrence recalled, "Our heads couldn't reach each other. We had a good laugh about it, and we incorporated it into the movie."
During the same interview, Pratt recalled an awkward moment in which he was forced to rock a table back and forth in an effort to make it seem as if something wild was happening between him and Lawrence. "I was surfing on the table, trying to simulate some sort of sex," he shared. Meanwhile, Lawrence noted that "sex scenes are the most unsexy things in the world."
Despite the awkwardness between Lawrence and Pratt on set, some suspected that their on-screen romance had turned into a real-life relationship after learning Pratt's marriage to Faris came to an end. That said, both parties have maintained that they were nothing more than co-workers and friends. 
"I never had an affair with Chris Pratt on Passengers," Lawrence told KISS FM (via the Evening Standard). "That's a good one... I mean they got a divorce like two years later, and everybody was like — Jennifer Lawrence! And I was like, what the... what I'm in Montreal two years later."