How Meghan Markle Hid Her Baby Bump From Everyone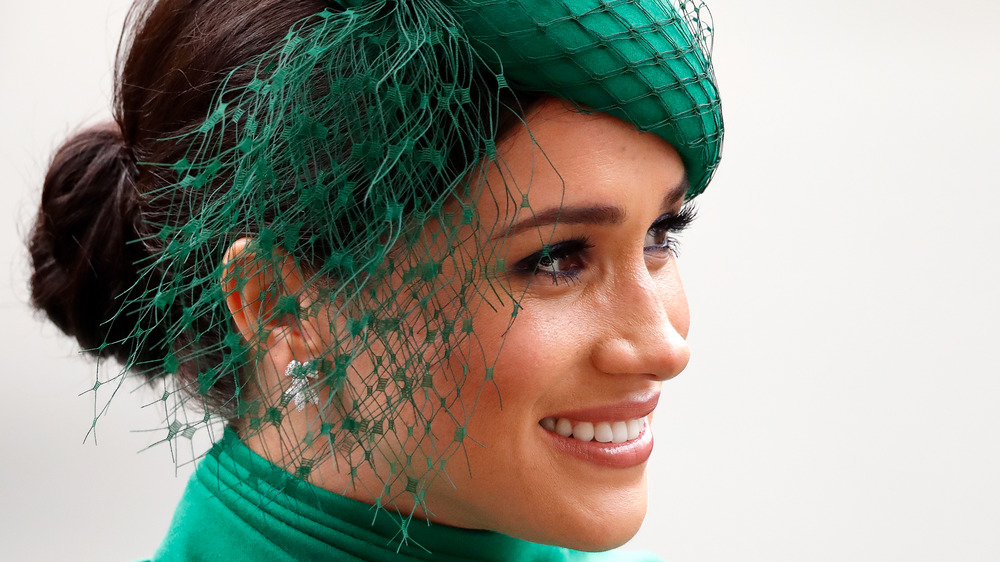 Max Mumby/indigo/Getty Images
The announcement that Prince Harry and Meghan Markle are expecting their second child came as a shock to millions. A loving Valentine's Day message from the couple might have been expected, but this news came seemingly out of nowhere. The timing, however, couldn't have been more perfect, coming as it did on the anniversary of the day Princess Diana announced her pregnancy with Harry back in 1984. Of course, the Duke and Duchess of Sussex are delighted to be giving Archie a sibling, and no doubt are feeling even more blessed after Meghan suffered a miscarriage this past July. This also marks the second expansion of the royal family in 2021, coming right on the heels of the birth of Princess Eugenie's son on February 9.
What really has royal watchers buzzing, however, is the photo that the Sussexes made public, courtesy of family friend Misan Harriman (via People). The black-and-white shot shows the royals looking tenderly at each other, with Markle's baby bump distinctly visible. In fact, it would appear that the duchess is fairly well along — perhaps already into her second trimester. How did such a public figure manage to keep her pregnancy a secret for so long?
Clever camera tricks disguised the duchess's secret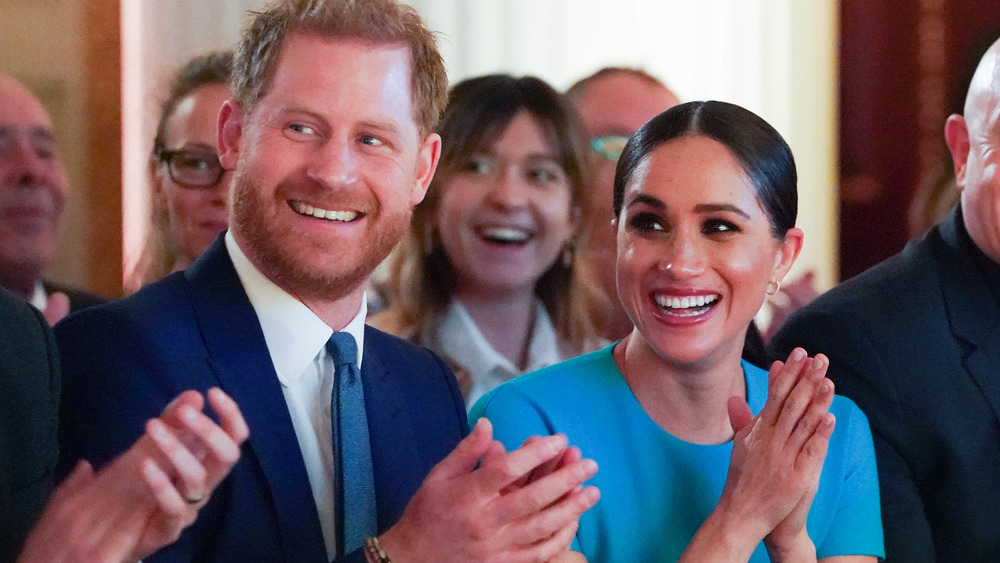 Wpa Pool/Getty Images
Celebs know that their every move will potentially be scrutinized by the media — and famous women are keenly aware that even the slightest hint of bloating could lead to "Is she ... ?" speculation. So the royal couple took extra care to cover up Meghan's condition before they were ready to announce the news themselves. On February 6, the two joined a video conference sponsored by the youth poetry organization Get Lit, sharing their love of literacy in honor of Black History Month. But the two strategically positioned the camera so that just their heads and shoulders were visible, and of course mentioned nothing about the news they would share just a week later (via the Daily Mail). Meghan's only public appearance prior to that was back in mid-December, when she shared a video message for CNN's "Heroes" series. Again, she was shown mainly in close-up.
Because neither Meghan nor Harry has a public social media account, no one can see any personal photos they may have been taking during this time. Now that the (Earl Grey) tea has been spilled, however, perhaps we can expect to get more frequent views of the mom-to-be before the littlest Sussex arrives.