Princess Eugenie Shares Exciting Family News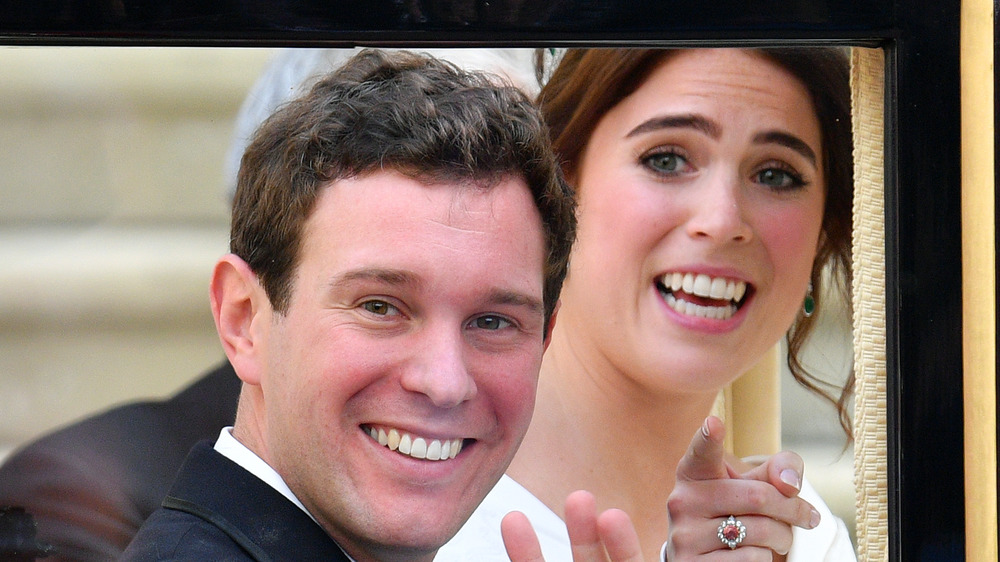 Pool/max Mumby/Getty Images
The world just got a little more royal. Buckingham Palace just announced Princess Eugenie, daughter of Prince Andrew, is the mother of a baby boy with her husband Jack Brooksbank. The official palace statement reads: "Her Royal Highness Princess Eugenie was safely delivered of a son today, 9th February 2021, at 0855hrs at The Portland Hospital. Jack Brooksbank was present. The baby weighs 8lbs 1oz. The Queen, The Duke of Edinburgh, The Duke of York, Sarah, Duchess of York, and Mr and Mrs George Brooksbank have been informed and are delighted with the news."
The palace went on to say that both mother and baby are "doing well," but the princess' Instagram followers already knew that. In true 21st-century style, the new mom posted a heartwarming picture on her Instagram account just a few hours after giving birth. The black-and-white shot shows her and Brooksbank's hands tenderly holding their son's tiny fingers. Her caption said it all: three blue hearts and an exclamation point.
The littlest royal is the ninth great-grandchild of Queen Elizabeth and Prince Philip, and the first grandchild for Prince Andrew and Sarah Ferguson. But despite his noble lineage, there's little to no chance that he'll ever become king. Princess Eugenie is currently tenth in line to the throne, which will make her son the 11th. However, their positions will be shifted far lower once Prince William's children (to date: George, Charlotte, and Louis) grow up and have kids of their own, with Prince George's offspring taking priority.
The little royal's name is still a secret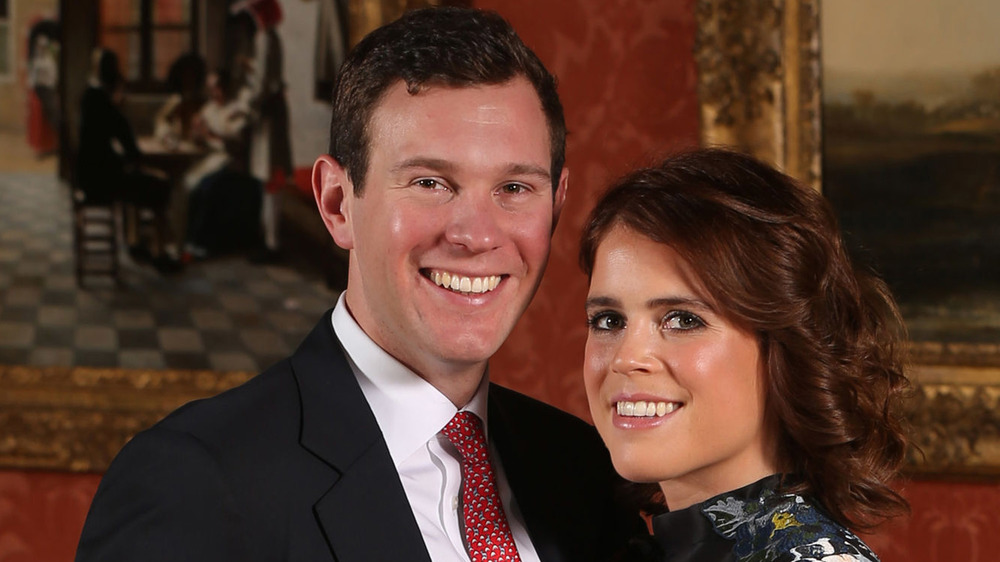 Wpa Pool/Getty Images
Baby Boy Brooksbank's name hasn't been revealed yet, which isn't unusual. According to Town and Country, British royal family members typically wait a few days before making a new baby's name public. Meghan and Harry, per USA Today, announced they'd named their baby boy Archie Harrison Mountbatten-Windsor two days after his birth. There's no specific law or tradition in play; often, it's simply a matter of the couple wanting to tell their immediate family first. They also have a tougher decision than most commoners, since royal family members usually have three or more names, carefully chosen and reflective of their family history. The princess herself was christened Eugenie Victoria Helena, after Queen Victoria, her daughter Helena, and granddaughter Eugenie (via Good Housekeeping).
And unlike his cousins George, Charlotte, and Louis, this newborn little boy probably won't get a title before his name. Since the baby's father isn't royal-born, he's not entitled to be called Prince or even Duke unless the Queen offers him the title. Even if she does, Eugenie isn't likely to want an attention-grabbing title for her son. Via Insider, the princess isn't a "working royal"; she holds a private job and doesn't have the same royal responsibilities as, say, her cousin, the Duke of Cambridge. By all accounts, Eugenie and Jack are happy to stay out of the spotlight, and their little boy will enjoy a quieter life, too. (Okay, maybe he'll still have some pretty awesome birthday parties.)
Fans are ecstatic about Princess Eugenie's Instagram pic
As Hello! points out, in posting the picture of her little one over her own, personal social media account, Princess Eugenie broke a tradition of sorts. We're usually introduced to new members of the British royal family via a photo-op outside the hospital. But Princess Eugenie and her husband chose symmetry over tradition. (Royal followers will remember that they announced their pregnancy over Instagram, as well). From the far reaches of the internet, royal followers are gushing over Princess Eugenie's baby pic, sending congratulations, blessings, and heart emojis. For a time, it seems, royal gossip has been replaced with "oh my goodness," "ahhs," "so precious," and "wows."
Twitter has also succumbed to royal baby fever, as royal reporters from far and wide spread the happy news. The Royal Family's official Twitter announcement has racked in over 30,000 likes, at the time of this writing. The Daily Mail's royal editor, Rebecca English took the opportunity to give us a history lesson: Princess Eugenie gave birth to her son in the very same hospital she was born in.
But while social media fawns over this newest, royal baby pic, others within the royal family must see the news as a call to action. We're talking about William and Kate. According to US Weekly, the Prince and Duchess of Cambridge are reportedly now trying for their fourth child, to the delight of Queen Elizabeth, who couldn't be happier about her coterie of grandchildren.