Shawn Mendes' Photo With Camila Cabello Is Turning Heads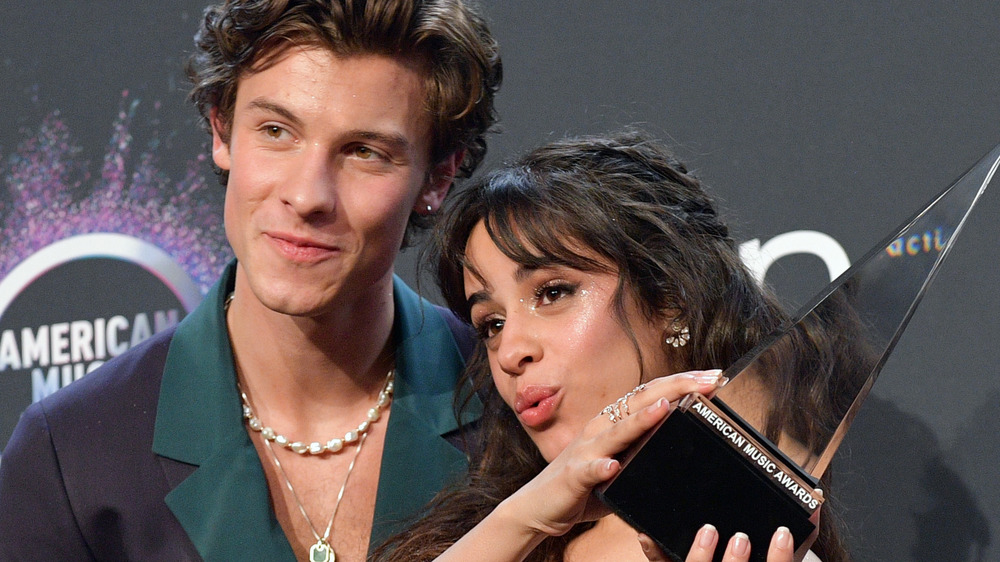 Matt Winkelmeyer/Getty Images
Valentine's Day was a day for love ... and Shawn Mendes and Camila Cabello showing their affection by being questionable on social media again. The couple have always had an air of mystery around them, starting with speculations of them being an item when they first came together to collaborate on "Senorita" in 2019 (via YouTube). Next, people accused their relationship of being a publicity stunt or propaganda to promote their PDA-filled music video. But soon after, Cabello squashed the rumors, announcing on the Capital Breakfast radio show, "We're pretty happy. I really, really love him a lot." 
The two haven't been shy when it comes to showing off their love, from aggressively making out on Instagram to walking hand-in-hand like zombies in the street (via BuzzFeed). But while the two are very cute and rom-com-esque, they have also been known to be a little weird together. They seem to have a sort of love for each other that is so intense, it's like there's no one else in the world — which sounds cute, but also leads to some awkward PDAs (via Elle).
Shawn Mendes loves Camila Cabello from her head to her toes
In a Valentine's Day post on Instagram, Mendes shared a photo of him holding Cabello's foot and kissing her toes. "I kiss your foot cuz I love you @camila_cabello," read the accompanying post (via E!) 
In response, Cabello commented, "Love u papo." 
Lots of people were weirded out by the photo, though, responding with comments like "UNSEE!" "Honestly ruined my day," and "Shawn, delete this."
Others, however, found the photo to be a sweet symbol of their love and how comfortable they are with each other.
Cabello, on the other hand, posted a much more conventional Valentine's Day photo of the two of them kissing, with a caption that read, "My Valentine's got a ponytail! Happy love and friendship day @shawnmendes."