This Is Why Ted Cruz's Travel Plans Are Raising Eyebrows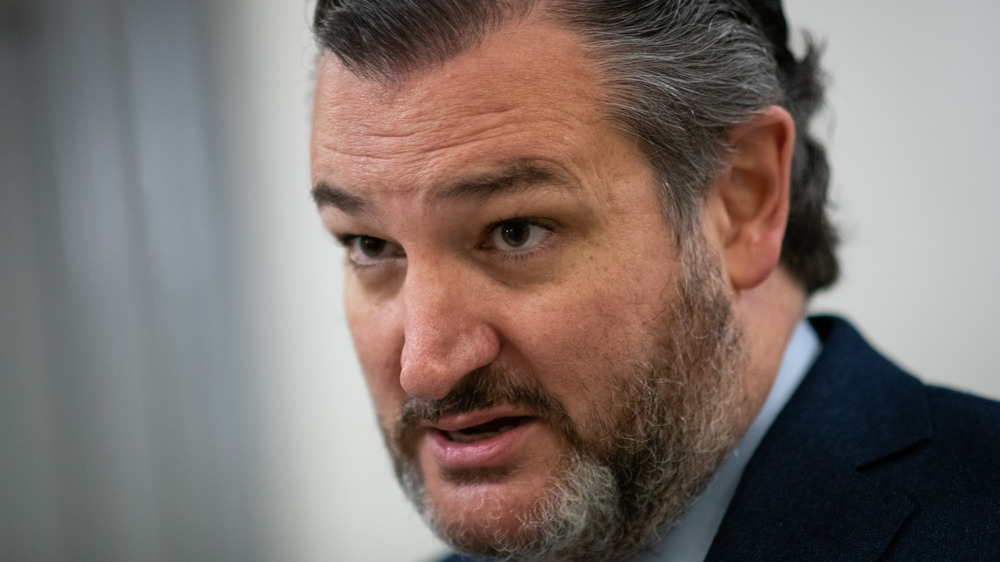 Bloomberg/Getty Images
Things aren't looking too good in Texas at the moment. Thanks to a massive winter storm which brought six inches of snow and single-digit temperatures, the state saw a surge in electricity demand which knocked out power grids, leaving millions in the dark with neither heat nor electricity, and dealing with rotating power outages with no end in sight (via CBS).
The federal government has declared a state of emergency for Texas, and the Biden administration is sending emergency generators, water and blankets (via Axios). And while it's been most hands on deck for officials and politicians across Texas, one man appears to be missing: Senator Ted Cruz, who appears to have boarded a commercial flight to Cancun, Mexico with his family. 
Photos of the Senator began circulating on social media, which were first confirmed to be of Cruz by MSNBC anchor David Shuster, who tweeted "Just confirmed @SenTedCruz and his family flew to Cancun tonight for a few days at a resort they've visited before. Cruz seems to believe there isn't much for him to do in Texas for the millions of fellow Texans who remain without electricity/water and are literally freezing."
Sources confirmed Cruz's trip to Cancun, Mexico
The Dallas News subsequently reported on Cruz's family vacation, saying that the senator had been outed immediately by others who were also traveling out of Bush Intercontinental Airport in Houston on Wednesday night. Cruz's plans were also confirmed by a GOP source, saying "the photos speak for themselves" (via Twitter).
Long before the confirmation, the word "Cancun" began trending on social media, with numerous Twitter users calling on the Senator to deny that he had left, or confirm that he was in Cancun; either way, they were merciless. "Ted Cruz going to Cancun for vacation as his constituents freeze to death is peak Ted Cruz Meanwhile, Beto O'Rourke is working as hard as anyone in America to help the people of Texas One of these two men deserves to be an elected official, the other a cabana boy at Mar-a-Lago," tweeted one angry social media user. Another said: "Ted Cruz flying to Cancun while his people are freezing to death is like a Senator who tries to fundraiser while the Capitol is under attack. Oh, wait... he did that too.. What a scumbag." A third, rather cheekily commented that: "I saw 'What a POS' trending and I knew it was about Ted Cruz."