Miley Cyrus Shares Heartwarming News Of A New Family Member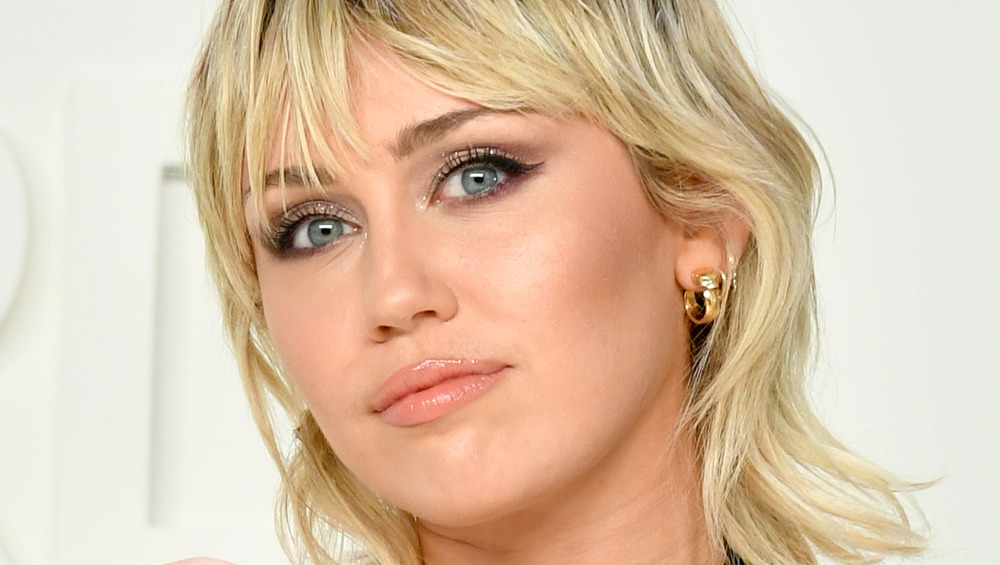 Amy Sussman/Getty Images
Welcome to the Cyrus family, Angel! On Feb. 21, 2021, Miley Cyrus announced on Instagram that she brought home a new dog called Angel. The precious pit bull was named in honor of Cyrus' beloved dog Mary Jane, who died from cancer.
The "Midnight Sky" singer posted several photos of her new pup, alongside her pooches Emu and Bean. Cyrus wrote, "Almost two months ago my best friend a rescued pit mix Mary Jane left this world. I knew she wasn't gone for good. She had out lived the body she was in but she never said goodbye ..... with her eyes she whispered 'See you soon Bestie.'" Cyrus also said her late dog "defined loyalty and would never break a promise." She continued, "I feel her here with me blessing this new member to my family who's name is 'Angel' because she was delivered to me by one... My Mary."
As Cyrus shared on Instagram Stories on Jan. 7, 2021 (via People), Mary Jane died about a year after she was diagnosed with cancer. "[I was] advised to spend every second savoring her special spirit.... which wasn't anything new. I had been for 10 years," she wrote. 
Miley Cyrus says her new dog's 'halo shines for all to see'
As for Angel, Cyrus is already swooning over her new pup. "I am head over heels in love," she wrote on Instagram. "Not sure I will ever sleep again because I can't take my eyes off of her! Her halo shines for all to see and I can't wait to show her off! It's pretty cool having an Angel on a leash! She is illuminated by the aura of the late and great Mary Jane. Long live love. It never dies." Regarding one of the snaps where it's clear Cyrus had been crying, she wrote, * ALL THE TEARS YOU SEE IN THIS SLIDE ARE HAPPY ONES * 🦴 ️
And just like Mary Jane, Angel is a rescue dog. "It breaks my heart to know Angel was sleeping on concrete in a shelter for 3 months before finally making it home," Cyrus wrote. "The stigma and stereotype that surrounds pit bulls tears me in two. This breed is incomparably loving. Just like humans nurture often overrides nature."
Congratulations to the Cyrus family for their new (and much-loved) addition.