Lionel Richie's New Relationship Is Raising Eyebrows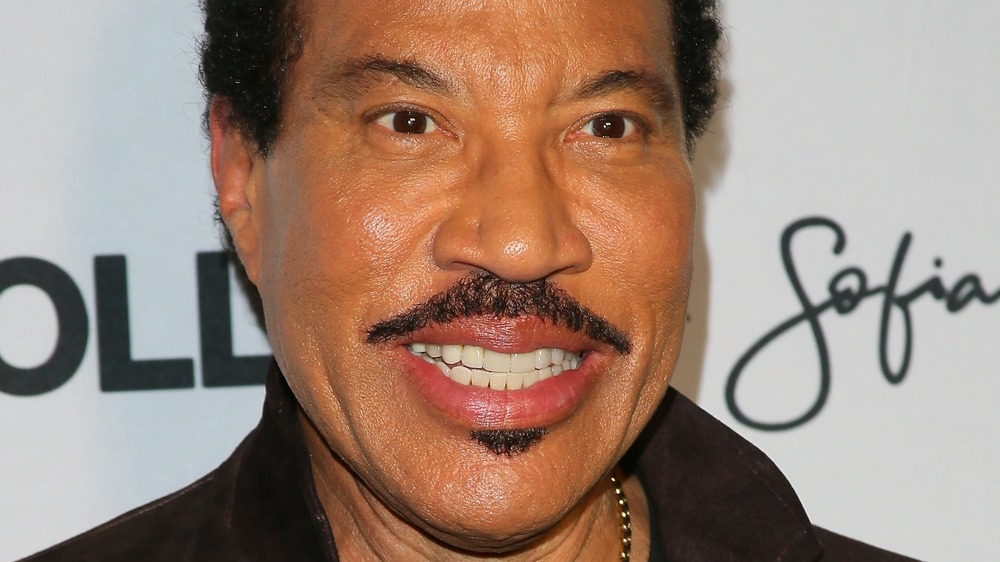 Jean Baptiste Lacroix/Getty Images
Lionel Richie is raising eyebrows as he debuted a new couple's photo for Valentine's 2021. Gorgeous humans — check. Smiling faces — check. Happy couple — also check. With all these boxes checked off, you must be wondering what has the message boards pinging. The fact that there is a significant age difference between Richie and girlfriend, Lisa Parigi, is the answer. Richie is reportedly 71, while Parigi is said to still be in her 30s (via Page Six). For those of you doing the math, his famous daughter, Nicole, is 39, and his other two children are Sofia, 22, and son, Miles, who is 26.
The photo causing the stir on Lionel Richie's Instagram doesn't say anything controversial in itself, and the post is rather modest saying, "Love is in the air 💞 and #AmericanIdol is back on our screens TONIGHT 🌟 on @abcnetwork at 8/7c! Happy Valentine's Day from @lisaparigi_ and I [heart emojis]." In addition, this relationship isn't actually that new, with the attractive couple spotted together since at least 2014 (via Getty Images). It's not as if the couple even looks like a mismatch, as many note that Richie looks absolutely amazing for his age. So what is the upset?
As one reader explains, that 40ish-year age gap means, "She was probably conceived while one of his songs was playing in the background. Talk about Lionel setting up his future," (via Twitter). Essentially, there's an ick factor — but why?
What is age-appropriate?
Now, to be clear, the relationship choices of two consenting adults are really none of our business. So why can't we stop talking about this recently re-noticed couple? Studies tell us that when viewing a giant age gap (such as 40 years), there is often an assumption that the elder person is exploitative in some manner (via Psychology Today). This assumption is backed up by examples such as Holly Madison's accounts of Hugh Hefner and Bill Cosby in 2008 (via ET Online). The idea of exploitation has recently been on our minds too, as stories of Evan Rachel Wood's accusations against Marilyn Manson are front and center right now (via Vanity Fair). 
Yet, to be fair, we have absolutely no evidence to be making these assumptions about this specific couple. In fact, they look pretty darn happy.
Some psychologists say that, while there may be some evidence to back up our "ick," there is definitely no one-size-fits-all predictor of how happy or healthy these pairings can be. Studies also find that your ick factor can be very subjective, based on age and upbringing. So, while we can make "all night long" jokes all day long on the internet, we don't really know how this dynamic works — and we definitely don't know why this long-term relationship has finally come to attention now.