The Truth About Norman Lear's Ex-Wives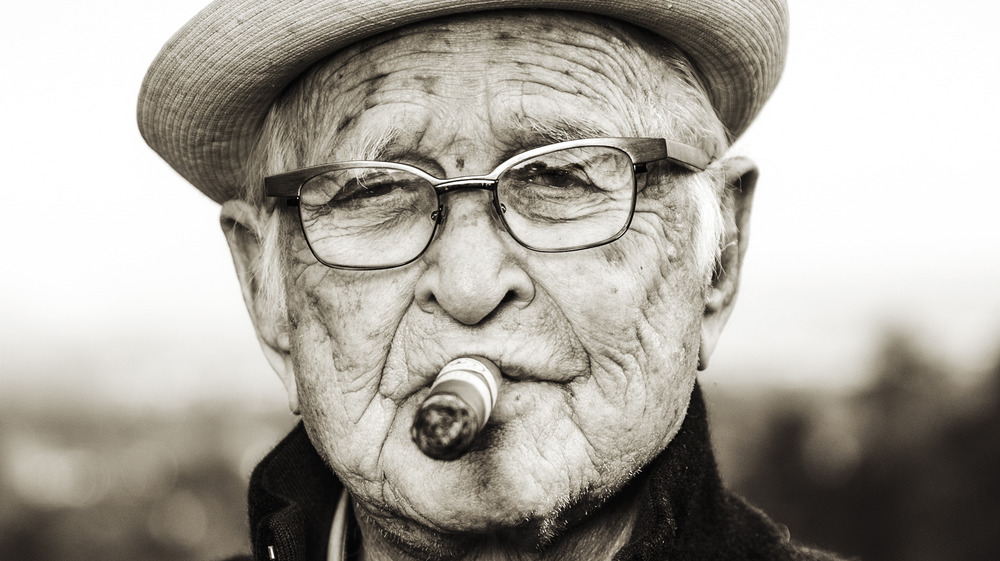 Rich Polk/Getty Images
In 2019, TV legend Norman Lear's wife, Lyn, told Closer Weekly that Lear is "the last of the real romantics." Lyn wasn't speaking as a newlywed: She was reflecting on 31 years of married life and three children. "Every morning, he wants to have a kiss when I wake up. It's a nice way to start the day," Lyn said. 
Norman is happy with Lyn, too. "I love the way she loves me," he told the magazine, "I'm just one selfish cat!"
The man who helped create One Day at a Time, Maude, The Jeffersons, Good Times, Sanford and Son, All in the Family, and more — and is being honored at the Golden Globes with the Carol Burnett Award — fell in love with Lyn when she approached him for help on her PhD (via The New York Times). Before her, two other women shaped his life. He met his first wife, Charlotte Rosen, when he was a teenager. "It's as if I wanted to be the youngest man with a trophy wife," Lear reflected in his memoir, Even This I Get To Experience. 
He met his second wife, Frances Lear, well into his career as a television writer. "When she walked into a room, an air of danger and a touch of class came with her. And that was true whichever of her bipolar moods she was in," Lear wrote in the book. Neither of Lear's first two marriages led to happily-ever-afters. In fact, both deserve television storylines of their own. 
The truth about Norman Lear's wartime marriage to Charlotte Rosen
As he wrote in his memoir, Norman Lear and Charlotte Rosen got engaged after seeing each other "fewer than a dozen times." They met in 1939 on a hayride. He was 17. She was 18, and working at a cosmetics counter. Lear writes that the two had hardly any common interests. He was, nonetheless, "attracted to the idea of a Charlotte long before I met her." In 1942, Lear dropped out of college to join the Air Force (via WWTW). A year later, Norman and Charlotte were married.  
A decade, a daughter, and a move to Los Angeles later, and their marriage was falling apart. As he explains in his memoir, Lear wanted to move to New York to advance his career. But Charlotte, who was, per Lear, "seeing a therapist five times a week," didn't. She was intent on staying in L.A. to continue therapy. And while Norman found a "lovely" place for him, Charlotte and their daughter, Ellen, to live, Charlotte never moved. Ellen did, eventually, when she was 14, to stay with Norman and his new wife, Frances.
Why Frances Lear divorced Norman Lear
Frances and Norman Lear were married for 28 years and had two daughters before divorcing in 1985. Frances used some of her $100 million settlement to start the feminist magazine Lear's, which catered to "the woman who wasn't born yesterday" (via The New York Times).
If she wasn't an easy person to work for, Frances credited her attitude, in part, to her time with Norman in Hollywood, where as her former associate said, "you are prized for being slightly nuts" (via The New York Times). An early survivor of sexual abuse, Frances lived a life shaped by her bipolar disorder, alcoholism, and suicide attempts. It was partly this turbulence that intrigued Norman. "Everything I knew about her difficult and colorful life before I appeared at her front door fascinated me," he wrote in his memoir. 
Frances was 32 when she met Norman. She'd been divorced two times already. After realizing "we had become he" in their marriage, she worked up the strength to leave (via The New York Times). 
"I was nothing but my marriage and my motherhood ... I was what the women's movement was all about. ... I took care of people, nurtured, loved — though I must say I did it to the extreme," Frances said of their time together (via The Washington Post). The divorce did Frances good. The last half of her life, first in publishing, and then in television, was the half she valued the most. "I think I'm admirable now," she said at the age of 68, "and interesting."