Trump's Surprising Post-Accident Tiger Woods Prediction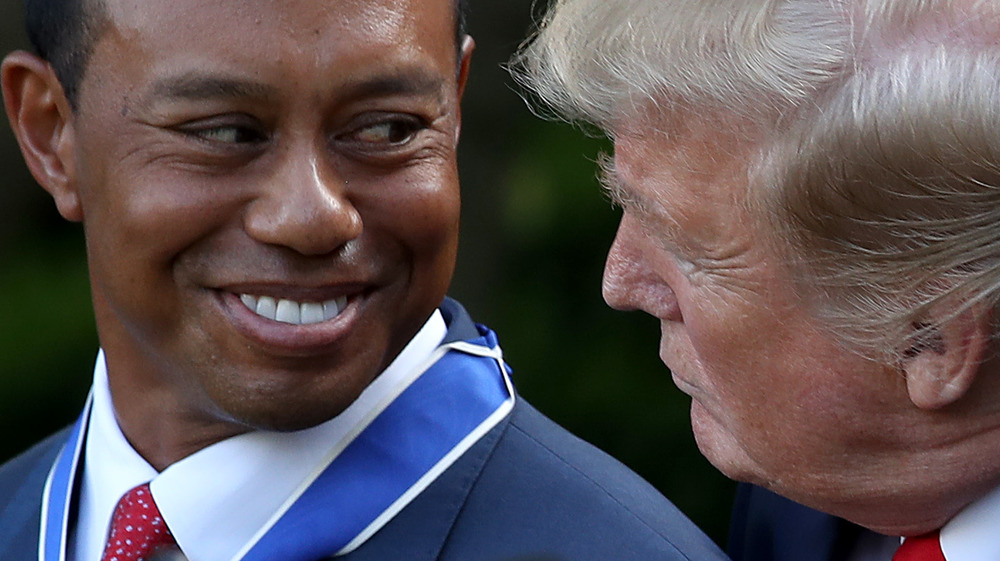 Win Mcnamee/Getty Images
On Feb. 23, Tiger Woods was involved in a car wreck while driving in Rancho Palos Verdes, California. Los Angeles County Sheriff Alex Villanueva said the golfer was going at a "relatively greater speed than normal" down a hill. He went on to say that Woods' SUV hit a median, rolled several times, and hit a sign, curb, and tree (via ESPN).
L.A. County Sheriff's Deputy Carlos Gonzalez arrived on the scene to find Woods trying to get out of the vehicle, several hundred feet away from the road. He was wearing a seatbelt, was conscious, and was "incredibly calm." L.A. County Fire Department Chief Daryl Osby, meanwhile, reported that a pry bar and an ax were used to get Woods out through the windshield (via ABC News).
CNN reported that Woods then underwent surgery on his lower right leg and ankle, as the breaks were in more than two parts and exposed to air, which could have led to an infection. Sheriff Villanueva said in a Facebook Live press conference late Wednesday that charges were not expected, as Woods' single-vehicle crash was an accident. He told reporters, "An accident is not a crime. They do happen unfortunately" (via Sportsnet).
Many have wished the golf pro a speedy recovery, including former President Donald Trump.
Trump: "We need Tiger"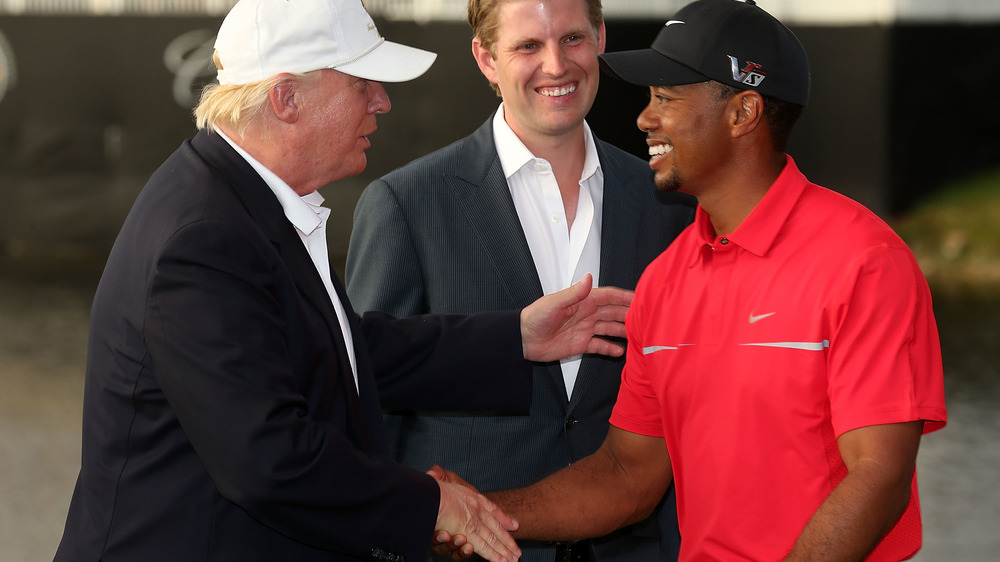 Warren Little/Getty Images
When speaking about Tiger Woods' accident with Fox News, Donald Trump declared, "He will be back. I have no doubt about it." Trump and Woods' friendship dates back a number of years, and the former president presented the athlete with the Presidential Medal of Freedom in 2019. Trump also spoke about Woods' past medical issues, as the five-time Masters champion has endured ACL surgery, MCL and Achilles injuries, and five back surgeries, as listed out by CBS Sports.
According to Golf Digest, Woods was in California to host the Genesis Invitational over the weekend and to film instructional content with stars like Jada Pinkett Smith, David Spade, and Dwyane Wade. He works with Discovery, GolfTV, and Golf Digest, which also issued a statement saying, "Everyone at Discovery and Golf Digest wishes Tiger a speedy recovery, and our thoughts are with him, his family, and his team at this time."
As for Donald Trump, his parting words for Woods were to "get better and get out there," saying, "[W]e all miss him. We need Tiger."