Why Tayshia Adams Worried Choosing Zac Clark Would Lead To Backlash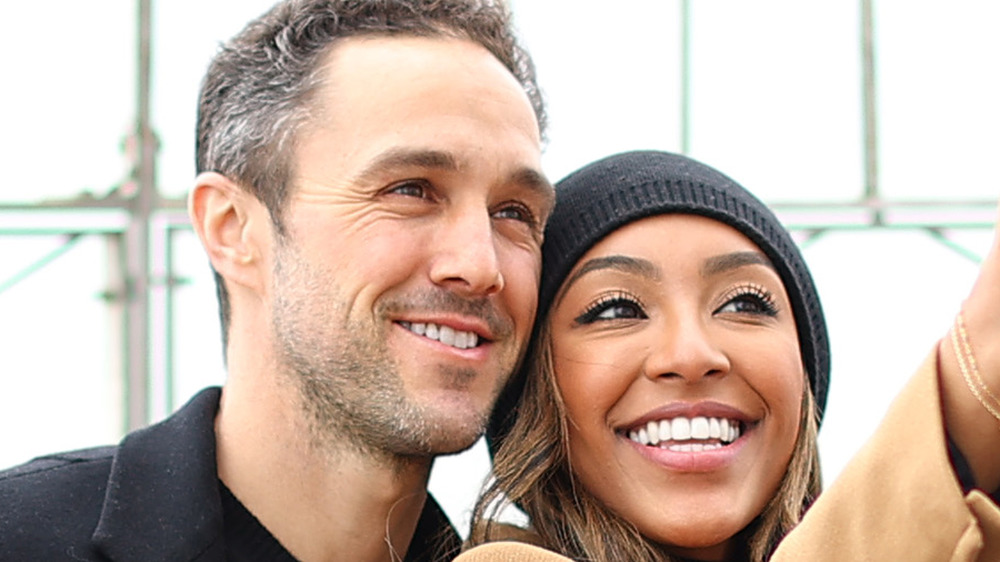 Dimitrios Kambouris/Getty Images
çΩ Throughout the dramatic 16th season, Adams shed light on all kinds of issues while balancing the emotional turmoil of finding true love. As we saw the biracial Adams tear up while talking about the Black Lives Matter movement, and delving into contestants' struggles with disorders and addiction, the Bachelorette star had a whole other issue in mind, too.
Falling in love with Clark was smooth sailing for the fun, charismatic Tayshia — from taking pretend wedding photos on their first one-on-one, strolling around Clark's hometown of NYC, and meeting the future in-laws, the pair always had huge smiles on their faces (via US Weekly). Unfortunately though, Tayshia's biracial identity made it so she had to worry about what the show's audience would think about her choice, rather than just focusing on their blossoming romance.
As Tayshia told Marie Claire, choosing to get engaged with a white man like Clark over the Black-Filipino engineer Ivan Hall was a decision she struggled with. In fact, she and Clark had to prep for the "possible backlash" of her not choosing a person of color, even speaking with the show's diversity team through the process. That being said, Tayshia makes it clear that her fiancé is her rock, who told the magazine he always tries "to understand and educate [himself] and talk to [Tayshia] about her experience growing up."
Inside Tayshia Adams' relationship to the Bachelor franchise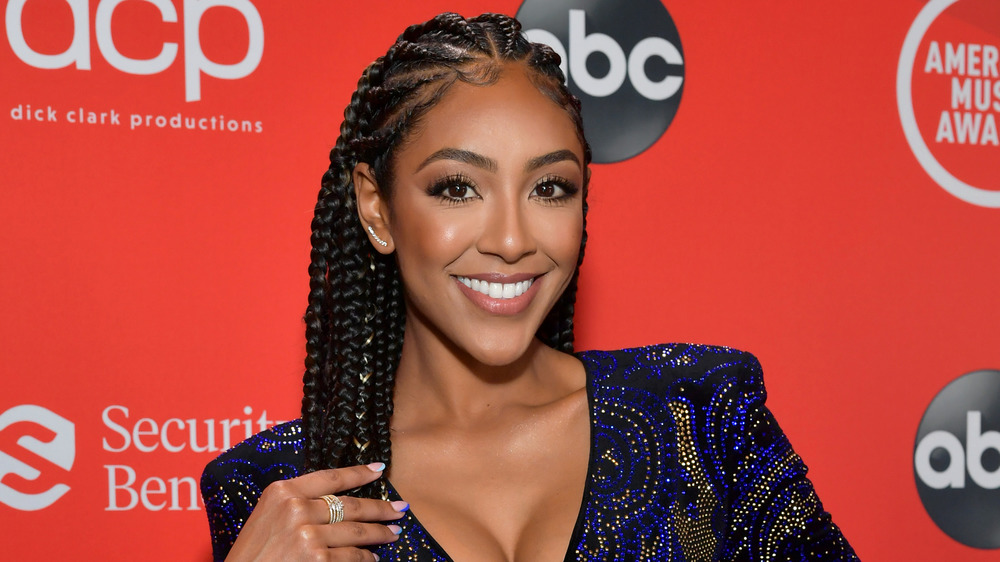 Emma Mcintyre /ama2020/Getty Images
Adams has also talked about the Bachelor franchise's latest controversy regarding contestant Rachael Kirkconnell's plantation-themed ball and host Chris Harrison defending her. On an Instagram story, she wrote; "the photo that [Kirkconnell] was in, is racist. The party she attended, racist. Her actions have been racist. When there are blatant forms of racist acts, you cannot be defensive of it. It speaks volumes and I just have to say that I am really hurt by [Harrison's] response" (via ET Online).
It is clear that the Bachelorette knows the importance of standing up for what is right, whether that's taking to social media to communicate it, or talking to contestants on the show about George Floyd or BLM (via Marie Claire). Moreover, it's more than apparent that Clark creates a safe space for her that's all about love.
Clark, an ex-addict who turned his struggles around and became the owner of three addiction treatment centers, is sensitive to the issues, learning how Adams likes to be referred to when it comes to her race (biracial, being both African-American and Mexican), and diving into their love with affection and honesty. Adams even described the affection she's received from Clark's family, such as how "his dad welcomed [her] with the biggest arms." Now, we're just hoping to hear wedding bells very soon for the adorable couple, who seem to have it all figured out when it comes to keeping their love as strong as ever.