Demi Moore Reveals A Fresh New Look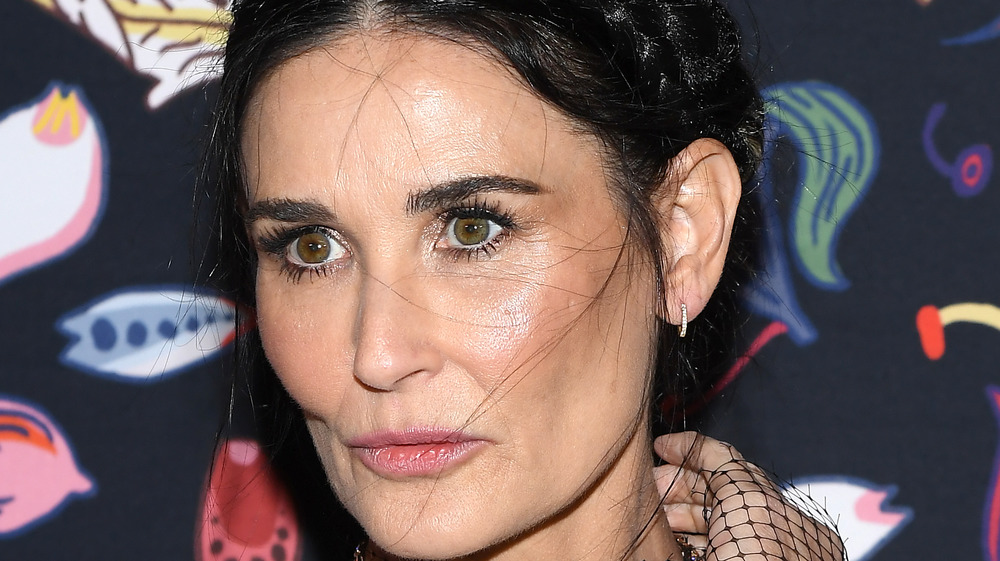 Pascal Le Segretain/Getty Images
Demi Moore is making headlines for her youthful, wrinkle-free new look, leading many to speculate the 58-year-old actress turned to cosmetic surgery (via The Daily Mail). The movie icon shared a photo on Instagram on Feb. 24 that left many shocked – with hundreds of comments to prove it.
In the snapshot, The G.I. Jane star is pictured sitting on the floor at home wearing a fuzzy leopard-printed beret, wire glasses, a sweatshirt, and jeans, but it's her face that has fans reeling. Moore captioned the unrecognizable pic with, "Early spring cleaning or a chance to play dress-up?"
The comments section was flooded with countless negative messages "Guess you need a year for that face lift to calm down" wrote one user. Another added, "What has she done with her face? Her mouth is different. So sad, she was always a gorgeous [woman]." But it didn't stop there. 
One fan questioned, "How does it feel to look in the mirror and see a completely different face?" However, not all comments were terrible. Many fans, who compared the star to looking "like a 20 year old," jumped to Moore's defense.
This isn't Demi's first cosmetic surgery rumor this year
While the latest buzz-worthy photo is said to be a snapshot from Demi Moore's home in Idaho, it was her appearance in Paris at the top of February 2021 that made plastic surgery rumors swirl in the first place (via Hollywood Life).
During Haute Couture Week, the 58-yea-old actress surprisingly hit Fendi's catwalk as a model. However, the true shock came from her new look. Fans were immediately struck by Moore's razor-thin cheekbones and pronounced lips. Board-certified dermatologist Dr. Corey L. Hartman told The Daily Mail she might have had "too much fat removed from her buccal fat pads."
Hartman continued, "This appears to have caused dermal filler in the cheek to appear too augmented resulting in this dramatically different appearance."
That being said, Moore didn't seem to care much about the rumors in an interview with Naomi Campbell for her podcast, No Filter with Naomi.