Inside Anthony Hopkins' Relationship With Wife Stella Arroyave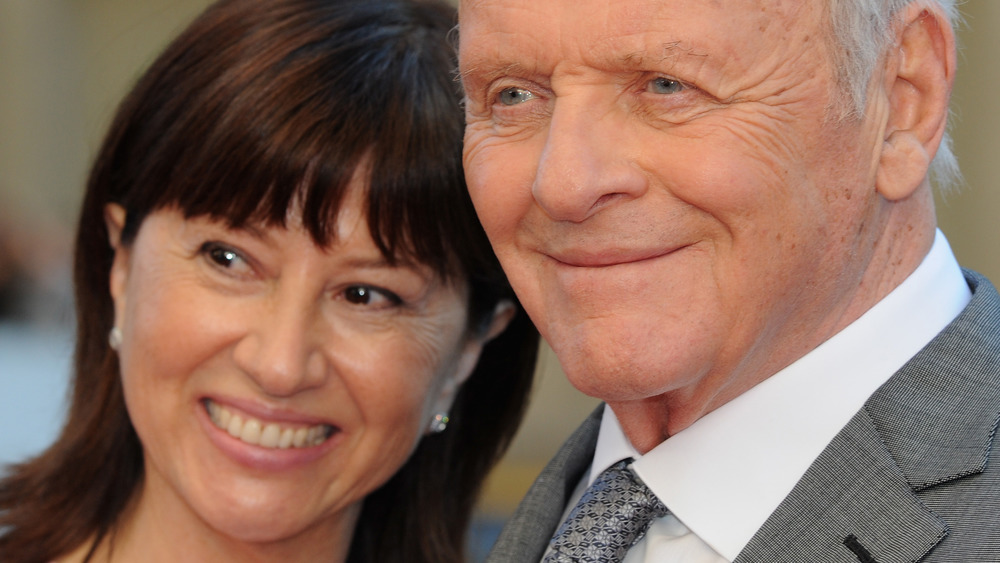 Timothy Hiatt/Getty Images
When speaking to the Daily Mail in 2013, Sir Anthony Hopkins said of his wife Stella Arroyave, "She's very good for me, my wife, because she slows me down." Calling her a "wonderful woman," Hopkins has credited Arroyave with saving him from a "slight depression." When they tied the knot in 2003, Hopkins was a year removed from his second divorce, and while he had said then in 2002 that he wasn't "very good with any relationships — with anyone" (via BBC News), he clearly wasn't fine with that reality.
Hopkins and Arroyave's meet-cute took place in a Los Angeles antique shop. At the time, Arroyave was working as an antiques dealer and one day, in walked Sir Anthony Hopkins looking for furniture for his home (per The Telegraph). Arroyave made an immediate impression, with Hopkins recalling to the Daily Mail that she didn't walk to greet him, but rather, seemed to dance. From this meeting, Hopkins and Arroyave would date for two years, per Your Tango, before marrying at Hopkins' clifftop mansion in Malibu. As The Telegraph noted, it was a St. David's Day wedding.
Hopkins said he had "shut down" prior to meeting Arroyave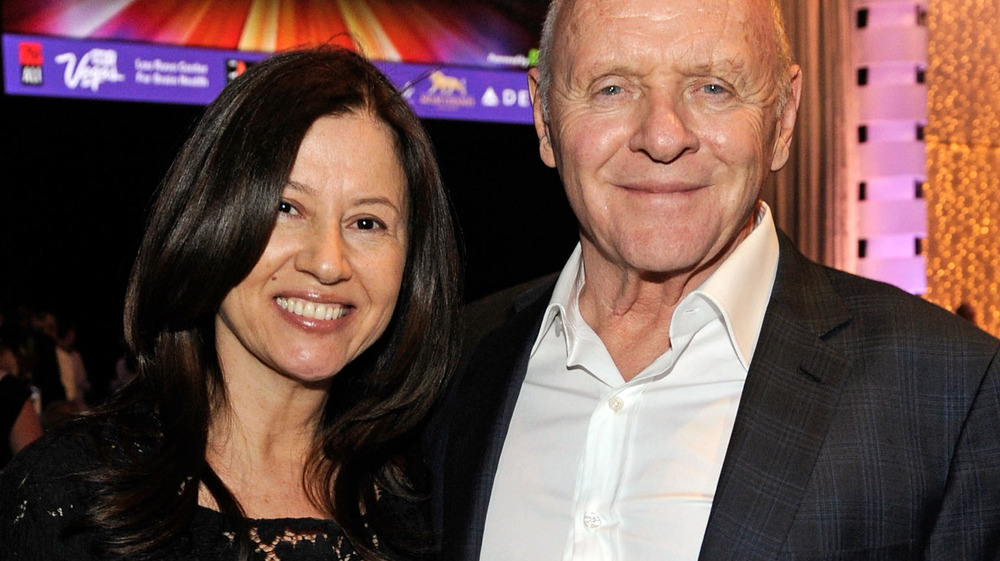 Ethan Miller/Getty Images
When Anthony Hopkins met Stella Arroyave in 2001, he was still married to his second wife, Jennifer Lynton. However, as Hopkins explained to BBC News, the two had "drifted apart" years before and were living separate lives. When their divorce was finalized in 2002, it was after 29 years of marriage. Prior to his marriage to Lynton, the Oscar-winner was married to fellow actor Petronella Barker from 1966-72; the two share a daughter, Abigail, born in 1968.
Following his second divorce, Anthony Hopkins described his state as being "shut down." Reflecting, in 2011, on his life then, he said, "She met me ten years ago when I was shut down. Shut down for some years. I didn't feel shut down at that time. I felt I was quite happy. But I was dealing with slight depression. Not trusting anyone. Certainly not trusting women" (per the Evening Standard). And yet, Arroyave was able to reach him, memorably dancing up to him. Hopkins speaks of Arroyave's positivity, which is perhaps what he was looking for (along with some new furniture).
He said of his wife, "Everyday she wakes up happy. She's very positive about everything," adding, "I learnt from her just to take life as it comes. So I live my life in non-expectation" (via The Independent). Stella Arroyave will surely be by her husband's side — being that positive force again — this Sunday, Feb. 28, as the awards season officially kicks off with the 78th Golden Globes. Hopkins is nominated for his role in The Father, alongside Olivia Colman. The broadcast begins at 5 p.m. PT/8 p.m. ET on NBC.