Why Golden Globes Viewers Felt Déjà Vu During Kenan Thompson's Skit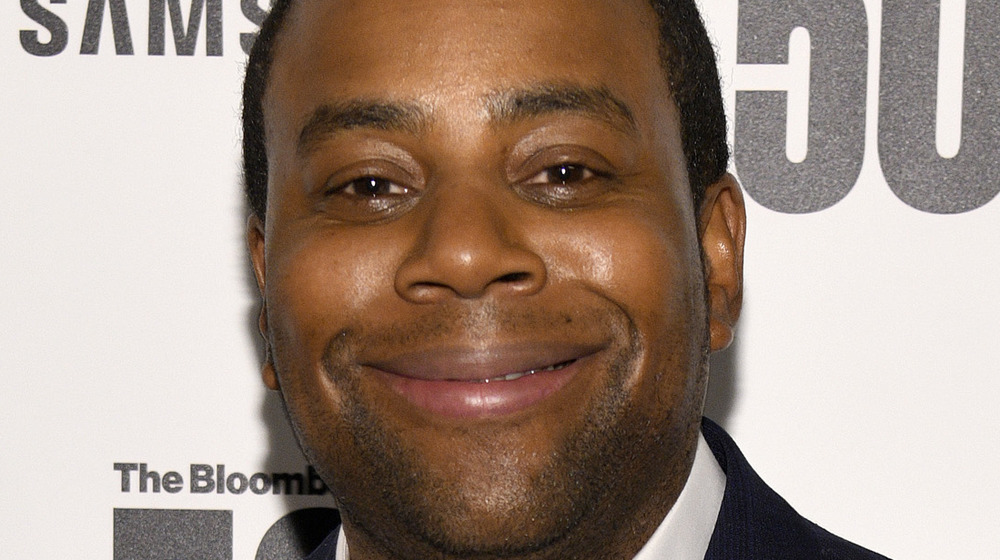 Clint Spaulding/Getty Images
It's the 78th Golden Globes, and if there's anything we've learned about award shows during a pandemic, it's that virtually anything is possible. In a break between (real) acceptance speeches, co-host Amy Poehler took a moment to get a laugh in, in classic Amy Poehler style.
"Something we all enjoy about the Golden Globes is that you're usually guaranteed at least one truly messy speech — acceptance speeches that really just go awry," Poehler says. "And it's our responsibility as hosts to make that happen for you. It's also how we get the show to be three hours long." She then calls up "Beverly Jackfruit and Francois Jean-Rudy" to accept their "award" for Least Original Song — and audiences couldn't believe who stepped up to the stage (via IndieWire).
The star-studded, COVID-friendly evening took a comedic turn when none other than comedy legends Kenan Thompson and Maya Rudolph stepped up from their tables as the French siblings/lovers to accept their award in the most ridiculous, SNL-esque way.
Thompson gave a cheeky nod to one of his most beloved childhood characters
The sketch in and of itself was hilarious, playing on the award ceremony stereotype of an acceptance speech going horribly wrong and making no sense whatsoever. But Thompson takes the comedy one step further with his impression of a French person that die-hard fans couldn't help but compare to his infamous skit on Nickelodeon's All That, in which he plays Everyday French with Pierre Escargot (via YouTube). 
The character of Escargot is a man sitting in a bathtub filled with bubbles, wearing a raincoat and matching hat. Thompson would lean into his inability to speak French or mock a convincing French accent, saying ridiculous phrases and then translating them in English. Needless to say, Thompson's Jean-Rudy character at the Golden Globes tonight had the very same energy.
There's something about Thompson and that fake French accent that never fails to get a laugh. One Twitter user wrote, "[...] All I thought of while watching Keenan was Everyday French with Pierre Escargot."