Jane Fonda Seriously Called Out Hollywood At The Golden Globes. Here's Why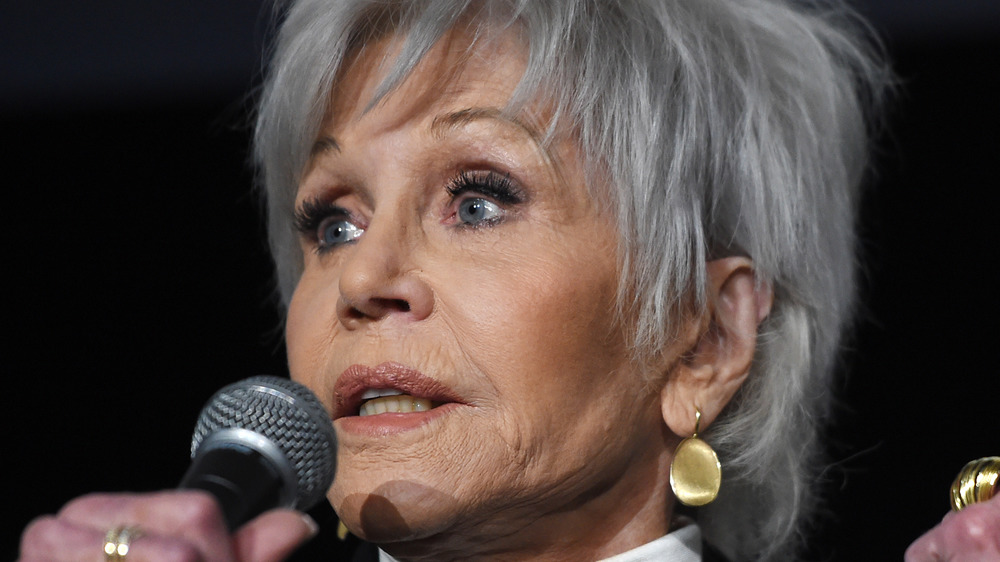 Amanda Edwards/Getty Images
Jane Fonda has earned the title "Hollywood legend" on a number of counts. The daughter of screen icon Henry Fonda is an acclaimed actor whose credits span more than 60 years and range from the sublime (Coming Home, The China Syndrome, On Golden Pond) to the hilarious (9 to 5, Monster-in-Law, Barefoot in the Park) to the ridiculous (Barbarella). In addition to the seven Golden Globes she has already won for her performances, she was honored for her body of work tonight at the 2021 Golden Globes ceremony when she received the Cecil B. DeMille Award, the equivalent of a lifetime-achievement nod. 
But Jane Fonda is equally famous (or notorious, to her critics) for her social activism. Her passionate stances on such issues as the Vietnam War, women's rights, and the environment have earned her as many haters as supporters, but that hasn't stopped the Oscar winner from standing up for the causes she believes in. In accepting her award from the Hollywood Foreign Press Association, she took the opportunity to speak out once again.
Jane Fonda called for wider inclusion in Hollywood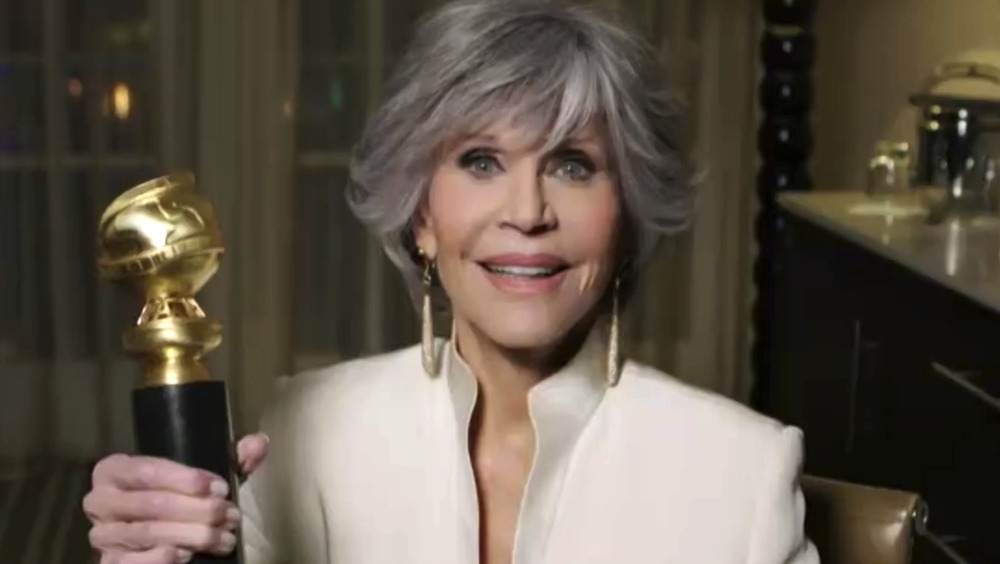 Handout/Getty Images
Dressed in a stunning white suit, Fonda accepted her Cecil B. DeMille Award and held it as she thanked the HFPA for the honor. Then she used the moment as a platform to speak out against the continued lack of full representation in Hollywood, using the theme of movies and television as "storytelling" mediums. Fonda explained that a bigger story was going behind the scenes ... "a story about which voices we respect and elevate and which we tune out — a story about who's offered a seat at the table and who's kept out of the rooms where decisions are made." She called for the industry to "expand that tent" so that "everyone's story has a right to be seen and heard" (via Entertainment Weekly).
The topic of inclusion was much buzzed-about in the days leading up to the Golden Globes, in part because of the lack of diversity among the awarding organization itself, and partly because many Black industry professionals were overlooked in the nominations despite their outstanding work (via New York Post). The HFPA's attempt to address the issue was seen as last-minute and anemic.
Still, Fonda seemed genuinely honored to be receiving recognition for her life's work. Shortly after making her speech, she tweeted a photo of herself with the trophy, saying, "This means the world to me."