Jodie Foster Kisses Her Wife In Memorable Golden Globes Moment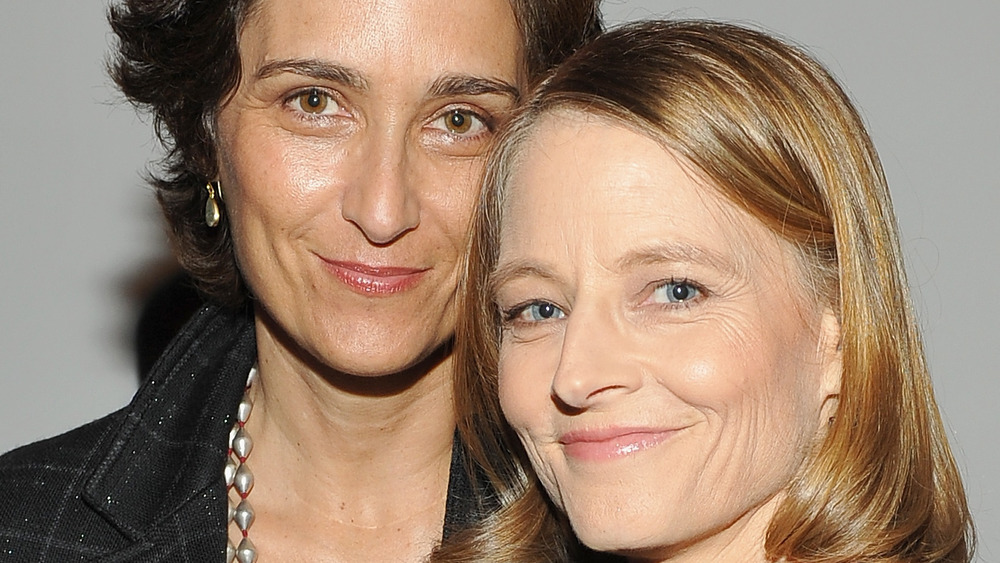 Donato Sardella/Getty Images
We're still reeling from last night's Golden Globes, which managed to make its pandemic-approved, socially-distanced ceremony an entertaining event worth watching. Apart from getting a good look at celebrities' living rooms through their Zoom appearances (and finding out their taste in decor), we also found out more about the stars' family lives. From Golden Globe-winner Mark Ruffalo's kids excitedly jumping around him, to Aaron Sorkin's entire family (and assistant!) supporting him right on his couch, one of the best parts of the Globes this year was getting all the inside scoop. But the most significant moment might have been what happened right after Jodie Foster's win (via Just Jared).
As the 58-year-old actress accepted her coveted award for Best Supporting Movie Actress for her role in the legal drama, The Mauritanian, it was clear both Foster and her photographer wife, Alexandra Hedison, were shocked. Clad in adorable pajamas, the couple embraced in a passionate kiss, letting the whole world know about their deep love for each other. The best part? The famous pair's white terrier Ziggy cuddling up right in between them, as delightfully bored as ever (via The Guardian).
The Silence of the Lambs legend expressed her disbelief right out, starting her acceptance speech with, "Oh, my god, are you kidding me?! I think you made a mistake um, I am — uh, I'm a little speechless — I just never expected to ever be here again!" (via The Guardian). Meanwhile, Hedison urged Foster to continue, looking just as happy as her wife.
All about Jodie Foster's acceptance speech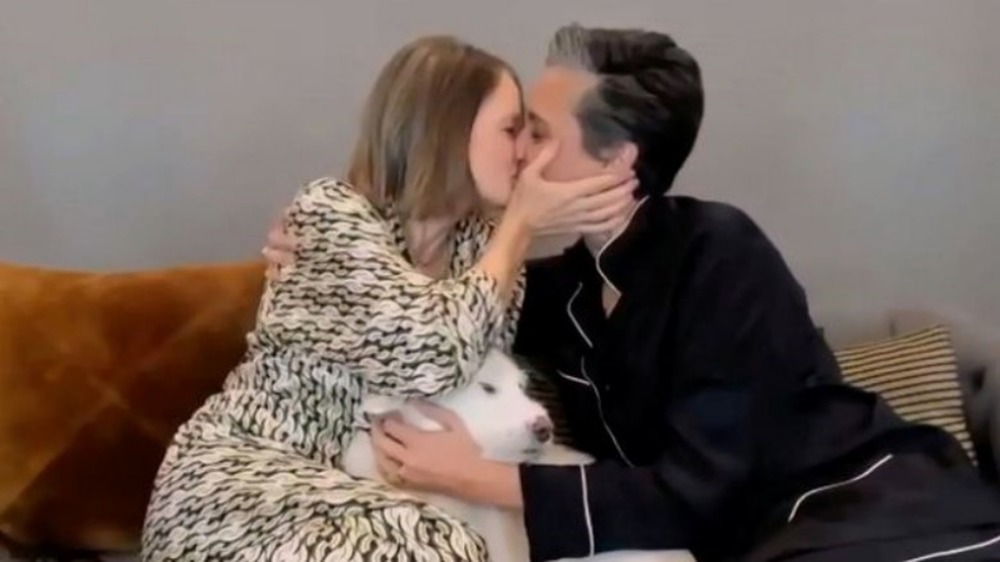 NBC
With pure delight (and a lot of surprise), Foster continued her speech, expressing her gratitude to The Mauritanian's cast and creators. "I have to thank all of my amazing filmmakers, Kevin McDonald, Tahar Rahim, Benedict Cumberbatch, Shailene Woodley," listing all the stars that made the thrilling film happen in the first place (via Just Jared). From there, the actress centered on the real-life people that inspired the movie's story, which retells Mohamedou Ould Salahi's 14-year detainment at Guantanamo Bay without charge (via The Sunday Times).
"The real life people, Nancy Hollander, and most of all, the person that we all serve, we love you Mohamedou Ould Salahi." Foster continued to speak about Salahi, saying that he "taught us so much about being a human being, and being joyful and forgiving, that's a lesson you give to all of us." The film not just centers on Salahi's harrowing experience, but also revolves around his memoir of the ordeal, adding even more significance to Foster's appreciation.
Everything to know about that Aaron Rodgers shout-out in Foster's acceptance speech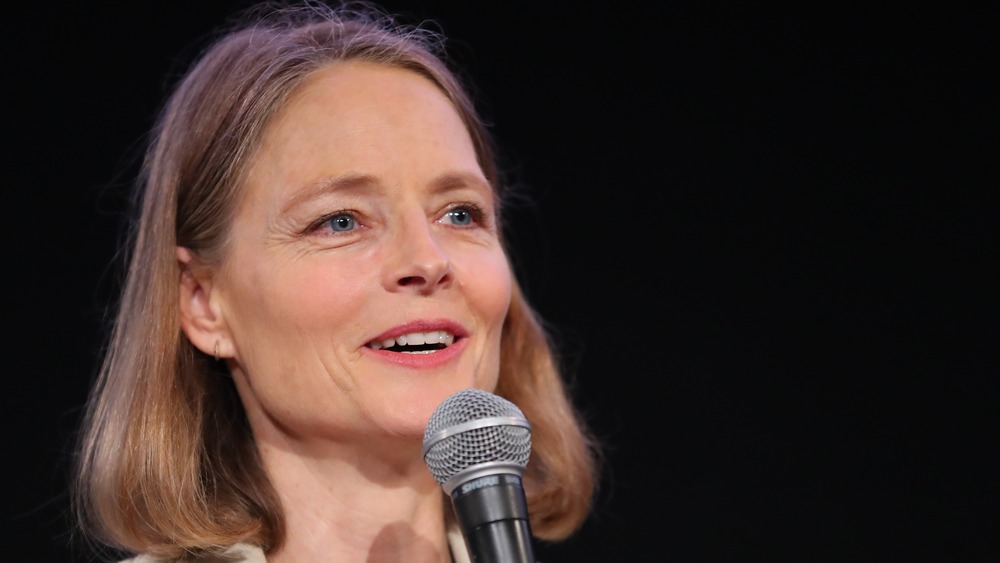 Jb Lacroix/Getty Images
Apart from all those involved in the Golden Globe-nominated film, Foster also thanked those closer to home. "I love my wife, thank you Alex and Ziggy and Aaron Rodgers, the Hollywood Foreign Press, right? This is awesome! What a night!" (via The Guardian). As Foster made sure to include NFL superstar Rodgers in her speech, many were left scratching their heads — but it seems like just a running-joke between the two. After Rodgers thanked Foster in his own 2020 MVP acceptance speech, fans thought it meant Foster introduced co-star Shailene Woodley to the football player — the couple is now engaged (via Hollywood Life). But Foster was quick to dispel the rumors to Yahoo Entertainment, and explain the shout-out.
"I did not set up Shailene and Aaron, I have never met Aaron Rodgers," Foster told Yahoo. "But it is possible that I do like to talk about how much I love the Green Bay Packers. And sometimes I can talk a little too much about that. So of course Shailene was very aware of my enthusiasm for the team." Well, that settles that! So how about the shout-out?
Foster simply told the outlet, "I am a huge Packers fan," connecting to Rodgers' team. Alluding to a text she got from Rodgers right after her Golden Globes acceptance speech, she said she "just got a very cute video from Aaron Rodgers, where he says he's going to get me back. So I'm looking forward to this. We'll see who wins." We have to say we're very excited for Rodgers' revenge — maybe in his wedding vows?