Taylor Swift Is Calling Out Netflix Over This Joke
Kevin Mazur/Getty Images
Fans are obsessed with the new Netflix series Ginny & Georgia, a coming-of-age show that has drawn comparisons to Gilmore Girls (via Hello!). While this sounds like the kind of empowering, feel-good show we need right now, one moment on Ginny & Georgia has Taylor Swift calling out Netflix. One episode includes the line "What do you care? You go through men faster than Taylor Swift" (via Cosmopolitan), and Swift was quick to criticize the jab at her on social media.
"Hey Ginny & Georgia, 2010 called and it wants its lazy, deeply sexist joke back," tweeted Swift. "How about we stop degrading hard working women by defining this horse s*** as FuNnY."
Swift also brought up Miss Americana, the documentary that Netflix released about her last year. "Also, @netflix after Miss Americana this outfit doesn't look cute on you," she wrote, adding a broken heart emoji. "Happy Women's History Month I guess."
Taylor Swift has dealt with sexism throughout her career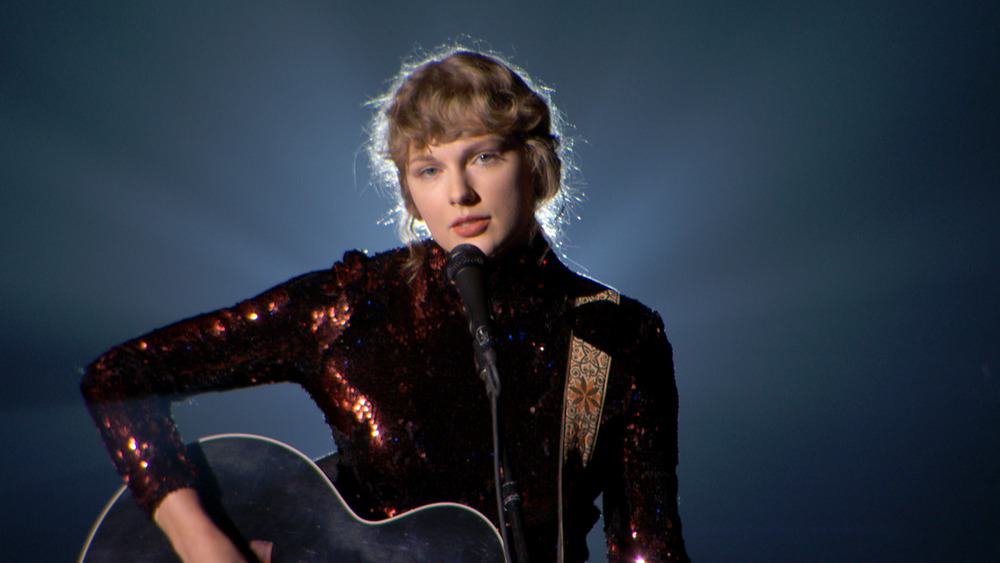 Acma2020/Getty Images
Jokes about Swift's dating life are nothing new but, as the singer said, Netflix can do better. Aside from the fact that people shouldn't be judging anyone's love life, Swift has been in a relationship with her boyfriend, Joe Alwyn, for years.
Swift has a long history of clapping back at misogyny which, unfortunately, is partially because she's experienced so much of it. At one point, she even took a break from dating because, as she told Rolling Stone, she had been labeled as "a serial dater — a boy-crazy man-eater."
In an interview with Vogue, Swift admitted that she was blissfully ignorant of the rampant misogyny in the music industry when she was first starting out. "Then I realized that was because I was a kid," she said. "Men in the industry saw me as a kid... The second I became a woman, in people's perception, was when I started seeing it."