Here's How Much Arsenio Hall Is Really Worth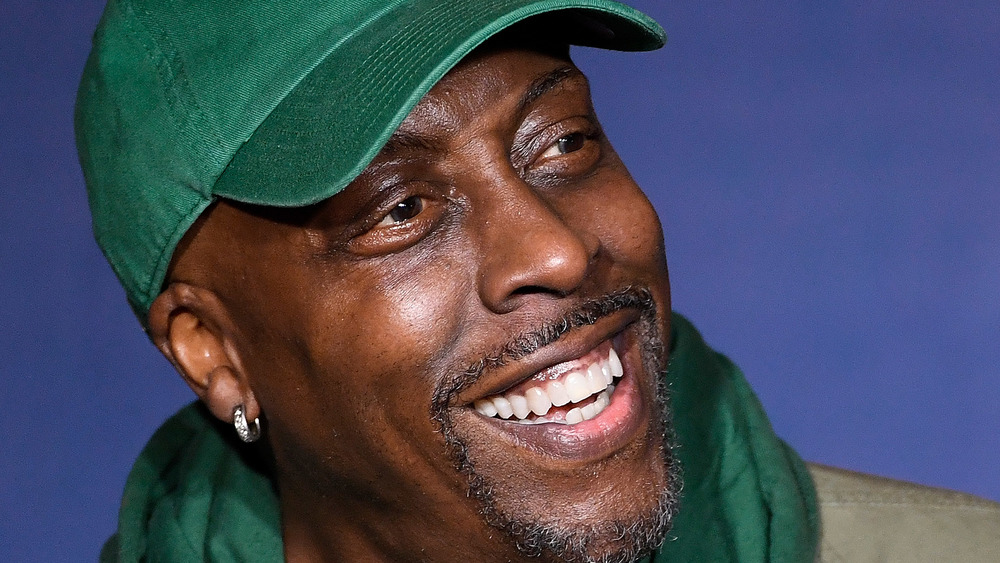 Michael S. Schwartz/Getty Images
Did you know that in 2012, Arsenio Hall and Donald Trump had a moment? Trump named Hall the first-ever Celebrity Apprentice winner, and Hall got $250,000 for his charity, the Magic Johnson Foundation (via EW). Hall wasn't a Trump fan: he did Celebrity Apprentice because NBC wanted him to. "It was a job and I was trying to support my family," he explained to Deadline.
The stand-up comedian was talking about his son, Arsenio Cheron Hall Jr., born in 1999. Shortly after Arsenio Jr. was born, Hall split up with his son's mother. Soon after, he quit his job. "I did a few projects here and there, like voice-overs for cartoons such as Scooby-Doo and The Proud Family, anything I thought my son would enjoy. But that was it," he wrote in Newsweek. He dedicated his life to single-parenting. 
As host of The Arsenio Hall Show, Hall interviewed everyone from Madonna and Ru Paul to Vanilla Ice and Bill Clinton (via The Guardian). Today, he thinks of himself back then as a kind of "black Twitter." But, as Hall wrote in Newsweek, when the stand-up comedian gave up his job, Hollywood stopped knocking on the door. Until Celebrity Apprentice, and, in 2021, Coming to America 2, the sequel to the hit Hollywood blockbuster, in which he acts alongside his longtime friend, Eddie Murphy. 
And if Hall's CV seems pretty thin to you, that's because he can afford to be picky. The comedian, per Celebrity Net Worth, has saved up a sizable chunk of change. 
Arsenio Hall's multi-million dollar net worth, revealed
George Rose/Getty Images
Arsenio Hall and Eddie Murphy aren't just co-stars, their also friends. And occasionally,  they even grab Starbucks together. "The only problem with Starbucks is, Eddie's a big tipper," Hall told The New York Times, "When I go back alone, there's always this look, like [mimes someone looking behind him to see if Murphy is also coming]. I leave $5. Eddie will leave them a Rolls-Royce tire."
There's no denying that Eddie Murphy can afford to give out Rolls-Royce tires if he wants to, but ($5.00 tips aside) Arsenio Hall isn't doing too bad for himself, either. Celebrity Net Worth calculates that, as of 2020, Arsenio Hall is worth $16 million, in no large part because he apparently owns what the media platform calls a "palatial" 30-acre property in Santa Monica, California. Real estate riches aside, Hall didn't step out of the business bankrupt. At its height, The Guardian says that The Arsenio Hall Show was bringing in 50 million a year for Paramount. While we don't know what Paramount was paying Hall to do the show, we do know that for Coming To America the comedian racked in nearly $1 million.