Donald Trump Jr.'s Tweet About Dr. Seuss Is Raising Eyebrows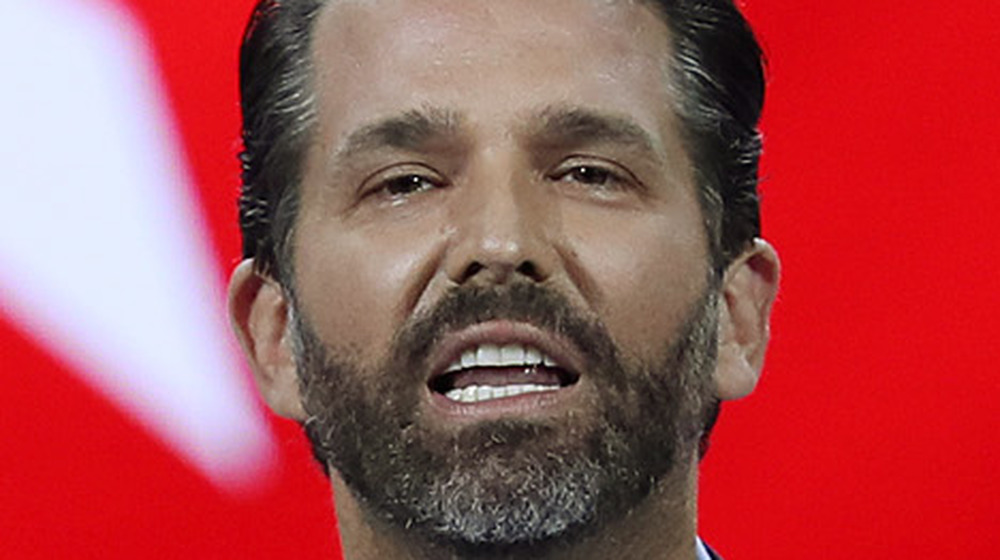 Joe Raedle/Getty Images
If there's a topic in the news these days that's connected to or supported by Democrats in any way, you can be sure that Donald Trump Jr. will be there to oppose it. The former president's older son has become as prominent a presence on social media as his father once was. His Twitter feed has been busy in recent days with his opinions on subjects ranging from teachers' unions to Mr. Potato Head. When everyone else was blasting Ted Cruz for jetting off to Mexico while his constituents in Texas were suffering, Don Jr. responded with a jab at The Lincoln Project.
His most recent target was (once again) Joe Biden, who drew attention on Read Across America Day – a children's literacy initiative – for not mentioning beloved author Dr. Seuss in his official proclamation (via the New York Post). The omission seems to have been connected to concerns about Seuss's use of racially tone-deaf illustrations in some of his works. Don Jr. tweeted: "There is nothing they wont [sic] destroy...if you don't think leftism is a disease you haven't been watching close enough!"
Instead of a flood of approval, however, the former First Son got pushback responses. One user quipped,"Green Eggs and Ham is right at his level." Not holding back, another critic added, "Daddy killed 500,000 Americans with his inept COVID response, and you're screaming about this?" Another respondent posted an editorial cartoon by Seuss in which America and Nazi Germany are depicted as two men joined together "in a manner that mystifies the mightiest minds in the land!" The U.S. character wears a coat emblazoned with "America First."
Dr. Seuss used offensive images in some of his works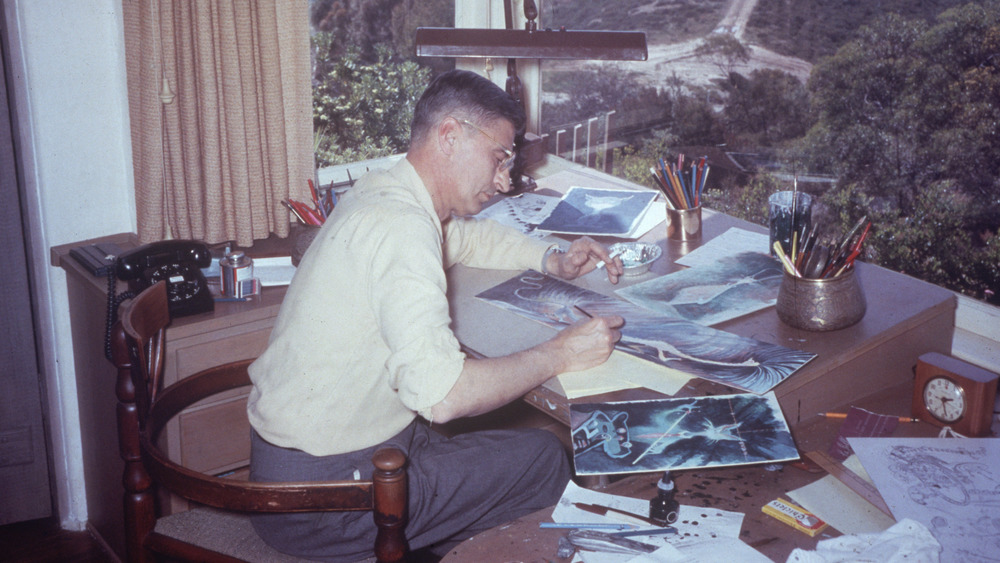 Gene Lester/Getty Images
Although Theodor Seuss Geisel changed the dreary Dick-and-Jane world of children's books with his fanciful rhymes and colorful characters, the unfortunate truth is that he sometimes included offensive racial caricatures. Critics have noted that And to Think That I Saw It on Mulberry Street! and If I Ran the Zoo are particularly problematic. And as a result, these books, along with four others, will no longer be published by Dr. Seuss Enterprises (via Newsweek). Read Across America Day, which coincides with Seuss's March 2 birthday, has also been shifting its focus from Seuss to a wider and more inclusive variety of children's literature.
Despite Trump Jr.'s claim, Dr. Seuss's books aren't actually being "destroyed," just as Disney isn't "canceling" films like Peter Pan and Dumbo (via CBS). It's all a part of the ongoing "uncomfortable conversations" about acknowledging the wrongs of the past and working toward a more equal society. Even Geisel himself expressed regret in later years for the images he used in his books and political cartoons (via The New York Times). The six books in question still remain on library shelves for parents who want them. On the other hand, they may prefer to focus on exposing their children to the Seuss books with more positive images and messages, such as Horton Hears a Who, The Lorax, The Sneetches, and Oh! The Places You'll Go!