Eric Trump's Tweet On His Family's New Real Estate Listing Is Causing Quite A Stir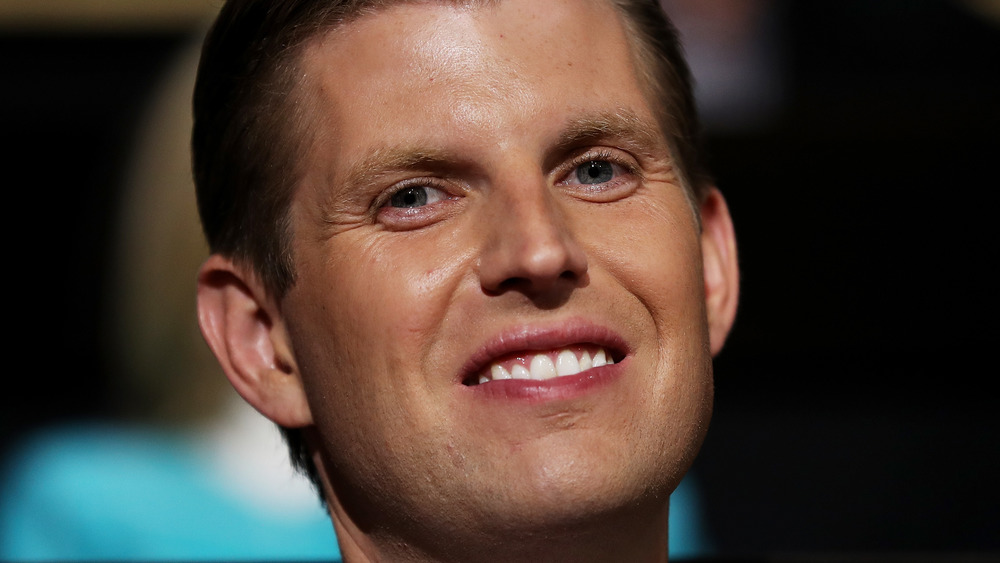 Joe Raedle/Getty Images
The Trumps and Twitter are at it again: this time Twitter users are sounding "money laundering" alarm bells, speculating that "lawyer fees are adding up" and wondering why the Trump family is trying to liquidate its assets. Today's Trumps vs. Social Media boxing match comes after Eric Trump advertised the sale of a family-owned property on Twitter.
Bloomberg reports that the ocean-front mansion in question is in Palm Beach, just across the street from the former president's home. It'll take you (and anybody else that's seen the advert on Twitter) 49 million dollars to buy the property — but, it's a two-for-one. Purchase it, and acquire a membership to Mar-A-Lago, the private residence-turned-private-club-turned-private-residence that Donald and Melania Trump currently call home.
If you've been eyeing the Mar-A-Lago adjacent property since 2018 (for easy access to New Years' parties headlined by Rudy Giuliani and Vanilla Ice, for example), you'd know that $49 million isn't a bargain. In 2018, an "entity" controlled by Eric and Donald Trump Jr. bought the residence for just $18.5 million from an aunt, Maryanne Trump Barry according to Realtor.
Who would buy Eric Trump and Don Jr.'s Palm Beach property?
Kris Connor/Getty Images
Some on Twitter are wondering whether or not Eric Trump and Donald Trump Jr. committed tax fraud by buying a purposefully de-valued property. That's a question we can only speculate about. According to Realtor, Maryanne Trump Barry had listed her home for $23.9 million in 2017, before selling it for $18.5 million, less than a year later.
Perhaps a more pressing concern for the Trump family is, who might buy Eric and Don Jr.'s Palm Beach property? The 45 million dollar mansion will only attract a very rich, very particular kind of investor. "Because of its proximity and its lack of privacy, it would probably be a difficult thing to sell to someone who's not a Trump supporter," real estate agent Guy Clark told Bloomberg, "It's great for a Trump supporter to own that house and have the accessibility to Trump and his world. For that type of person it's the right house." Forbes will tell you that there were any number of billionaires who supported Trump's 2020 presidential race, including Blackstone CEO Stephen Schwarzman, New York City Real estate titan Richard LeFrak, hedge fund executive John Paulson, and U-Haul president E. Joe Shoen. Perhaps they're in the market for a summer home? 
Meanwhile, The New York Post reported in January 2021 that Donald Trump Jr. was "house hunting" in Florida. It seems that he, at least, is not keen on living in his dad's back yard.