Katharine McPhee Reveals How New Motherhood Is Really Going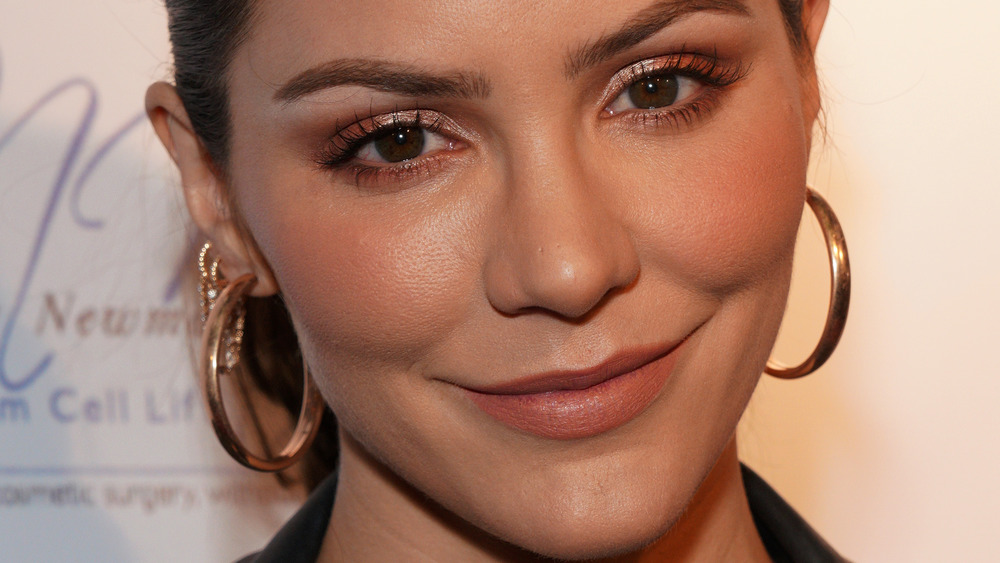 Jc Olivera/Getty Images
For a few weeks after former American Idol Katharine McPhee welcomed her first child with her husband David Foster, she was understandably silent on social media, what with the many joys of new motherhood — and the sleepless nights. We knew only that the famous couple had welcomed a son, with their rep confirming mom, dad, and baby were doing well.
Now, fans are getting a glimpse into what life is like for the 36-year-old and her little one, as the star shared the first photo of the tot via her Instagram Story over the weekend (via Today). In the sweet shot, McPhee is seen outside on the sidewalk, wearing her son in a baby carrier. She smiles in what appears to be a makeup free photo, in which the glam singer wears yoga pants and a tee shirt with sneakers.
Meanwhile, McPhee captioned the adorable image with a quick update for her fans about what the last few weeks has been like for her, writing, "In case you were wondering... I love being a mommy!" Her words are accompanied by two crying emojis, and a rainbow.
Katharine McPhee kept some things private about her pregnancy, but opened up too
So, based on the emojis McPhee shared, are we to assume new motherhood is emotional for the star? Perhaps. To be fair, the singer did not share too much about her pregnancy, but she was brave enough to open up about fearing she would suffer an eating disorder relapse while expecting (via Us Weekly).
As the new mama shared during a recent podcast, "It just suddenly came up in a way that hadn't been present in a long time. Feeling like there was a relapse after getting pregnant was shocking and upsetting and concerning for me because I was suddenly so obsessed with food, starting from this first trimester, and I had such a distortion of the way that I looked."
Meanwhile, McPhee also posted several baby bump selfies while pregnant, and also talked about her feelings toward welcoming a baby boy, noting, "I always wanted a girl, that's always what I wanted — I always wanted both. Let's just be honest about that. But now that I'm having a boy, I'm like, 'Phew, wow, there's different things I need to worry about.' Versus the things I would be thinking about with a girl" (via ET Online).