What Kate Middleton Said At Her First Public Appearance Since The Oprah Interview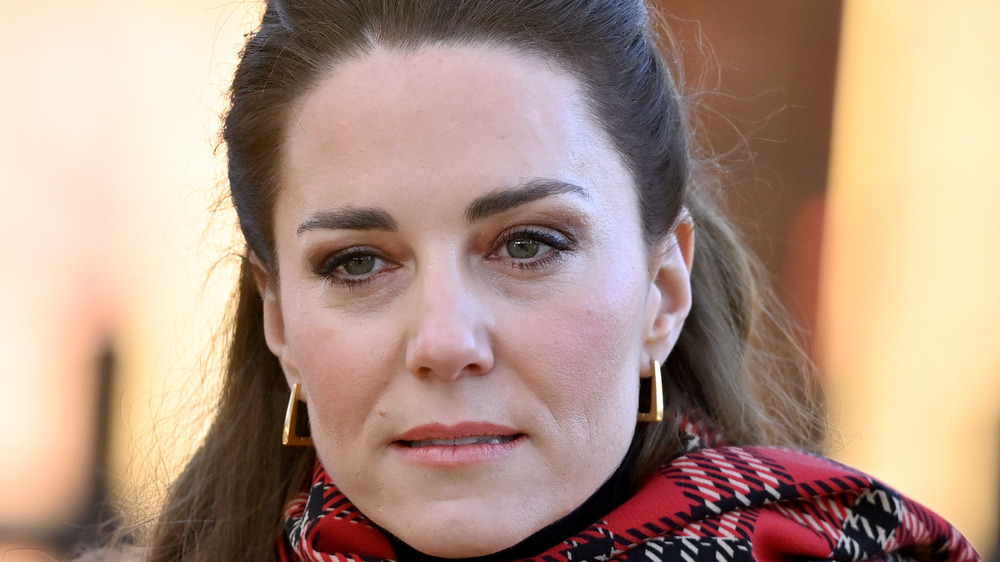 Pool/max Mumby/Getty Images
Prince Harry and Meghan Markle's bombshell interview with Oprah Winfrey grabbed headlines around the world and sent shockwaves through the royal sphere. During the interview, which aired on Sunday, March 7, the Duchess of Sussex debunked a tabloid report that suggested she had made her sister-in-law Kate Middleton cry in the days leading up to her 2018 wedding (via Harpers Bazaar). Rather unsurprisingly, Middleton has yet to respond to Harry and Meghan's CBS sit-down. However, the Duchess of Cambridge made her first public appearance a mere 24 hours after the interview aired on television. 
In a clip posted on the royal family's official YouTube channel, Middleton spoke over video call to the youngest woman to row solo across the Atlantic Ocean, Jasmine Harrison. The Duchess' conversation with the 21-year-old was held in celebration of International Women's Day, and throughout the video, the pair discussed Harrison's 3,000-mile trip across the Atlantic, which lasted a record-breaking 70 days, three hours, and 48 minutes (via Twitter).
"I think so many opportunities are closed off or just not out there for women to see, that we don't know that's something you can do," Harrison explained to Middleton, who replied, "I think you're such an inspiration to young women out there. You're so right — unless these things get spoken about and get showcased, you never get to realize the opportunities that are around the corner." 
The Duchess of Cambridge and her husband have also been active on social media since the interview, if only to post a picture of the Queen, in celebration of Commonwealth Day (via Instagram). 
Meghan Markle claimed Kate Middleton made her cry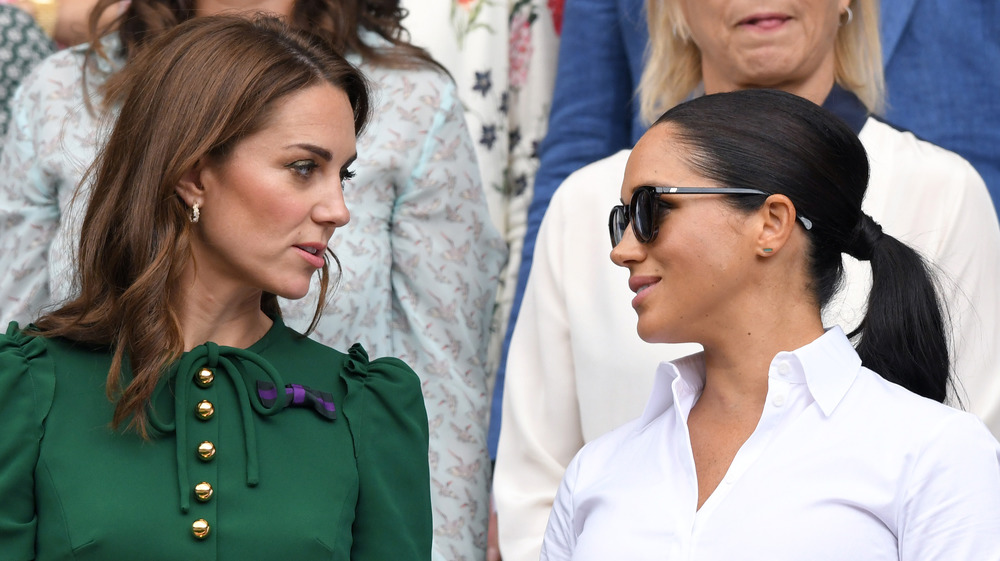 Karwai Tang/Getty Images
As mentioned, one major revelation to emerge from Prince Harry and Meghan's Oprah sit-down was the widely reported claim that the Duchess of Sussex had made Middleton cry ahead of the royal wedding in 2018. However, speaking to Winfrey during the interview, Markle revealed that Kate was actually the one who made her cry. As Bustle reports, Markle described the palace's response to misleading tabloid reports as the start of a "character assassination" and a "turning point" in her time spent as a senior member of the British royal family.
"The narrative with Kate, which didn't happen, was really difficult," Meghan divulged, adding, "A few days before the wedding she was upset about something pertaining to the flower girl dresses, and it made me cry, and it really hurt my feelings." The Duchess of Sussex went on to clarify that, although Middleton did later apologize in private with a bouquet of flowers, the media's portrayal of what occurred between the two was difficult to bear. "What was hard to get over was getting blamed for doing something I didn't do but was actually done to me," she concluded.
During March 8th's video call, Kate appeared emotionally unfazed by Meghan's March 7 bombshell. But as Harry pointed out to Oprah, that's par for the course. No matter what's going on in your life, when a royal appears publicly, they have to "wipe the tears away shake off whatever you're thinking about and you gotta be on your A-game" (via Business Insider).
Will Kate address Meghan's claims? Has she already?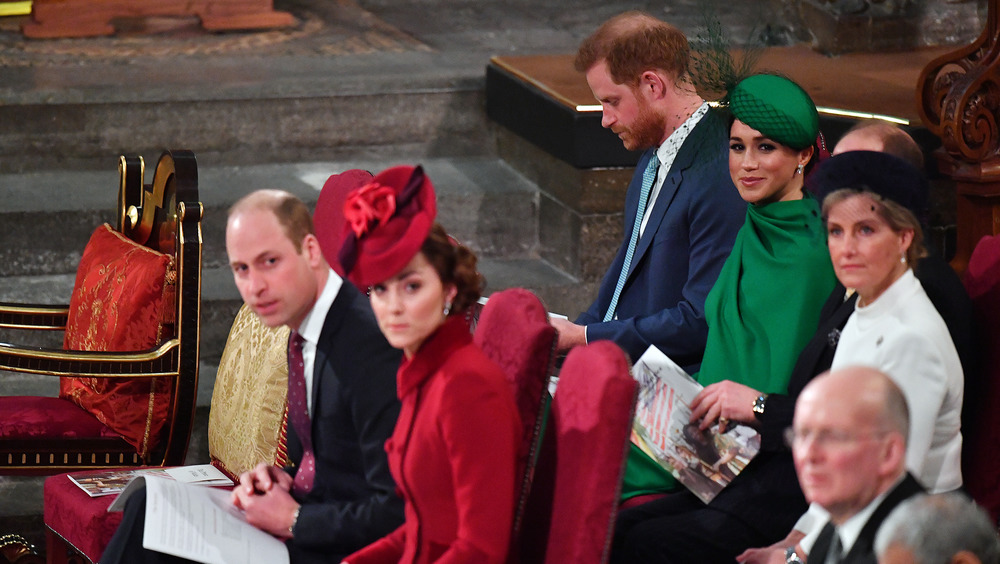 Wpa Pool/Getty Images
When Meghan told Oprah her version of events surrounding the highly-publicized pre-wedding incident, she speculated that Kate would have corrected the story if she could have. "Maybe in the same way that the Palace wouldn't let anybody else negate it, they wouldn't let her, because she's a good person," Meghan said (via Elle).
If so, Kate may never speak, in public, at all about Meghan's story. But Buckingham Palace, on behalf of the queen, has released a statement that might well speak for her. This contends that "some recollections" concerning the shocking events brought to light in the interview, "may vary" (via Twitter). Kate, of course, may also have reached out to Meghan privately. The Palace's official statement also indicated that internal conversations would occur.
When ET spoke to royal expert, Katie Nicholl, she guessed that the Duchess of Sussex would be upset about the interview principally because "behind the scenes [Kate] has tried really hard to be a peacemaker between William and Harry. She has been deeply saddened by the brothers' falling out. Don't forget she was incredibly close to Harry herself." 
Meanwhile, Page Six interpreted Middleton's accessory selection for her first International Women's day phone call as a sign that "there's no bad blood" between Kate and Meghan. According to the gossip column, the Duchess of Cambridge put on a pair of Missoma earrings featuring, as per the jeweler's website "pink heart-based healing crystals." Meghan also owns several pieces from the same brand.