Robin Thicke's Net Worth Is Lower Than You Think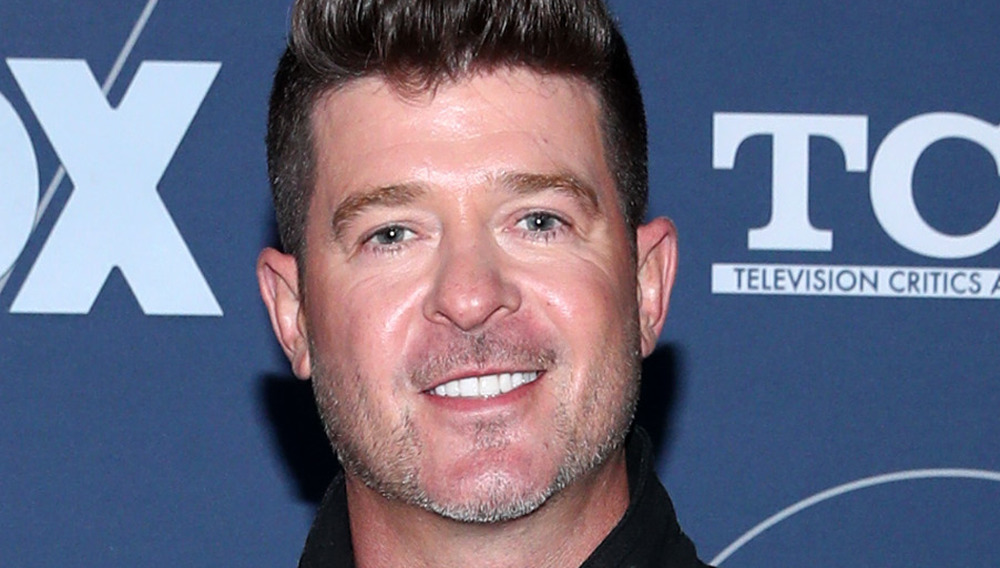 Rich Fury/Getty Images
Long before Robin Thicke released "Blurred Lines" — his 2013 hit that spent 33 weeks on the Billboard Hot 100 — the 43-year-old was simply the son of entertainers. His late dad Alan Thicke became famous for his role in the sitcom Growing Pains. Robin's mom Gloria Loring was a singer and Days of Our Lives actress. 
To follow in their footsteps, Robin entered the entertainment industry as a teen by guest-acting on The Wonder Years, New Lassie, and yes, Growing Pains, per IMDb, but he quickly realized that music would be his full-time career.
He actually discovered the passion on-set with his dad, where they co-wrote a song together, per Entertainment Tonight. "After a few weeks, we had a song," Robin explained. "We put down a demo tape and that's what got it all started, and that's what kind of pushed me into wanting to do music." 
At the time, Alan stressed that he wanted Robin to stay focused on his studies, but he also supported his dream. Little did he know that his son would eventually produce songs for best-selling artists like Usher, 50 Cent, Christina Aguilera, Nicki Minaj, and more.
Robin Thicke's net worth is up for debate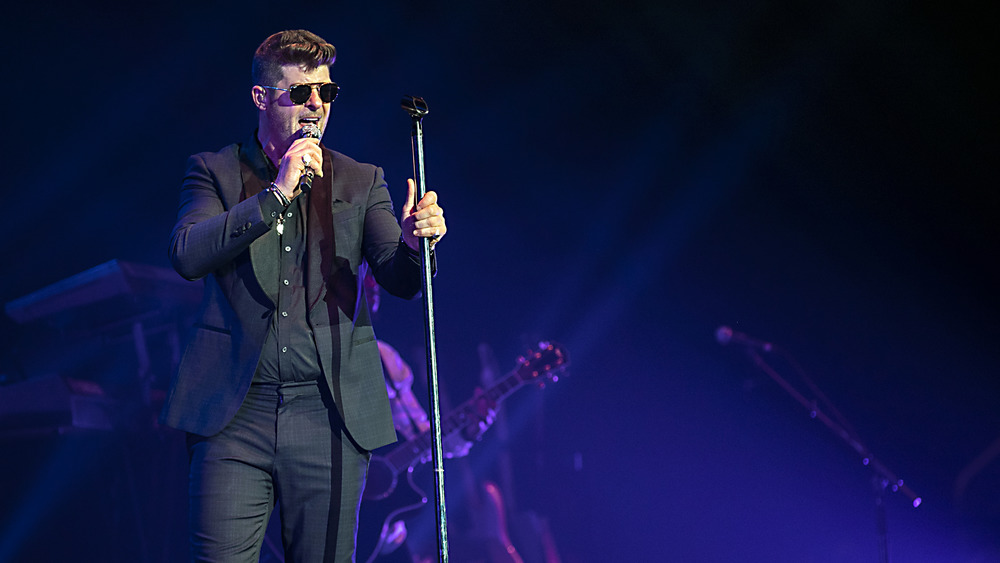 Jeff Hahne/Getty Images
Over his 20-plus year career, Robin Thicke has released seven studio albums on top of his long list of impressive musical collaborations. He also had success in commercial partnerships like his one with 1-800-Flowers, per Today, and wrote music for multiple TV programs, per IMDb. As of March 2021, the star now primarily works as a judge on Fox's The Masked Singer.
All of those business ventures explain why his net worth is an estimated $20 million, per The Cinemaholic. However, it has been reported to be as low as $10 million, per Celebrity Net Worth. 
That discrepancy could be due to his publicly tumultuous divorce from ex-wife Paula Patton, his financial battle over his dad's estate with Alan Thicke's third wife, per Forbes, or the 2018 loss of his Malibu home to California wildfires. Plus, he's still working, and Masked Singer has seen major success as of late, so there's plenty of time for his worth to go up from here.