Whoopi Goldberg's Reaction To Meghan McCain's Rant Has Twitter Talking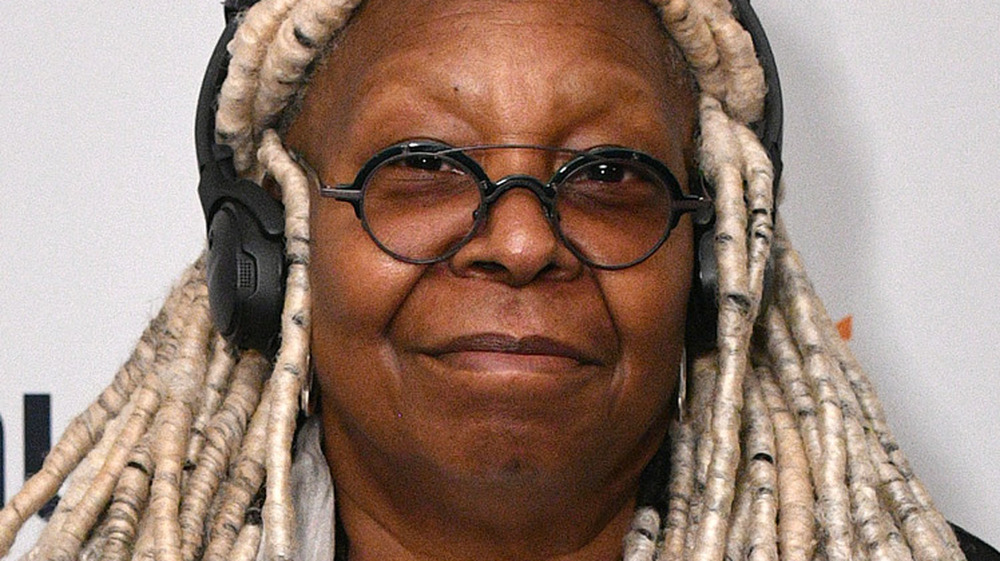 Bryan Bedder/Getty Images
The Oprah interview with Meghan Markle and Prince Harry is sparking as much debate on this side of the pond as in the UK. One particularly entertaining discussion happened on Tuesday's episode of The View. The panel — all weighing in remotely — discussed the still-hot interview topic. The conversation turned to Piers Morgan, whose vitriolic remarks about Meghan Markle have shocked many. On March 9, he stormed off the set of Good Morning Britain and soon thereafter quit the show. Whoopi Goldberg moderated a discussion of the event. Sara Haines and Sunny Hostin talked about Morgan's ego. They suggested he was still hurt over being snubbed by Markle after she met the prince (via The Mirror), and they also touched upon his callous dismissal of Markle's mental health issues. Then Goldberg asked Meghan McCain for her thoughts — and clearly wasn't expecting the response she got.
McCain declared herself a patriotic American — she even named her daughter Liberty, after all — and said she was uncomfortable over "being put in a position that I'm supposed to be defending the monarchy" (per Yahoo! News). Nonetheless, she pointed out that many Britons feel Meghan Markle and Prince Harry are being disloyal to the Queen at a time when Prince Philip is seriously ill. Pulling another 180, McCain encouraged Americans to visit Mount Vernon "and see why monarchies are stupid." She concluded by applauding Markle and Oprah for "finishing what George Washington and his revolutionary counterparts started."
Whoopi Goldberg's one-word response said it all
Whoopi Goldberg looked stunned for a moment, then gave the only reaction she could come up with at the time: a simple "Okay."
This sent Twitter users rushing to post clips of Whoopi's reaction along with their own comments, making "Whoopi" a trending term almost instantly. "It's 2021 and we are all Whoopi," tweeted one user. Another Twitter user wrote, "She looked like she wanted to tell Meghan 'wtf does that have to do with what I asked you?'" The contradictions in McCain's answer weren't lost on a user, who tweeted, "Whoopi's face after Meghan McCain made Harry and Meghan's story about her, then said she didn't want to defend a monarchy, just before she defended a monarchy." Yet another Twitter user had this inspired idea: "Unless Whoopi wants to come to dinner, I'm going to make a cardboard cut out of this look and place it across from certain relatives at dinner when they're explaining what they read online today about the COVID vaccine."
Not everyone was fixated on the Whoopi moment, though. A few users also added clips of a later portion of the program (via Twitter), when Meghan McCain and Joy Behar yelled over each other as they debated President Biden's stimulus package.