Untold Truth Of The Great British Bake Off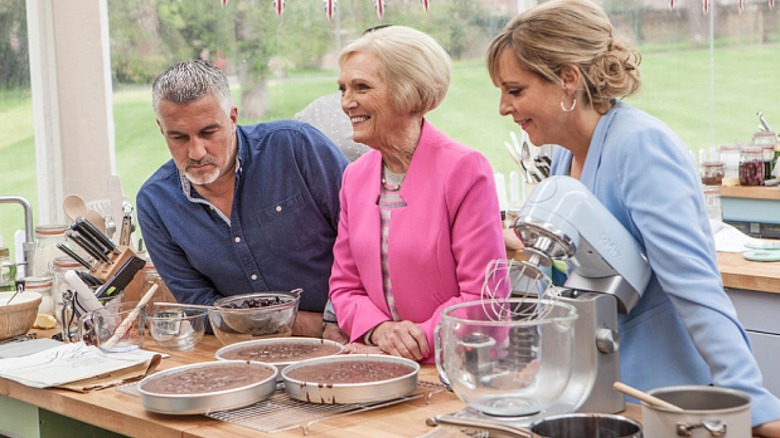 The Great British Bake Off (sometimes referred to just as Bake Off or GBBO) is an extremely popular British television baking competition that features 12 amateur bakers fighting for the ultimate crown title of best baker. 
Celebrity bakers, Mary Berry and Paul Hollywood, judge the contestants over a series of ten weeks as they craft delicious baked goods in the categories of Signature Bake, Technical Bake, and Showstopper Bake. Each week, a baker is eliminated after being judged on their creations. As with most reality shows, there is plenty of drama and behind-the-scenes details to be uncovered and we're sharing the untold truth with you here.
The show is based on village fete competitions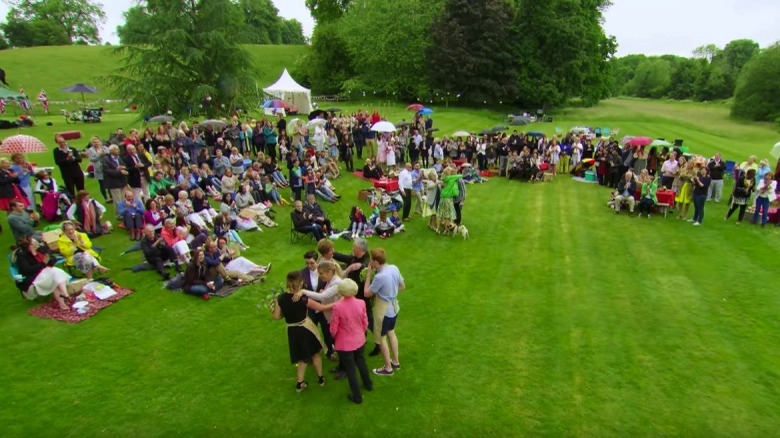 Anna Beattie, co-creator of The Great British Bakeoff, spoke with Jay Rayner of The Guardian in 2014 and revealed where the original idea for the show came from. "We just thought there was something in the village fete baking competition that hadn't been done. But it took us a long time to convince anyone else. It started as a national competition to find Britain's best amateur baker. We then spent six months in development, until we ended up right back where we started, with the original page that went to Janice Hadlow." Hadlow is the former controller for BBC2, where The Great British Bake Off first aired.
Village fetes are common outdoor festivals in Britain. They include entertainment, crafts and homemade foods, and many times they hold competitions like bake offs, pet shows, or tug-of-war, and are usually a great source of entertainment for both locals and tourists. 
The show involves an in-depth audition process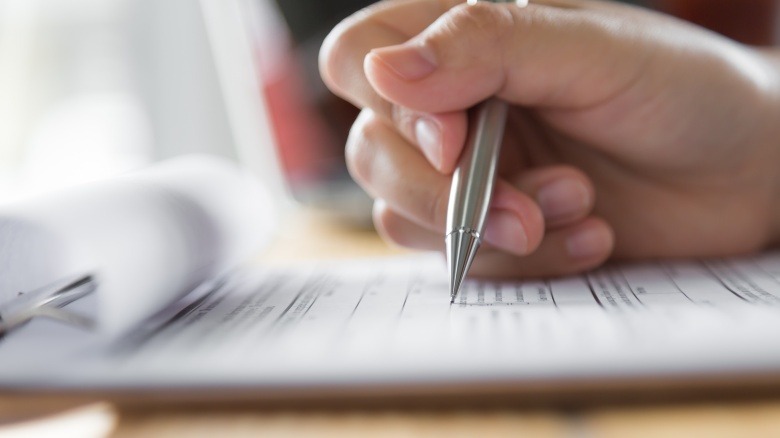 The first step to applying for Great British Bake Off is to fill out an extensive online application and agree to all of the rules, including a confidentiality agreement. If you make it through the written portion, there are then multiple rounds of auditions.
Contestant Jordan Fox revealed the next step after the application was a phone call. "It came at about 7 p.m. on a Tuesday and lasted for approximately an hour: we discussed my baking, hobbies, and work life. They even tested my baking skills, asking me to describe how to make a few baking staples off the top of my head."
From there it gets even more intense. Holly Brooke-Smith, writer for BBC Good Food, spoke with series producer, Sam Beddoes, who described the process in detail. "More than 12,000 people applied this year. Everyone sends in a form and we call those who we think are serious bakers. The show takes over their lives as the filming is done at weekends. About 300-400 people make it through to the first round of auditions, when they bring two bakes along. After a screen test, we invite 50-60 people to a second audition, where we give them a technical challenge and shove cameras in their faces, to see if they can talk and bake at the same time. When we're filming, we're the equivalent of an annoying child who wants your attention constantly."
One of the last steps is a psych evaluation. Judith Burns of BBC News writes, "Successful applicants also undergo psychological assessments to make sure they can cope with the pressure that comes with exposure on prime-time TV."
The most ingredients used in a single bake was 124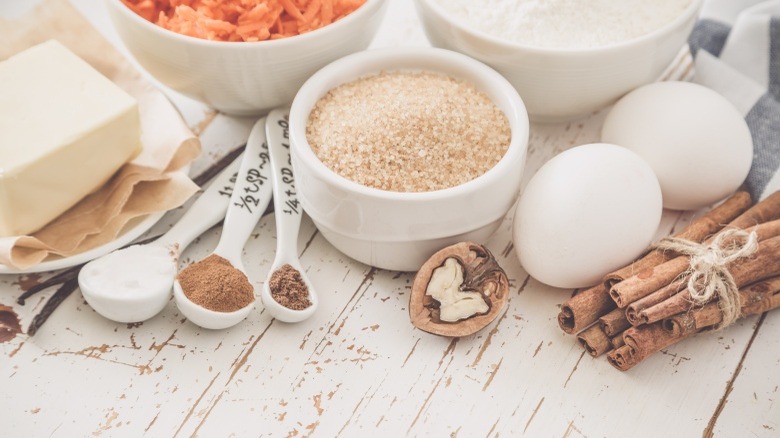 Brooke-Smith also spoke with chief home economist Faenia Moore about her role on the Great British Bake Off. Moore and her team ensure every baker has exactly what they need on the day of baking. 
When asked to describe her job, Moore revealed, "I filter through recipes and compile a list of ingredients a week before each episode is filmed, then I do a massive shop. There's a prep kitchen in the tent with our fridges and flour bins. A day before filming, I make up trays for each contestant, with ingredients they'll need in Kilner jars. People normally have 12-20 ingredients, but it varies — last year Frances Quinn had 124 for her cake in the final."
Quinn's season four final cake, named Midsummer Nights Dream, was a three-tier wedding cake decorated with edible confetti made from beetroot, mango, rhubarb and sweet potato. She describes it as, "Inspired by Shakespeare and my love of all things natural, both are celebrated via the bake. The play itself involves three plots and the cake three different tiers, thanks to the ginger base, lemon drizzle sandwich middle and mini carrot and pineapple top tier."
Runners stand-by at the nearest supermarket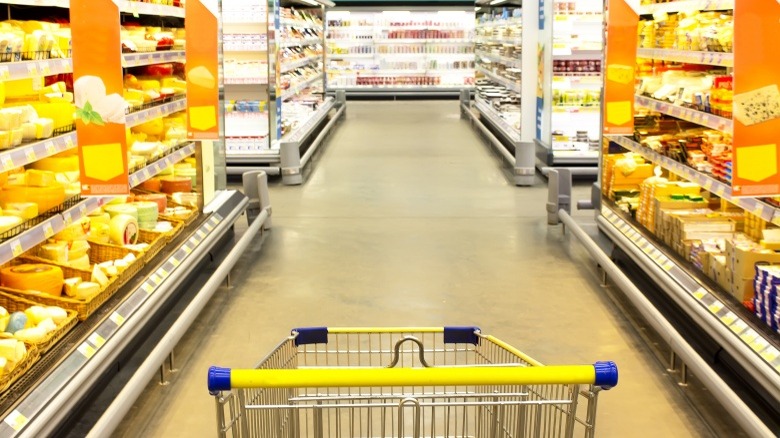 If you've ever wondered where all the ingredients for the Great British Bake Off come from, rest assured, they're the same ingredients you can get at your average supermarket. In fact, it's important the contestants have any ingredients they need last-minute. Moore says, "During the run-through, our food runner is stationed in the nearest supermarket so I can call and say: 'We need more raspberries in 10 minutes — go, go, go!'"
Technical difficulties are not excused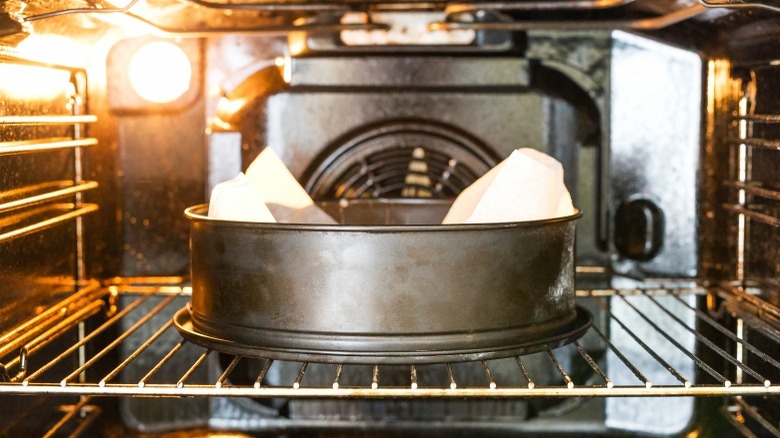 To test the ovens for the Great British Bake Off, the technical team bakes a Victoria Sponge in each one every day. Ali Imdad, a contestant in 2013, spoke to Roz Laws, a reporter with Birmingham Mail, "They do that to make sure that all the ovens are working properly and no-one can blame a bad bake on a technical malfunction. And on the first day, everyone gets an hour practice run-through so they know where everything is."
Why a Victoria Sponge? Although it's simple to make, the recipe is notorious for being sensitive to cooking times and temperatures. Manufacturers often use this cake to test their ovens.
Leftovers get devoured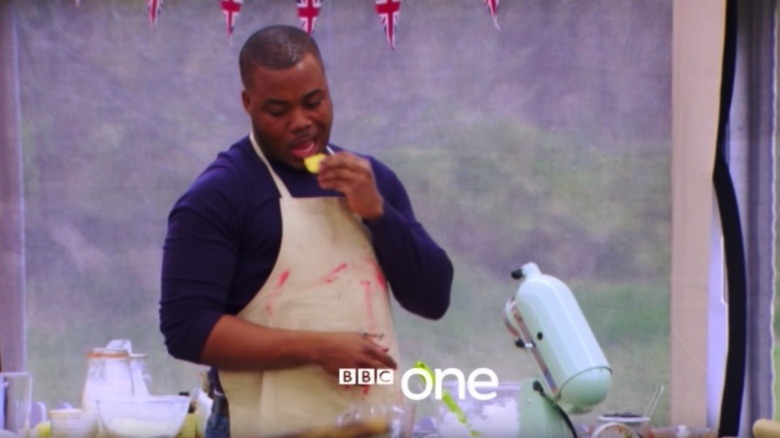 Moore revealed to BBC Good Food that the contestants try all of the bakes. "It all gets eaten, but in a controlled way. It's important for the bakers to eat what they've slaved over, so after each challenge I make up a 'baker's basket' to go to their lunchroom. Then any leftovers go to the crew lunch. Everyone gets quite excited so you have to say: 'Step back, we need to do this in an orderly fashion.'"
Imdad agrees that it gets a little crazy. "The cameramen literally stand there with forks in their back pockets, waiting to swoop as soon as filming stops. The cakes are meant to be taken to a lunch area where everyone can share them, but they don't usually get that far because the crew eat them first."
Many funny innuendos sprouted from the show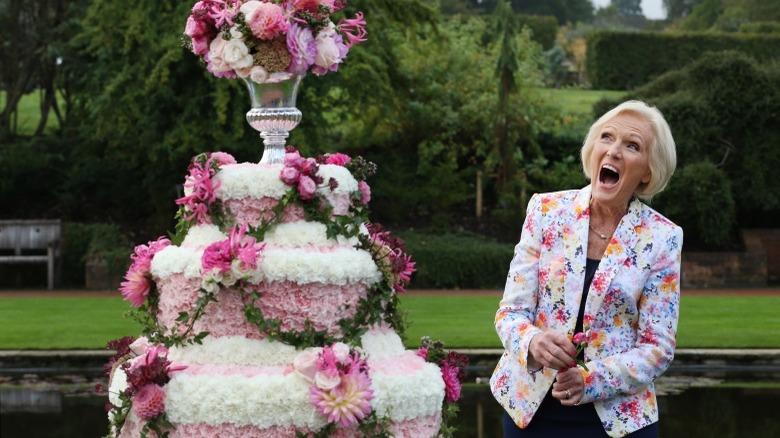 It wouldn't be The Great British Bake Off without Mary Berry making some hilarious comments that can definitely be misconstrued. Sure, she's talking about baking, but with that glint in her eye you have to wonder what she's really referring to. So what are some of our favorite innuendos?
Berry once criticized a contestant's dough balls, saying, "Oh no, you have some irregular shaped balls." In the 2012 finale, winner John Waite cooked Italian sausage and roasted vegetable pithivier for the signature challenge. Berry told him, "I like your sausage." And when describing how to mix flour, milk and butter, Berry offers this advice, "It's all in the wrist action."
This slightly inappropriate banter makes a lot of sense, considering the show really took off after airing an image of a squirrel with over-sized testicles.
Contestants quit the show
Even after that intense application process and landing a coveted spot on Great British Bake Off, contestants still sometimes quit the show. In season five, Iain Watters tossed his Baked Alaska in the trash after fellow baker Diana Beard removed it from a freezer. Watters was visibly upset at his melted creation, and proceeded to storm off the BBC One set and the show. He was eliminated that episode.
Beard was blamed by some viewers for Watters' elimination, but she said the program was edited badly to look as if it was intentional. She did, however, leave the show before the next episode. The BBC said she fell ill before the subsequent episode was filmed and would not be seen again in this series.
After the show aired, Watters told BBC Newsnight he had no idea that Beard had removed his ice cream from the freezer until he saw it on TV. He didn't blame her though, saying, "I don't hold any grudge against Diane. I think it was just done in the heat of the moment."
An elimination decision once took over four hours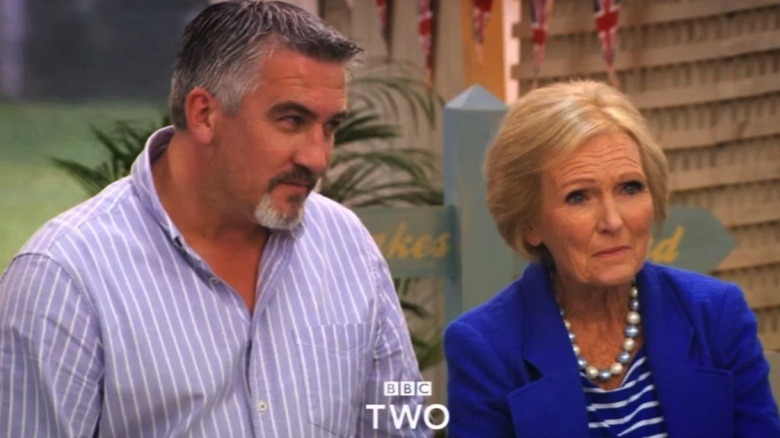 The judges determine the winner every time, without influence from the producers. Mary Berry revealed to Holly Brooke-Smith of BBC Good Food, "When it comes to the judging, my friends are surprised that we have complete control over who stays and who goes. That's why we might get three girls in a final, or three boys – maybe it's not great television, but that's just what happened."
Berry also revealed they judge on the events of that particular bake, not the weeks prior. Only at the final will they look at the season as a whole, and only if it's extremely close. So how long does it take to determine a winner? Berry says, "In the past we have sometimes known who's leaving the moment we've finished judging – or it will take half an hour. Paul and I can just look at each other and know who's the star and who's going home, but we always have to explain why."
And once a decision took over four hours. Co-presenter Mel Giedroyc remembers a disagreement from season one. She revealed to The Telegraph, "Miranda's cupcakes. Basically, Paul insisted that Miranda's cupcakes were not fanciful enough and Mary said they tasted delightful. Four hours. It was like waiting for a new pope."
Paul Hollywood was originally trained as a sculptor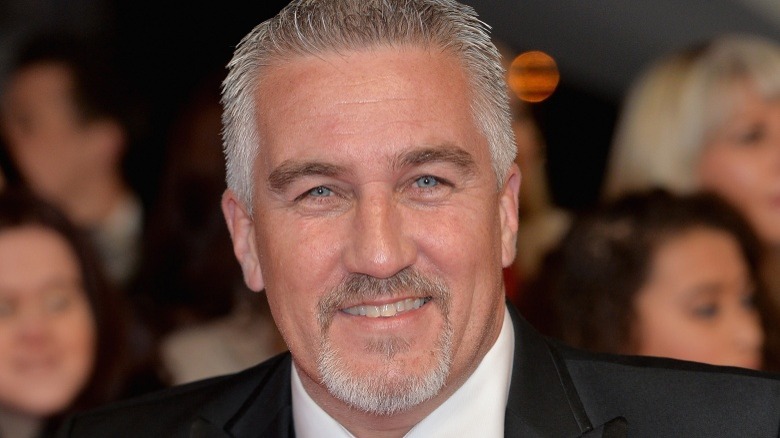 Paul Hollywood has been one of the judges on The Great British Bake Off since it launched in 2010. But prior to being one of England's renowned celebrity chefs, Hollywood studied sculpting. Hollywood was professionally trained as a sculptor, but his father, a baker, convinced him to follow in his footsteps. His artistic background was a major asset in helping him achieve a successful baking career. Prior to The Great British Bake Off, he was head baker at some of the most exclusive hotels, including Cliveden, The Chester Grosvenor and The Dorchester.
Big changes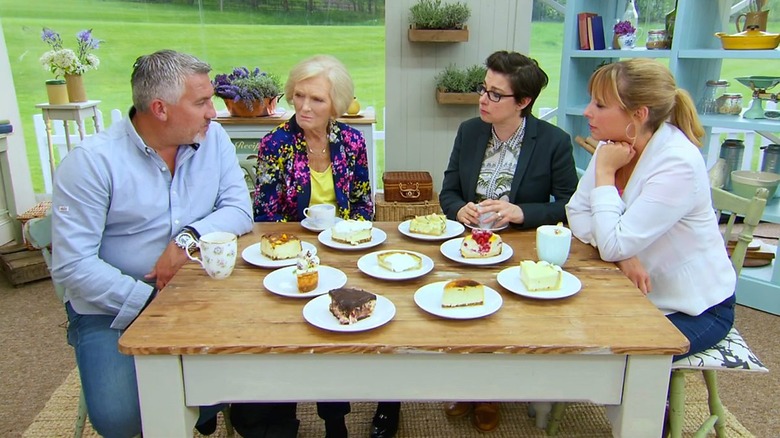 In September, 2016 it was revealed that The Great British Bake Off would be moving from the BBC to Channel 4 after the current series aired. Negotiations between the BBC and the show's production company failed, with BBC indicating that "financial demands made by Love Productions made the program 'unaffordable'." This left Channel 4 to negotiate and eventually claim the show for a three-series deal.
Unfortunately the show won't quite be the same. Paul Hollywood is the only celebrity participant who agreed to stay with GBBO once it moves to Channel 4. Fellow judge Mary Berry, and hosts Mel Giedroyc and Sue Perkins, left the show shortly after the move was announced.
The first Bake Off programming planned to broadcast on Channel 4 will be a celebrity version of the show in 2017, in aid of Stand Up to Cancer.
Still no word on the sister shows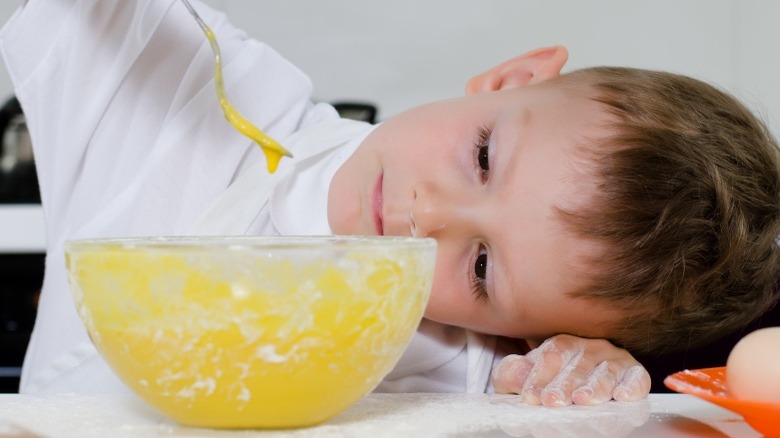 The Great British Bake Off has two sister shows: Junior Bake Off (on CBBC) and The Great British Bake Off: An Extra Slice (on BBC2). Will those be aired on Channel 4? There's no official answer yet.
According to RadioTimes, a Channel 4 spokesperson revealed, "We have a number of hours in addition to the main show and celebrity show that are part of the deal. We'll announce plans in due course, so it could include those, yes."
Mary Berry moved to The Great American Baking Show
In December, 2016, Mary Berry began judging The Great American Baking Show, the US sister program to The Great British Bake Off. Unfortunately it doesn't have quite the viewership the British version has.
Only 4.6 million viewers tuned in to watch the premiere on December 1, according to The Telegraph. This is in comparison to more than 14 million people that watched the finale of the last The Great British Break Off season.