Inside Bruce Willis' Friendship With Julia Roberts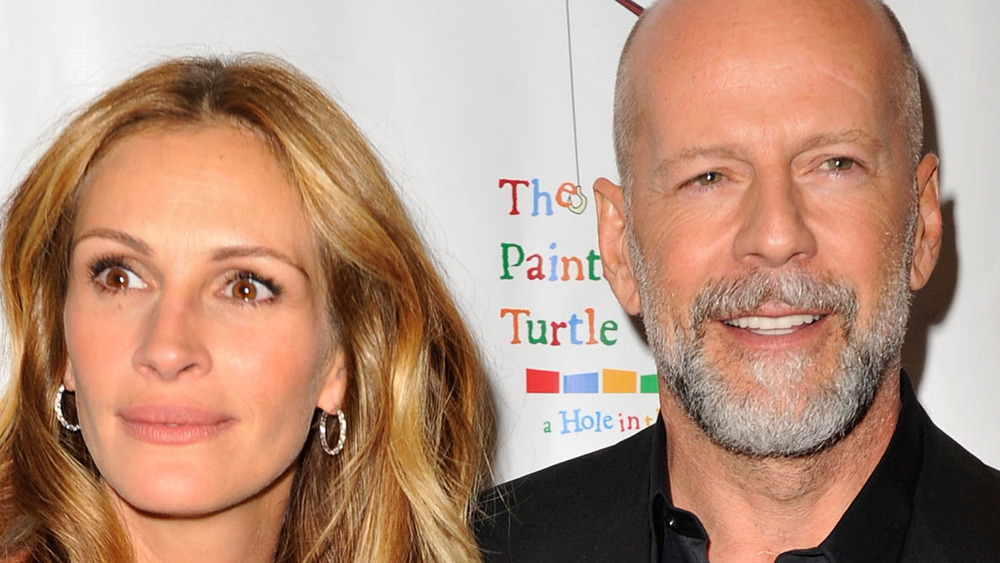 Kevin Winter/Getty Images
Being a major Hollywood celebrity for over 30 years, it comes as no surprise that Julia Roberts has acquired some pretty star-studded friendships. From George Clooney to Jennifer Aniston, her contacts' list must be one famous name after the next.
But what about Bruce Willis? According to The Telegraph, the Die Hard star, her Ocean's Eleven castmate, George Clooney, and the film's director Steven Soderbergh, were the only celebrities in attendance at Roberts' 2002 wedding to Danny Moder. It's unclear as to when their friendship started, but the two have become very close over the years.
It makes sense, then, that their friendship was used as a major plot point in Ocean's Twelve. In the Ocean's franchise, Roberts plays Tess Ocean – the wife of Danny Ocean (played by George Clooney). When the characters acknowledge that Tess Ocean bears a striking resemblance to Julia Roberts, the gang plans a heist around the premise that Ocean pretend to be Roberts. Basically, Roberts' character is pretending to be real-life Julia Roberts (via Decider)!
As part of their heist to steal a very expensive egg, Tess pretends to be a pregnant Julia Roberts. However, just as this is going to plan Bruce Willis appears and ends up calling the real Julia Roberts, which leads to Tess having a conversation with her on the phone, ultimately foiling the plan (via YouTube). It's confusing, it's meta, and it nearly didn't get put in the film, but it does reinforce the real-life friendship of these A-list actors.

Bruce Willis nearly played Julia Roberts' husband in the Ocean's franchise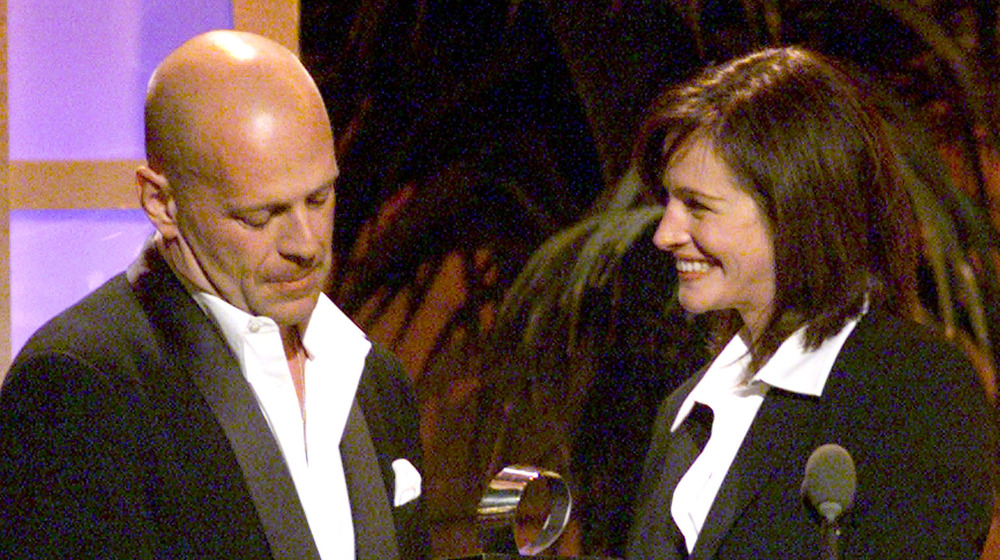 Kevin Winter/Getty Images
In an interview with Huffpost, director Steven Soderbergh revealed, "The only point of contention, and it was a big one in the sense that it was perfectly legitimate for it to be a point of contention, was the Julia Roberts scene." Confident it was going to work, he went with the plan leading to one of the most confusing yet brilliant scenes of the film. "We were constantly recalibrating scenes and trying to make sure the math of it ultimately would add up ... it's admittedly very convoluted."
To add to that confusion, Willis was initially set to be Roberts' on-screen husband. As Clooney revealed to Time, Willis turned down the role of Danny in the first movie which, according to Hollywood.com, was reportedly due to scheduling conflicts. "I think he regretted not being in the first," Clooney told Time. "But otherwise, pretty much anytime you go to someone with this, they sign on."
While Willis and Roberts haven't starred opposite each other since Ocean's Twelve, they've attended numerous events with each other, including a tribute to the late Paul Newman where they took part in reading the play The World of Nick Adams (via Hello!).