Princess Diana's Private Secretary Isn't Happy With Meghan And Harry
Wpa Pool/Getty Images
Royal fans will recognize the name Patrick Jephson as the person behind Diana, Princess of Wales. As her private secretary, he traveled with Princess Diana around the world, from the time she was the royal family's rising star through when her marriage to Prince Charles ended. Jephson lived to tell the tale and wrote the New York Times bestselling book Shadows of a Princess about his time with Diana, until his time of service with her ended in 1996, when Diana did her now infamous Panorama interview (via The Guardian). 
Knowing full well the damage a tete-a-tete with the press could cause, Jephson went on CNN to warn Prince Harry and Meghan Markle about the likely consequences that could come down on their heads if they spoke to the media about their time in the palace. "The precedence for royal interviews of this kind are not very encouraging. Both Prince Charles and Princess Diana and more recently Prince Andrew have tried to put their sides of the story on TV through these sorts of interviews and in all cases, it has backfired," Patrick Jephson said (via Parade). 
Princess Diana's secretary on the stakes of a royal family squabble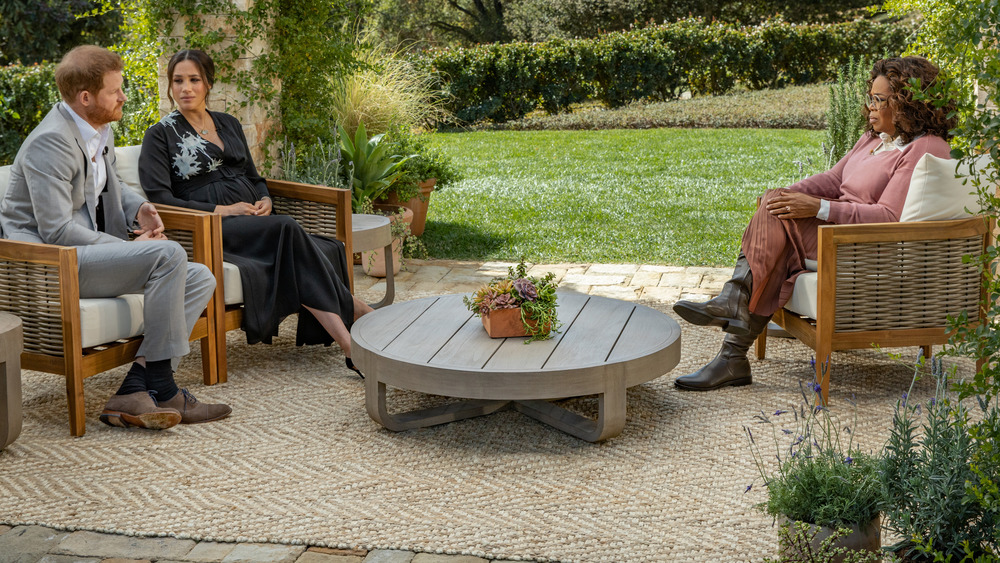 Handout/Getty Images
But Patrick Jephson didn't just deliver a warning that an interview could trigger unintended consequences. He also wanted to put out a reminder about the stakes of the royal ramily's internal squabble, which is now playing out for the world to see. Even as he said the events which were unfolding were reminiscent of what played out between Diana and the Royal Family, he noted, "I'm quite sure there are lot of unhappy people involved now ... at the heart of this there are real people, really hurting. I hope that somewhere in the midst of the current back and forth, somebody's putting down the seeds for eventual reconciliation" (via CNN). 
Queen Elizabeth II has indicated through her statement that she intends to deal with the situation with Harry and Meghan. Her former press secretary, Charles Anson, has told Sky News that the events are challenging in and of themselves, and that the Queen wants to handle things in a fair manner, "but in the family circle rather than by public diplomacy" (via Vanity Fair).
Another press secretary, Dickie Arbiter, says, "They've [the royal family] taken it in house and they'll deal with it. They won't shove it under the carpet. These are serious allegations and it will have been all hands on deck. I expect palace aides will have gone over the interview again and discussed it in detail before issuing the statement."
The British public seem to be behind Queen Elizabeth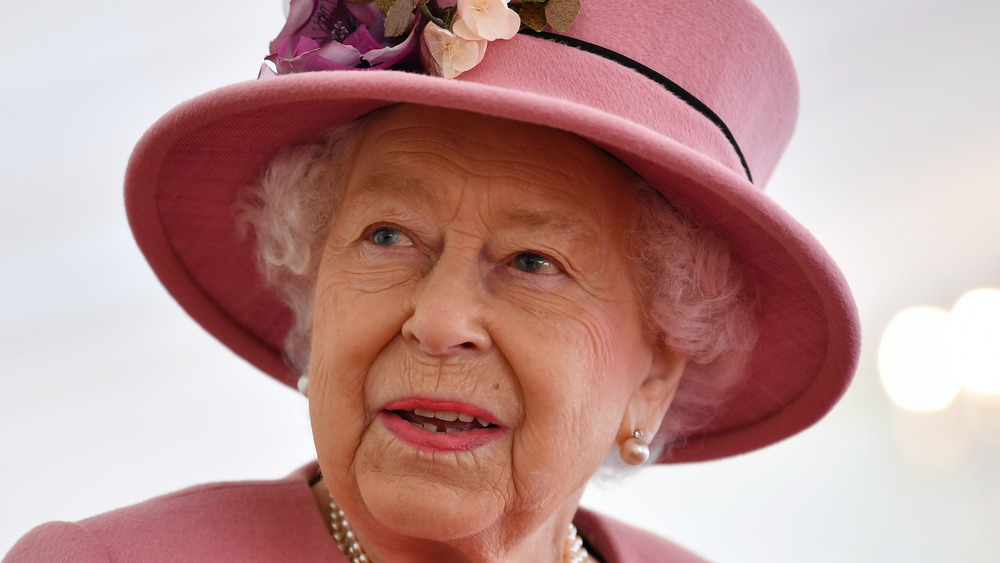 Wpa Pool/Getty Images
Buckingham Palace had been under pressure to release a statement to respond to the explosive interview — particularly because Meghan had said that during her time in the palace, she had had "suicidal thoughts," and before Archie was born, an unnamed relative had asked about his skin color. The queen has since done so, saying, "The issues raised, particularly that of race, are concerning. Whilst some recollections may vary, they are taken very seriously and will be addressed by the family privately. Harry, Meghan and Archie will always be much loved family members" (via BBC). She also cautioned people — in her own way — to remember that there were two sides to a story by pointing out that "recollections may vary."
Since that statement was made, Prince William and Kate Middleton have been seen in public, and Harry's brother made it clear that while he has yet to speak to his brother, he was firm in saying that his family is not racist (via Town and Country). With the dust settling from the interview, a recent poll out of Britain shows that the interview "has had little impact on public opinion. 36 percent say the sympathies are with the queen and the royal family, 22 percent say they have more sympathy for Harry and Meghan, and 28 percent have no view either way (via YouGov).  
With the numbers going in the queen's favor, Jephson's warning to Harry and Meghan may actually turn out to be a prophecy.