Heartwarming Moment Between Meghan And The Queen Found By Twitter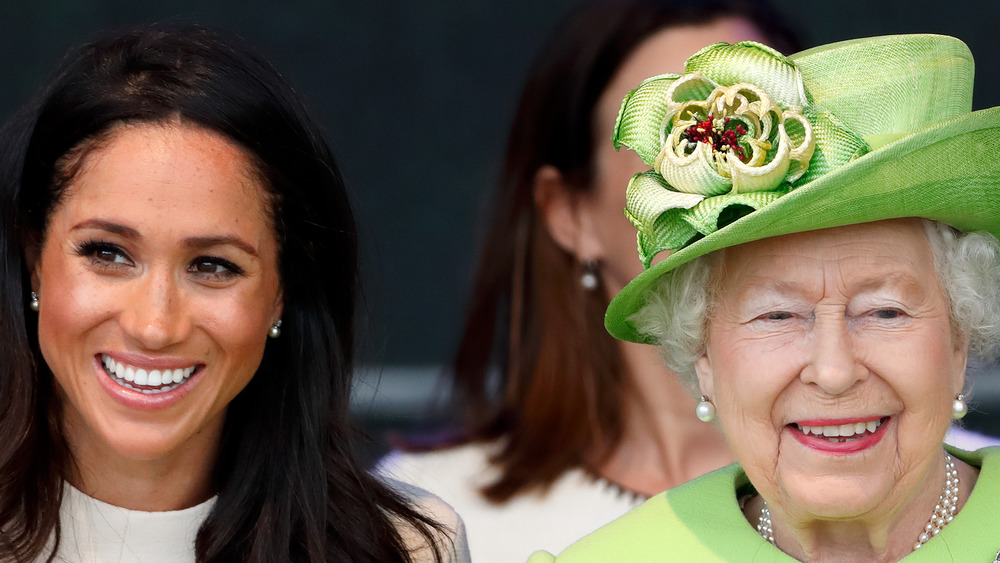 Max Mumby/indigo/Getty Images
Meghan Markle spoke about a sweet moment between herself and Queen Elizabeth during her recent interview with Oprah Winfrey and days later, the heartwarming encounter was discovered and shared on Twitter.
On March 10, after Markle recalled a moment in which the 94-year-old acted like a grandmother figure to her amid their first joint outing after married Prince Harry, NowThis posted a video of the two women together in Cheshire. In the clip, which was deemed as a "previously unseen moment," the Queen was seen offering Markle some warmth under her blanket after the two of them got into a car together.
"We were in the car going between engagements, and she has a blanket that sits across knees for warmth, and it was chilly," Markle recalled, via PEOPLE. "She was like, 'Meghan, come on.' And she put it over my knees as well."
After the Queen was seen covering Markle's knees with the blanket, as well as her own, the crowd around them erupted in cheers. "It made me think of my grandmother. She's always been warm and inviting and welcoming," Markle said.
Queen Elizabeth also offered a blanket to Kate Middleton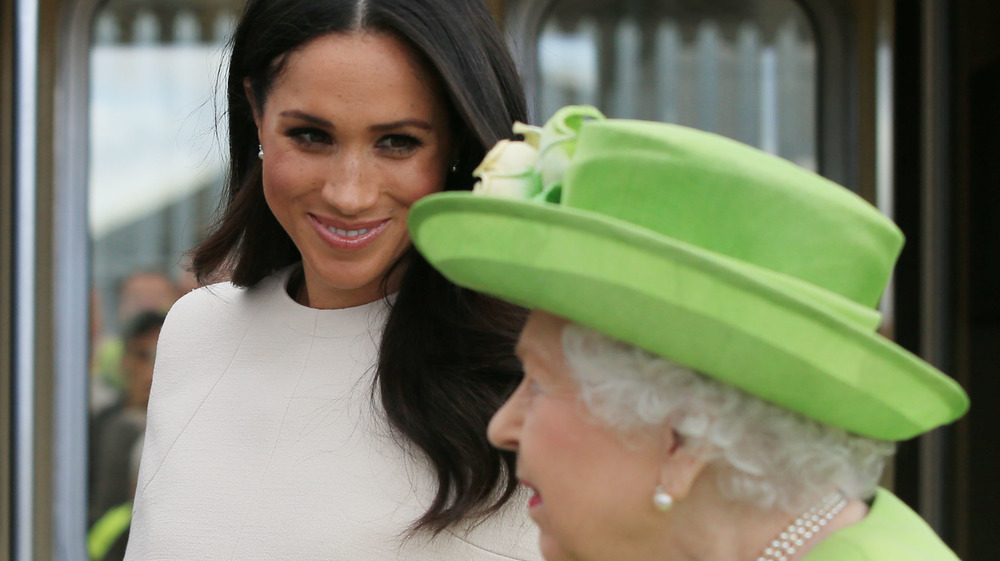 Wpa Pool/Getty Images
According to PEOPLE's report, Queen Elizabeth cared for her other granddaughter-in-law, Kate Middleton, in nearly the exact same manner in March 2019 when she offered her space under a blue blanket while seated in the back of a car. At the time, the two women were leaving an engagement at the Strand campus of King's College in London.
Looking back on the kind gesture, Markle told Winfrey she "really loved" being with the Queen before admitting that their initial encounter was a bit daunting. As she explained, Prince Harry took her by surprise when he asked her if she knew how to curtsy on the way to her first meeting with the Queen (via Town and Country).
"I thought genuinely that that was what happened outside. I thought that was part of the fanfare," Markle shared. "I didn't think that's what happens inside, and I was like 'Well, it's your grandmother.' And he goes, 'It's the Queen.' And that was really the first moment that the penny dropped."