Why Everyone's Talking About Harry Styles' Look At The Grammys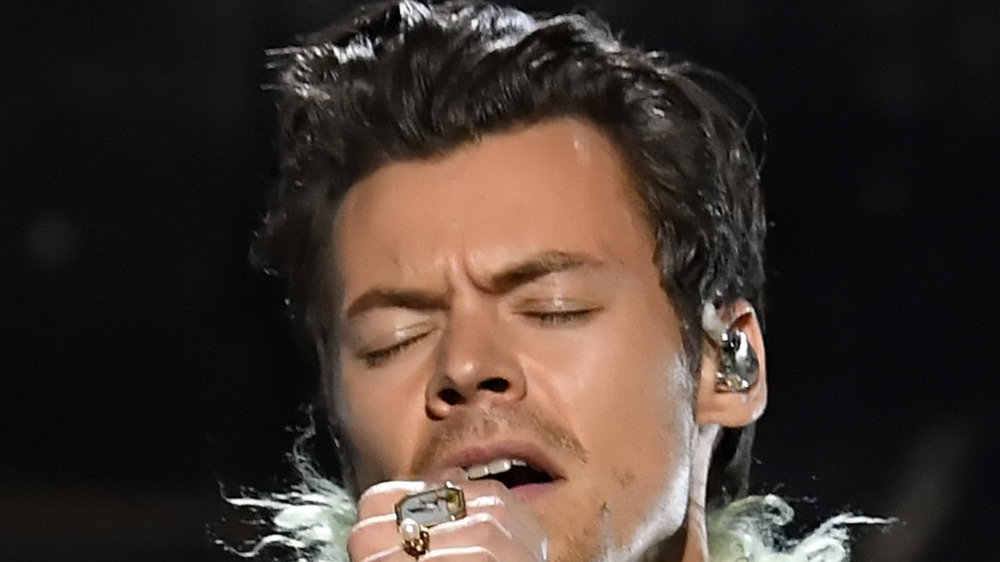 Kevin Winter/Getty Images
Where singer, actor and all-around style icon Harry Styles goes, conversation follows. And tonight, that just so happens to be at the 2021 Grammy awards, where Styles performed his hit single "Watermelon Sugar" off his 2019 album Fine Line (via Vulture).
The song earned Styles a nomination for Best Pop Solo Performance and he's nominated this evening as well for Best Music Video and Best Pop Vocal Album (via Grammy.com).
Styles is never afraid to shake things up sartorially, so of course his first time as a Grammy nominee would be no exception. He took to the stage wearing a black leather suit — the jacket unbuttoned to reveal his chest — and topped off with a green feather boa.
Naturally, many took to Twitter to voice their feelings about Harry's outfit.
"I'm not being dramatic when I say Harry Styles' Grammy outfit is literally going to change my life emotionally, mentally, and physically" one user wrote. Another noted, "I care more about Harry Styles's Grammy outfit than I've cared about anything in my life."
'The future of the world'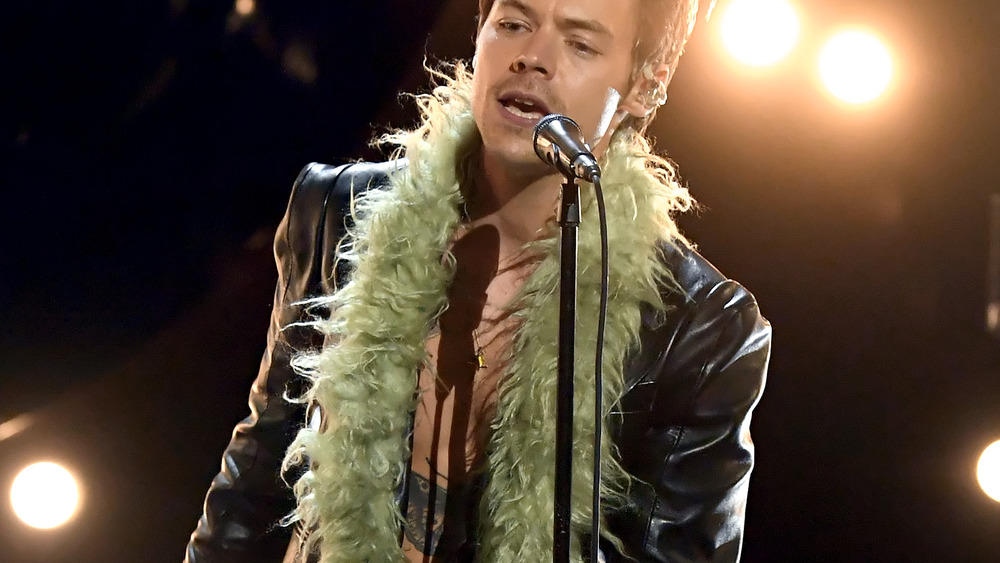 Kevin Winter/Getty Images
Fans were anticipating that Styles would appear at the Grammy's donning a splashy outfit. Styles has well established himself within the fashion world, co-hosting the 2019 Met Gala alongside Serena Williams, Lady Gaga, and Gucci's Alessandro Michele (via Harper's Bazaar).
He's also proven that he's not afraid to take risks. In December 2020, Styles became the first man to appear on Vogue's cover all by his lonesome (via Insider). On the magazine's cover he can be seen wearing a light blue dress, and other pictures include him wearing a skirt as well – clashing with what's typically expected of men to wear (that is, of course, the only way in which the clothes clash).
In that issue, director (and likely girlfriend) Olivia Wilde sung Styles' praises and willingness to play with gender as it's traditionally known (via Marie Claire).
"I hope that this brand of confidence as a male that Harry has—truly devoid of any traces of toxic masculinity—is indicative of his generation and therefore the future of the world. I think he is in many ways championing that, spearheading that," she told Vogue. "It's pretty powerful and kind of extraordinary to see someone in his position redefining what it can mean to be a man with confidence"
Currently, Styles is also busy filming the Wilde-directed and '50s-era set Don't Worry Darling, which finds him wearing some period appropriate suits — something his fans are certain to be pleased with (via PopSugar).