Here's Why Harry Style's Vogue Cover Is Turning Heads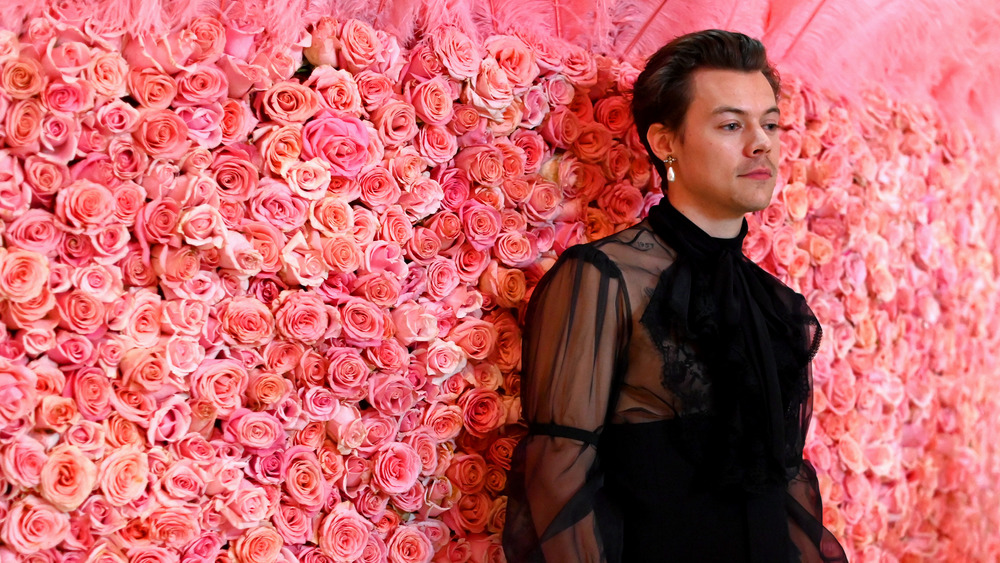 Matt Winkelmeyer/mg19/Getty Images
Harry Styles put on a Gucci dress for his Vogue photoshoot. That's not particularly surprising. Styles likes tights. "As a kid I definitely liked fancy dress," he told Vogue. "I was really young, and I wore tights for [the play]. I remember it was crazy to me that I was wearing a pair of tights. And that was maybe where it all kicked off!" Also, there's this: Styles is tight with Gucci's creative director Alessandro Michele. In fact, in November 2015, for the American Music Awards Styles became the first male to wear one of Michele's complete looks (a totally beautiful floral suit) on the red carpet (via Vogue). The lace dress and double-breasted tuxedo jacket that Styles put on for his Vogue cover shoot is also an Alessandro Michelle creation. 
What's big about Harry Styles appearing on the cover of Vogue isn't his clothes. It's that he's a he. When Vogue's December issue is shipped out, he'll officially become the first male to grace the fashion magazine's cover, solo, in 128 years (via ET). He wasn't risking anything. In fact, Styles went on a six-day juice cleanse to get ready for the photographer. 
The world is reacting to Harry Style's Vogue cover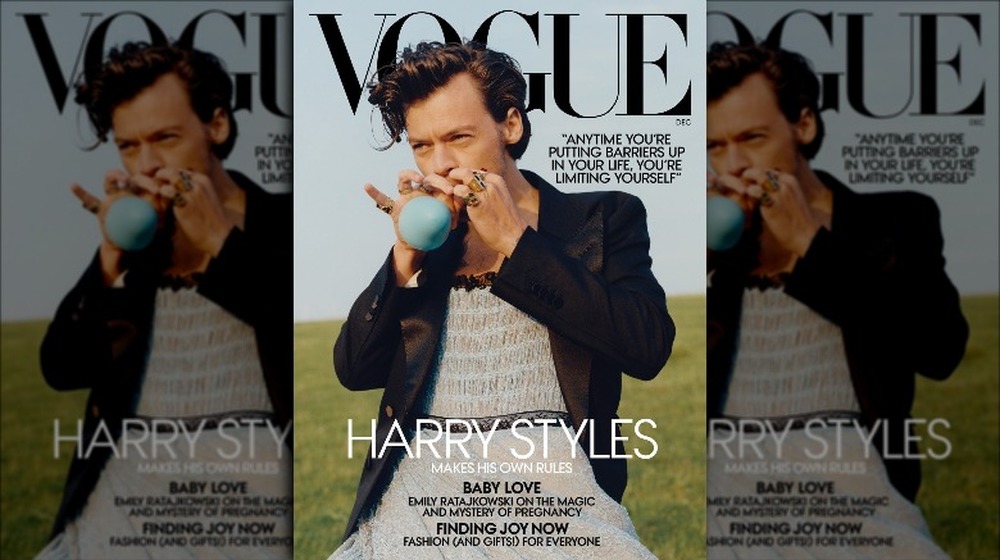 Twitter has seen Harry Styles on the cover of Vogue,  and it will never be the same. "Cause of death: Harry styles vogue photoshoot," wrote @freddcury. "Stop talking to me about harry styles' vogue shoot I will go into cardiac arrest if I see the photos," tweeted @mackenzy_dodds. To borrow the words of Associate Director at Digital Media Management, Alex Goldschmidt, "The first man with a solo Vogue cover? @Harry_Styles is truly in a league of his own. He's not an artist. He's an icon. And he owns it." 
There's no denying it. The "Watermelon Sugar" singer looks rad in a dress. We know it, Vogue knows it, he knows it. "I think if you get something that you feel amazing in, it's like a superhero outfit," Styles told Vogue for his photoshoot, "When you take away 'There's clothes for men and there's clothes for women,' once you remove any barriers, obviously you open up the arena in which you can play. I'll go in shops sometimes, and I just find myself looking at the women's clothes thinking they're amazing ... There's so much joy to be had in playing with clothes."
If you, like us, can't get enough of Styles in a dress, you're in luck. Gucci just tweeted that Styles "will appear in the mini-series 'Ouverture Of Something That Never Ended'" which will premiere during GucciFest, from Nov. 16-22.