DaBaby's Performance At The Grammys Is Sparking Buzz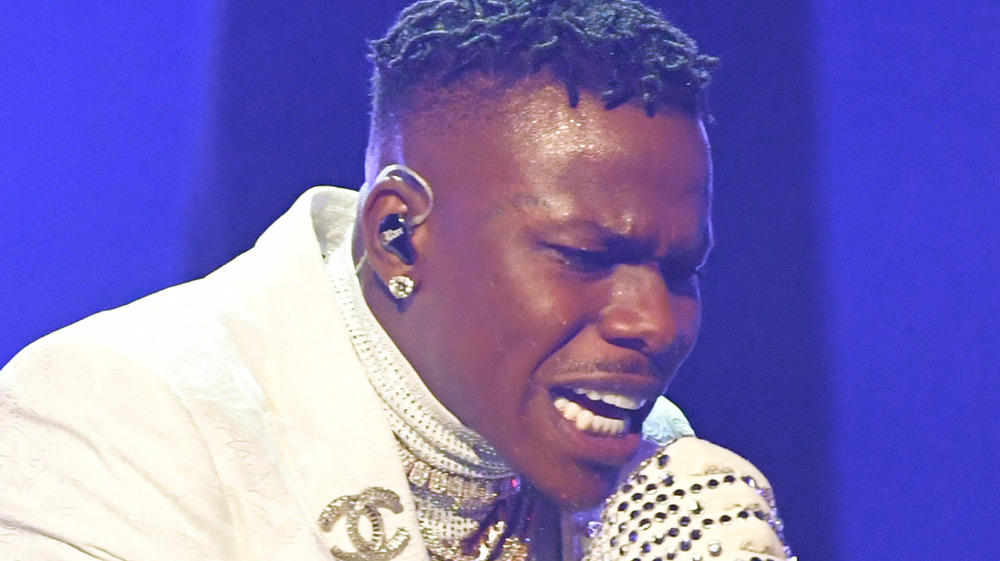 Kevin Winter/Getty Images
If viewers of tonight's Grammy Awards ceremony previously weren't familiar with rapper DaBaby, now they most certainly are. The "Suge" rapper caused lots of buzz with his show-stopping performances this evening alongside Roddy Ricch and fellow Grammy nominee Dua Lipa. DaBaby took to the stage to perform "ROCKSTAR," and when he did so, he wasn't just joined by Roddy Ricch, but also a choir and a violinist. 
Grammy watchers were treated to a special, new arrangement of the song, one with additional verses that DaBaby had told Associated Press were "going to touch everybody" (via Pitchfork). However, viewers couldn't help but notice that the violinist for the performance bore a striking resemblance to another Grammy-nominated artist: Ariana Grande. "Why is Ariana Grande playing violin for DaBaby?" one Twitter user asked - even though Grande is missing from the evening's proceedings entirely (via Elle). Philip Lewis, an editor with HuffPost, took note of the choir's outfits. "DaBaby got the Supreme Court justices performing in the back, iconic," he mused (via Twitter).
Double the nominations, double the impact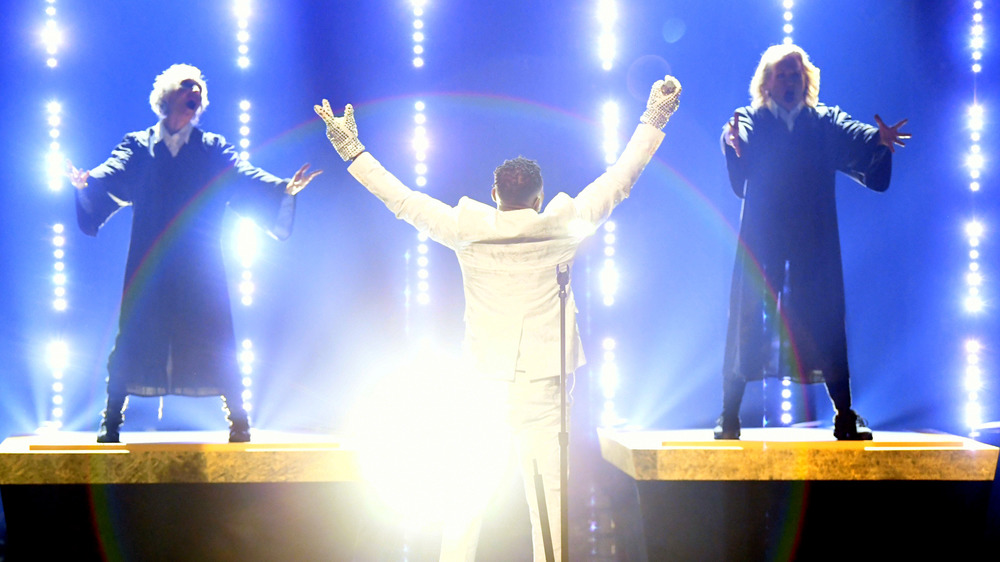 Kevin Winter/Getty Images
DaBaby, who is nominated for four Grammys this year (in the categories of Best Rap Song, Best Record, and Best Rap/Sung Performance for "ROCKSTAR," from the album Baby on Baby and Best Rap Performance for "BOP" off his album KIRK), is doubling his record. Last year the rapper was nominated for two Grammys, and this year's nominations, as some might say, hit differently.
"It definitely felt twice [as] impactful as last year," DaBaby said during an episode of Backstage At The 63rd GRAMMYs (via the Recording Academy). "I made a bold statement when I was nominated for them last year. I said, 'I'm going to be at the GRAMMYs and will be nominated every year of my career as a mainstream artist.'" And it seems like it was a goal that paid off for the rapper.
"It's definitely a repayment for the work that I put in over the past year," DaBaby said. And his work didn't end with his solo albums. He also collaborated with Dua Lipa on "Levitating," which appeared on her album Future Nostalgia. And, following DaBaby's performance with Roddy Ricch, Dua Lipa reunited with DaBaby to perform that song before then performing her own hit, "Don't Start Now" (via Pitchfork). But the most important person who DaBaby stood next to at the Grammy's? That has to be his mom, who he brought as his date (via Yahoo! Entertainment).