This Odd Wedding Trend In Scotland You Never Heard About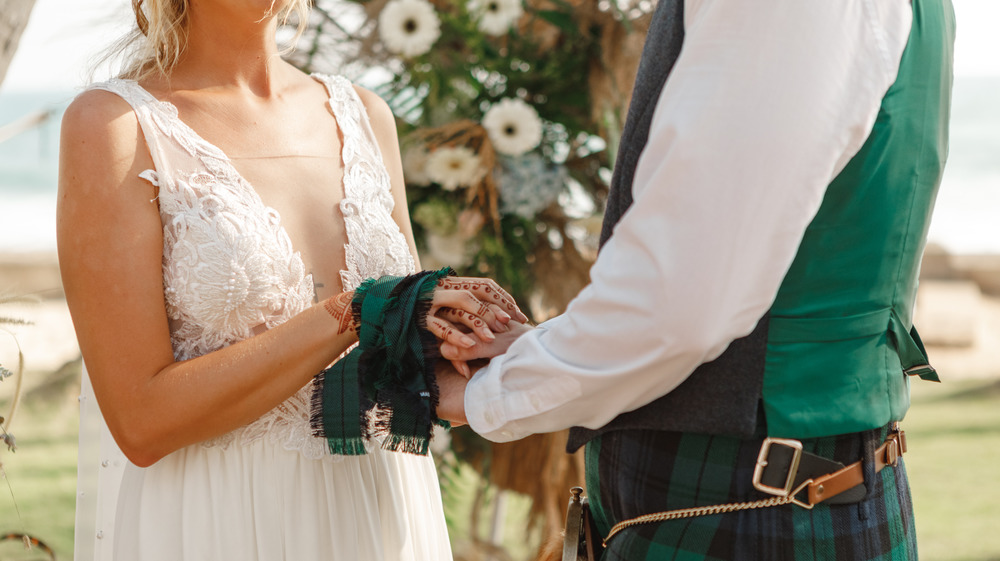 Shutterstock
Wedding trends vary by location, so it's not that strange that you don't know all the unique wedding traditions from other countries that couples include in their nuptials. Throughout the world, tying the knot looks different. Sometimes, when celebrities like Nick Jonas and Priyanka Chopra said their vows, the whole world gains insight into the differences and similarities in weddings in different cultures. 
This nearly forgotten Scottish tradition for brides and grooms is seeing a revival of sorts, the Glasgow Evening Times reported. The publication noted that the unusual wedding trend seems more like a nightmare for women getting married, and the time — The Blackening — certainly sounds foreboding. The movement's description isn't for the faint of heart, and it could make for some unusual photos (via BBC News). Understandably, some couples would rather their wedding party choose something else to celebrate their nuptials, but this ritual is gaining popularity. Ultimately, though, the ritual brings the community together for the bride and groom.
This is what happens at The Blackening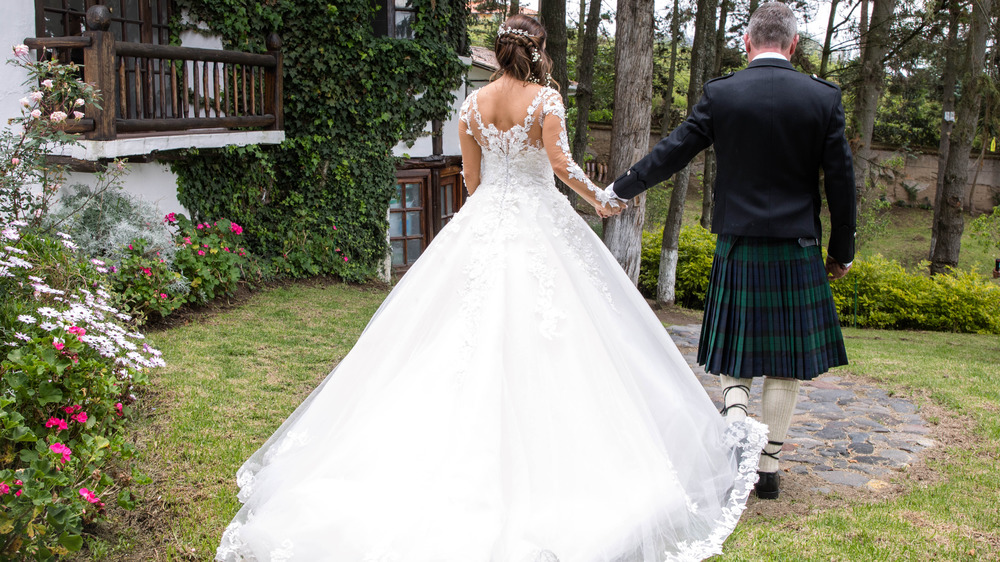 Shutterstock
For The Blackening, friends of the bride and groom kidnap them and strip off their clothing. Luckily for the happy couple, it happens before they've put on their wedding clothing, so the white dress isn't sullied for the big day. The crowd removes the couple's clothing and "blackens" them with flour, custard, and soot (or some equally sticky concoction), and then covers them in feathers. Occasionally, they tie the soon-to-be-married couple together to complete the ritual, which is supposed to bring a lifetime of good luck. Sometimes the couple experiences The Blackening separately, depending on how their friends and family decide to do it. Occasionally, this trend doesn't even involve blackening the bride or groom. Instead, couples may find themselves doused in glitter, which sounds like it could be quite beautiful, although messy, to experience (via the Glasgow Evening Times).
While this tradition is primarily popular in farming communities and the islands, it seems it's spreading to Glasgow and other western areas in Scotland.
Dr. Sheila Young from the University of Aberdeen's Elphinstone Institute told BBC News that the tradition began as a cleansing ritual. However, it's evolved into a dirtying one as the centuries have passed. "When I started doing my research, I found women before the 1980s actually called it a feet-washing," Dr. Young said. "If you were getting married, you had your feet washed, and that was a sign you intended to go through with the wedding."