The Real-Life Pregnancy That The Office Hid In Front Of Your Eyes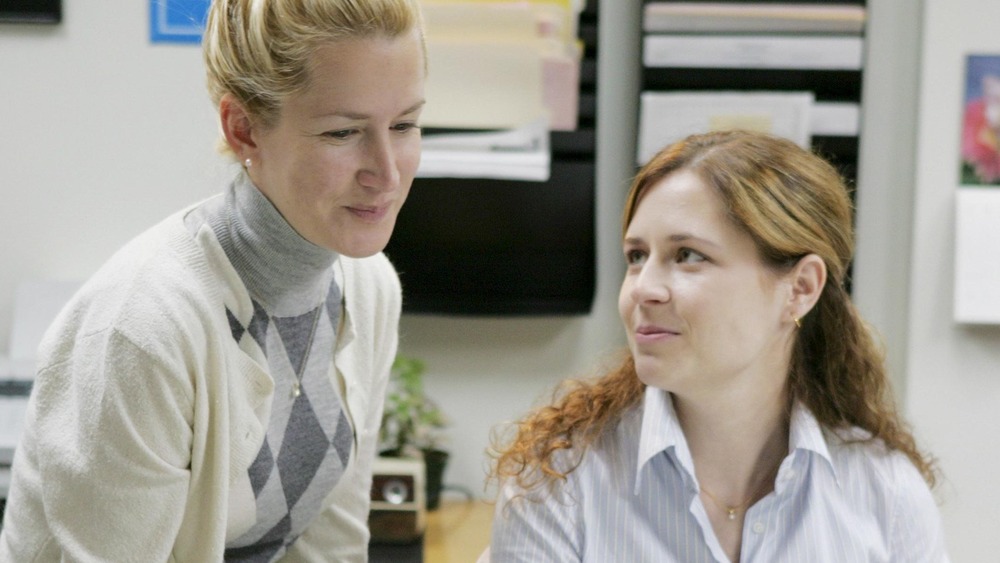 NBC
No matter how many times we binge-watch The Office (and it's a lot), it seems like there's always something new to learn about the beloved 2000s sitcom, known for its distinctive mockumentary style and its iconic, fan-favorite characters. For instance, there was apparently a real-life pregnancy that the NBC show hid throughout one season — and many viewers didn't even realize it! 
As longtime fans of The Office may remember, two major characters became pregnant within the show's fictional storylines: Pam Beesly, the sweet receptionist-turned-saleswoman played by Jenna Fischer; and Angela Martin, the stern and cat-loving accountant played by Angela Kinsey. We learn that the two characters are with child at the exact same time at the beginning of season 8, lending to some hilarious moments between the two ladies of the office (like the one episode in which they quarrel over the same name, "Phillip," for their babies!). Reportedly, this storyline was a product of Fischer's real-life pregnancy, which the showrunners decided to write into the show's plotline (via People).
But while Fischer's pregnancy played out fictionally in the show, there was one other real-life pregnancy that The Office decided not to write into the beloved sitcom — and instead chose to hide with some very clever and strategic maneuvers on set.
How The Office hid Angela Kinsey's pregnancy in season 4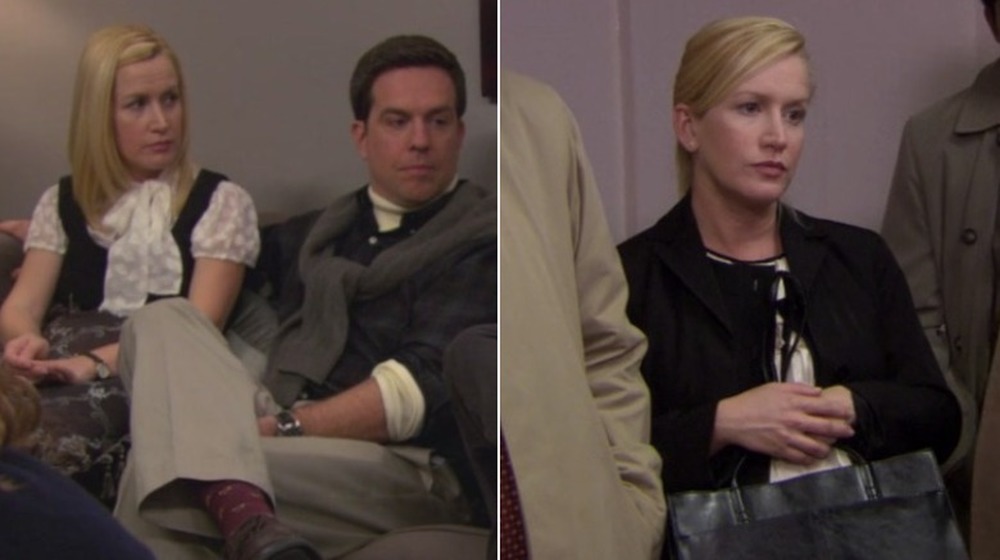 NBC
Years before her character became pregnant in season 8 of The Office, Angela Kinsey was actually pregnant with her first child, Isabel, whom she welcomed in 2008 with then-husband Warren Lieberstein (via People). As revealed in a Rolling Stone interview, the actress' pregnancy coincided with the filming of season 4 — but the writers chose not to incorporate it into her character's storyline, as they had with Fischer.
"My pregnancy wasn't written into the season arc because it didn't exist for part of the season. Then, after the writers' strike, I came back very pregnant — and I'm a petite person," Kinsey told the outlet. "So then it was, 'Oh, my God, how do we hide her belly?' because if you're just picking up where we left off, you can't have a pregnancy overnight."
Kinsey then explained how exactly the show hid her pregnancy throughout season 4, revealing that her belly was strategically hidden behind various objects like a purse in her lap — or even some flowers, like in one iconic episode titled "The Dinner Party." "One of the reasons why Ed Helms shows up with that enormous bouquet of flowers is because it was hiding my belly," she said.
We don't know about you, but we'll definitely be using this newfound behind-the-scenes fact as an excuse to rewatch season 4 of The Office all over again — especially to try and spot all those moments that Angela was hiding her very pregnant belly!