The Best Lipstick Color For Olive Skin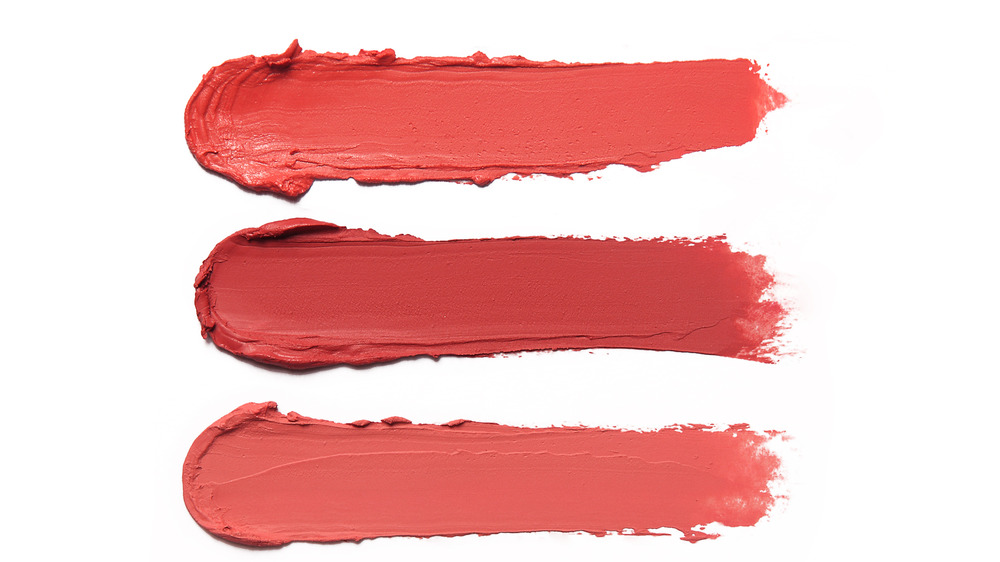 Shutterstock
The only thing more overwhelming than choosing the right foundation color is finding a lipstick that works for you. Standing in front of the swaths of hues that all promise to make your eyes pop and complement your skin tone, it's hard to decide exactly which will do what it says. Luckily, as more brands create inclusive lines, they often offer skin tone charts to see how each color will appear on your lips.
Byrdie reports that, beyond checking the skin tone charts, the first step is noting your skin's undertone. This mainly settles into two options: warm or cool tones. Fairer skin usually has a cooler hue while deeper or olive skin often has a warm undertone — you can also have combinations of the two. Since olive skin often coincides with a warmer undertone, it's best to keep your lip color in the same arena. To tell if this is you, the outlet suggests checking to see if the veins in your wrist show greenish blood rather than strictly blue. Plus, if you stick with gold jewelry to complement your skin and tan pretty quickly, you likely have a warmer undertone. 
Unsurprisingly, aiming for a warm shade for your warm skin usually looks the most flattering. Deeper colors like red and orange can highlight your best features while bold hues like gold work best for big nights out, the outlet explains.
Medium skin tones can pull off a wide array of colors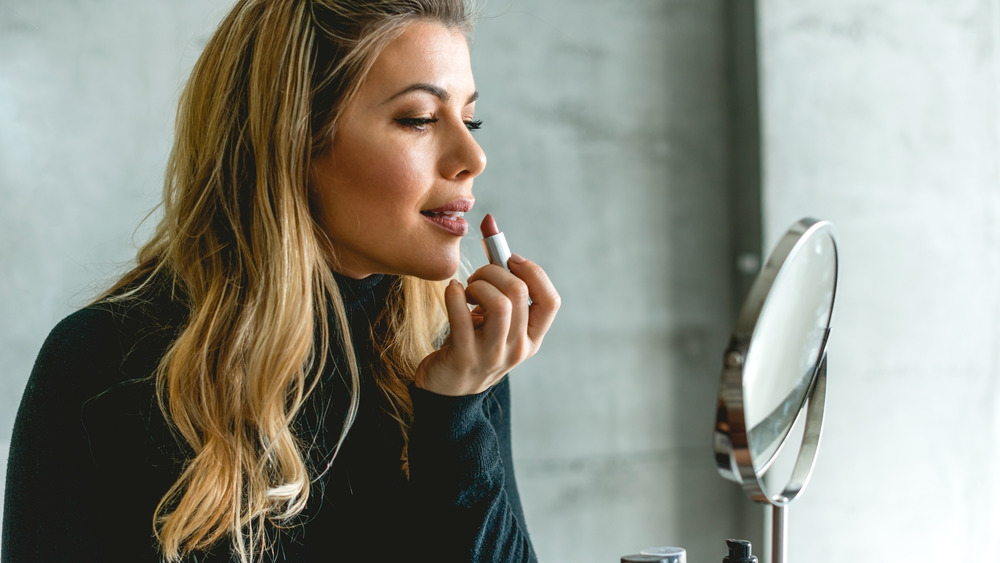 Shutterstock
Luckily, olive skin and medium skin tones in general offer a versatile palette that works with a lot of different looks. Just staying within the warm color range gives you the best bet at finding something that you love. Insider notes that you can't always tell if the product you're questioning has warmer or cooler undercurrent by just looking at it. To get a feel for what the lipstick in question will really look like on your skin, apply a small amount close to a vein on your wrist. The outlet shares that this will give you the closest idea as to what it will look like when you apply it to your lips.
When it comes to finding a favorite red lipstick, it's a good idea to stick with coral. Prince's former makeup artist, David Maderich, tells the outlet, "Some reds can look dirty because they're too brown. The ideal shade for darker skin is coral."
Of course, no matter what color you choose, if your lips aren't moisturized, any formula will look misplaced. You can opt for a lip scrub before you apply your makeup to give the product the smoothest surface possible and wear chapstick leading up to your event!