Here's The Best Kind Of Brush For Your Hair Type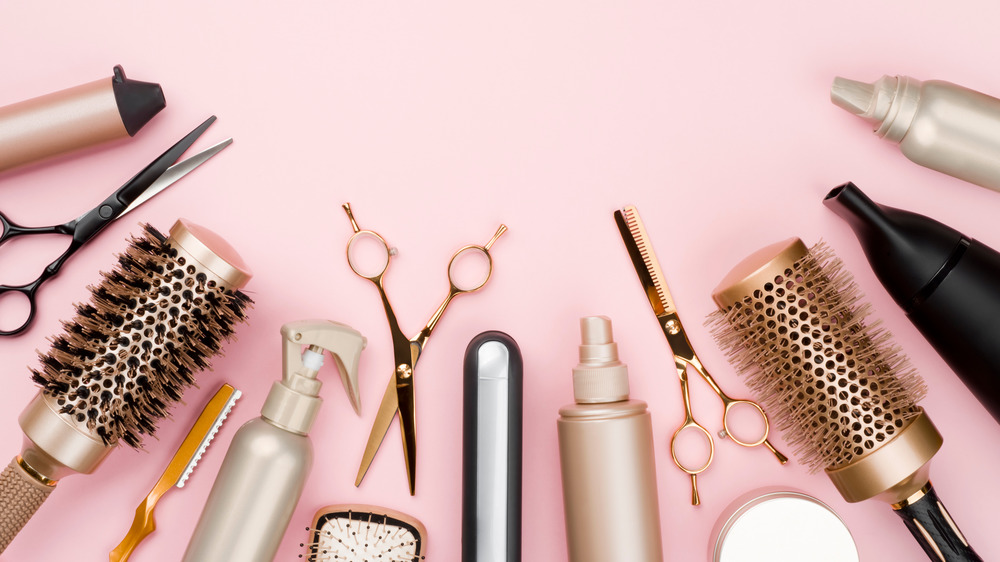 Shutterstock
While it may seem simple, choosing the right hairbrush may actually take more planning than you think. An important piece of keeping strong, healthy hair, your hairbrush can either leave you with long, silky locks or a damaged mess. Gone are the days of choosing the most convenient paddle brush — it's time to really take care of your mane.
Fine hair represents the most easily damaged of all the hair types. Finding a brush that is gentle enough to detangle, while also effective in undoing tangles can prove to be a challenge. Byrdie notes that most brushes are much too rough for thin strands, since they can break so easily, so soft bristles are a must. The outlet recommends finding a boar-bristle tool that can gently remove tangles and leave you with a smooth look. Plus, Bustle explains, this type of brush helps distribute the scalp's natural oils throughout your tresses for a moisturized, detangled result. If your hair is damaged and thin, boar bristles can stimulate blood flow to your scalp, helping revive your mane. You can opt for a mix of bristles, like nylon, that work well with the boar options but, no matter what, make sure you're being incredibly gentle while you brush. 
While soft bristles are best for fine hair, they may not work best for someone with curls. Byrdie suggests that most hair is much too fragile when it's wet to run through it with a brush. However, the density of curly tresses is usually able to hold up as an exception to the rule. You can run through your hair with a wet brush or a wide-toothed comb to keep your ringlets looking spry.
People with thick hair should stick with nylon brushes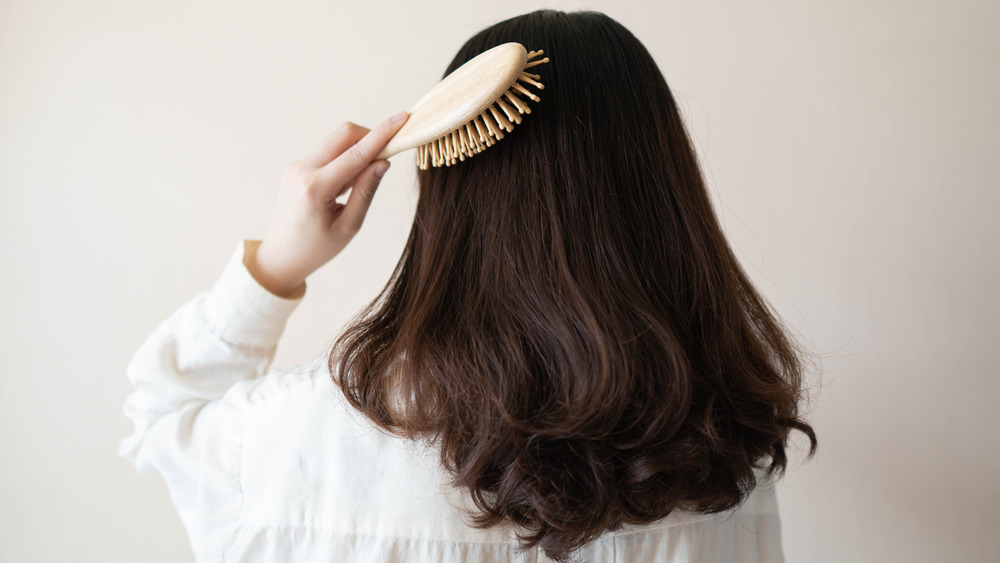 Shutterstock
Of course, for people with thick hair, boar bristles won't do the trick. Thicker tresses need smooth detangling and wider teeth to remove all of the tight tangles that can get lost within dense strands, Bustle explains. So, if you consider your hair to be thicker than most, find a brush with nylon bristles that are pretty well spaced out. A Wet Brush that gently untangles while allowing your hair to keep its shape can be a great addition to your shower, the outlet notes. Plus, your brush can even help cut down on drying time. Opt for a vented tool with space between rows of bristles that you can use with a hair dryer. When styling your stands, use a wide-barreled round brush — preferably with boar bristles this time to minimize pulling.
Similar rules apply for people with extensions. You'll want to be incredibly gentle with these, and it's a good idea to speak with your hairdresser to find what works with your specific style. According to StyleCraze, it's best to find soft, flexible bristles, like the ones on a Wet Brush, to ensure the longevity of your extensions. A wig brush also provides a valuable option that works around your extensions, the outlet notes.
Of course, bangs can have a tool of their own as well. Byrdie suggests resorting to boar bristles once again on account of their gentle detangling abilities — just find a little round brush to do the trick.