The Best Type Of Shoes For Wider Feet
Shutterstock
Not all of us can have that Cinderella moment when we're trying on a pair of shoes that caught our eye in the window display. You know the scene we're referring to. When the prince slips that dainty glass slipper right on to her dainty foot to represent a perfect match! Many of us find ourselves violently wedging instead of "slipping" the glass slipper equivalent onto our foot. But before you end up possibly harming yourself, there is another solution and better options. Here are the best types of shoes for wider feet.
Podiatrist Jacqueline Sutera, DPM, a Vionic Innovation Lab member, says that shoe styles with a more rounded toe and with adjustable straps are better choices for a wider foot. She also shares a time-saving shoe shopping tip — she recommends to, "Put the shoe next to your foot to quickly see if it's the correct shape," she says. Adding that, "Shoes that don't match your natural shape will be too tight and cause short-term—and possibly long-term—pain and potential problems" (via What to Wear). 
There are plenty of shoe styles for wide feet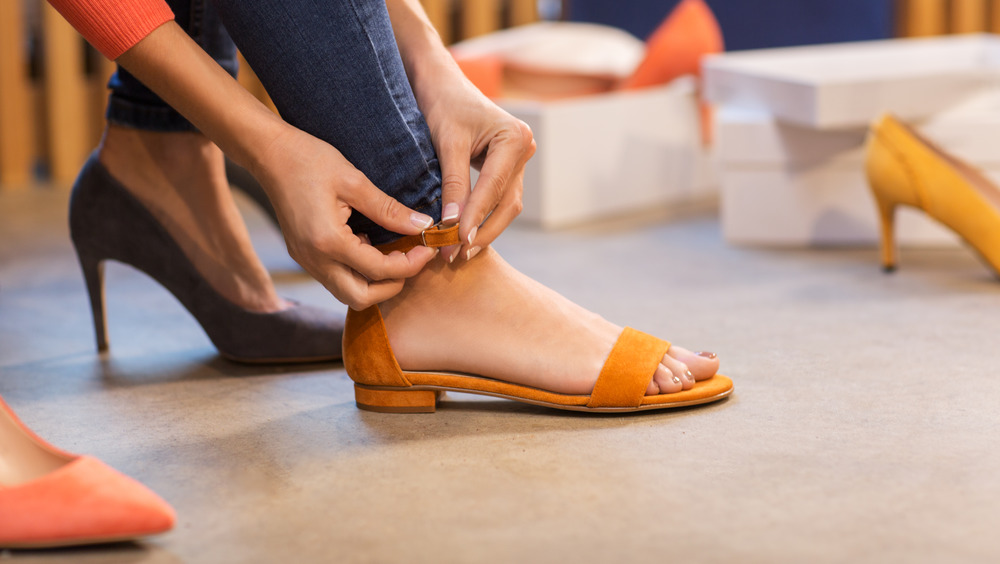 Shutterstock
Poor Cinderella didn't have the multitude of options that we have today (who wants to wear a slipper made of glass anyway?). Luckily, our wide feet can still be stylishly accessorized in shoe styles such as: Chic elastic ballet flats, breathable slide on sandals, and comfy running shoes (via BuzzFeed).
Finding the right shoe style may have solved your wide feet fashion needs, but remember, the fit is just as important as the style. "From the moment you try them on in the store, the shoes should fit comfortably and feel just right," Sutera explains. "If they're tight, try the next width up or a different style. Breaking shoes damages feet in the process" (via What to Wear).
If you have wide feet, we hope the listed shoe style options and tips on how to make sure your shoes fit properly will lead you to having your own Cinderella moment the next time you are shoe shopping. We're just sorry we can't provide the magic horse and carriage as well.