Donald Trump Jr.'s Tweet About Biden's Gaffe Has The Internet Seeing Red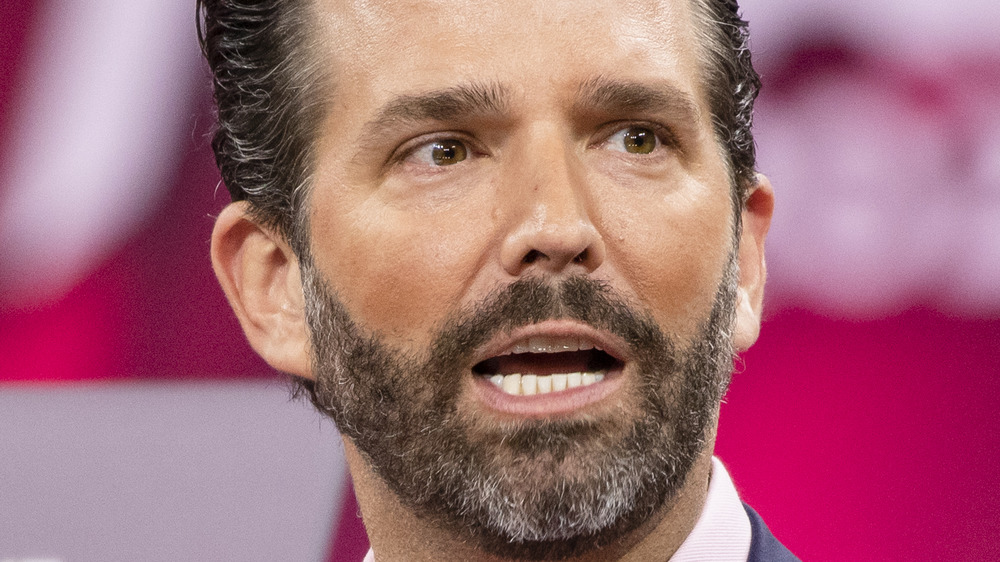 Samuel Corum/Getty Images
Twitter is a platform where (almost) everyone can speak their personal truths, advance a cause, spread important news, express outrage, or hurl insults. Donald Trump Jr. prefers to use it for the latter two purposes. The former president's son frequently goes online to air his views. Prior to January 20, his messages were largely about supporting his father's re-election campaign. Since then, Don Jr. has been speaking out regularly against President Biden and pointing out how much better the country was before the Democrat took office. (When he's not taking aim at Biden, he likes to opine about such topics as Mr. Potato Head and Grammy nominees posing without masks.)
But one of Don Jr.'s recent jabs at the president had nothing to do with his policies or goals; instead, he tweeted a clip of Biden giving a speech about the successful distribution of nearly 100 million doses of COVID-19 vaccine. The president began a sentence, "Now, when President Harris and I...", accidentally giving Vice President Kamala Harris "an oral promotion," as the New York Post dubbed it. 
"He's literally incapable of getting even the basics right," Trump tweeted, adding the hashtag #PresidentHarris. 
His remark got fast attention, and even faster reactions from followers on both sides of the political spectrum. 
Twitter pointed out President Trump's many verbal slip-ups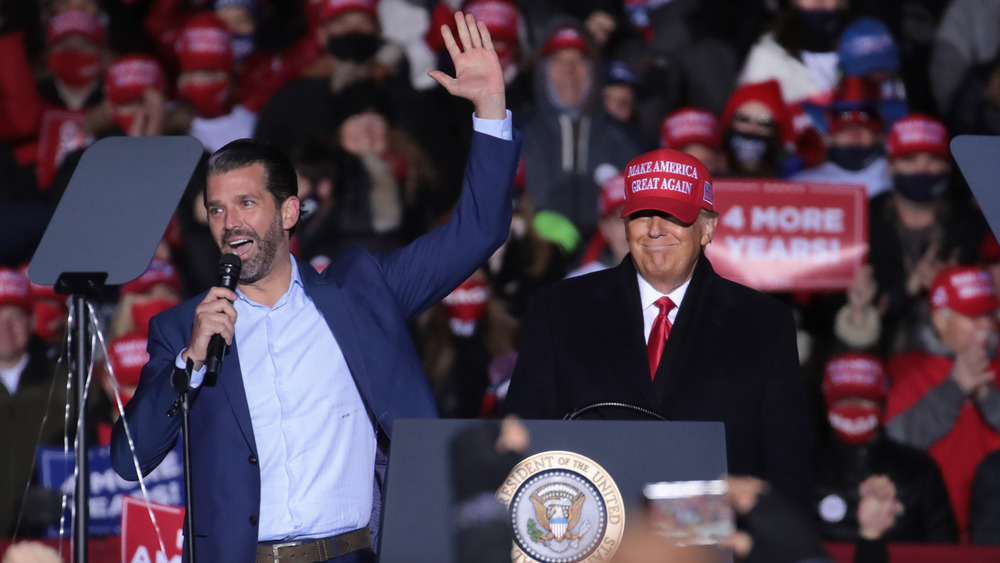 Scott Olson/Getty Images
A large number of respondents pointed out how insignificant the gaffe was in comparison to some of the things his own father did during his four years in office. One respondent said, "We can't all have the razor sharp intellect of the guy who suggested we fight a pandemic with sunshine and bleach injections." Another comment went, "So true Donny boy — he's focusing on crushing the virus and saving the economy — and he's thinking about the well being of the people of this country. It's called patriotism and integrity — you wouldn't understand." Because the slip may have been a result of President Biden's slight stuttering impediment, some users took the first son to task for mocking a disability.
Many others pointed out the fact that President Trump made more than his own share of verbal slip-ups (such as his mispronunciation of "Yosemite") and ramblings (like this statement on the Iranian nuclear deal that a follower posted). A commenter posted a compilation of clips showing the president flubbing names (such as "Betanyahu" for Benjamin Netanyahu, and "Mike Bolton" for John Bolton). His numerous tweets were also notable for errors such as the famous "cofevfe" that became a viral sensation (via USA Today).
Then there were a few followers who proved that conspiracy theories are very much alive. One saw a deeper meaning in Biden's error: "I think behind the scenes they have sworn Harris in as president and have not come out and said anything yet. Keeping it a secret, I don't know." Another called Biden the "Fake President" and said, "TRUMP IS STILL [YOUR] PRESIDENT."