What We Know About Kris Jenner And Chrissy Teigen's New Business Venture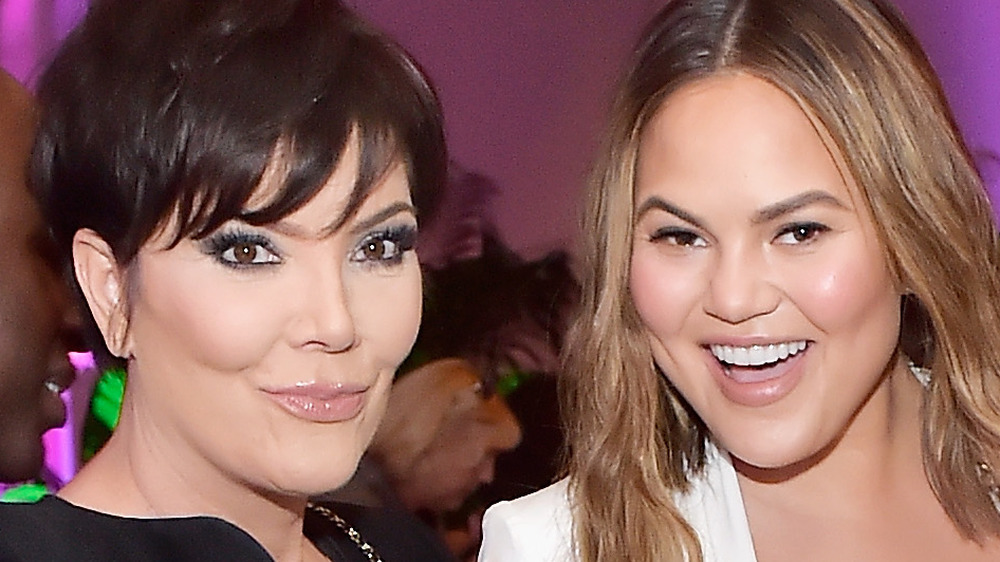 Stefanie Keenan/Getty Images
Kris Jenner always seems to have some sort of business trick up her sleeve, and her new collaboration with Chrissy Teigen has been making headlines ever since the power duo released a mysterious teaser video on Twitter on March 17. The video clip, which initially didn't give fans a clue about what Teigen and the momager's newest business venture would be, started out with text that reads, "Chrissy Teigen has the dream life, the dream home, the dream husband, but she still has one dream to chase," before cutting to a shot of Teigen saying, "For my next thing, I want some extra help from the branding master herself, Kris Jenner." The clip then cuts to a close-up of Kris Jenner, who slaps Teigen three times before the video abruptly ends, urging fans to "sign up for early access" for something called Safely.
The first teaser video for Safely actually received a bit of backlash from social media users who called out Chrissy Teigen and Kris Jenner for glorifying physical violence to promote their business, with one fan tweeting, "Love the collaboration between two awesome women but the slap in the video that reflects disrespect & abuse (whether intended funny or not) simply isn't setting an example of how people should be treating each other. Love you both and all you stand for but this doesn't sit easy."
Chrissy Teigen and Kris Jenner are releasing a line of plant-based products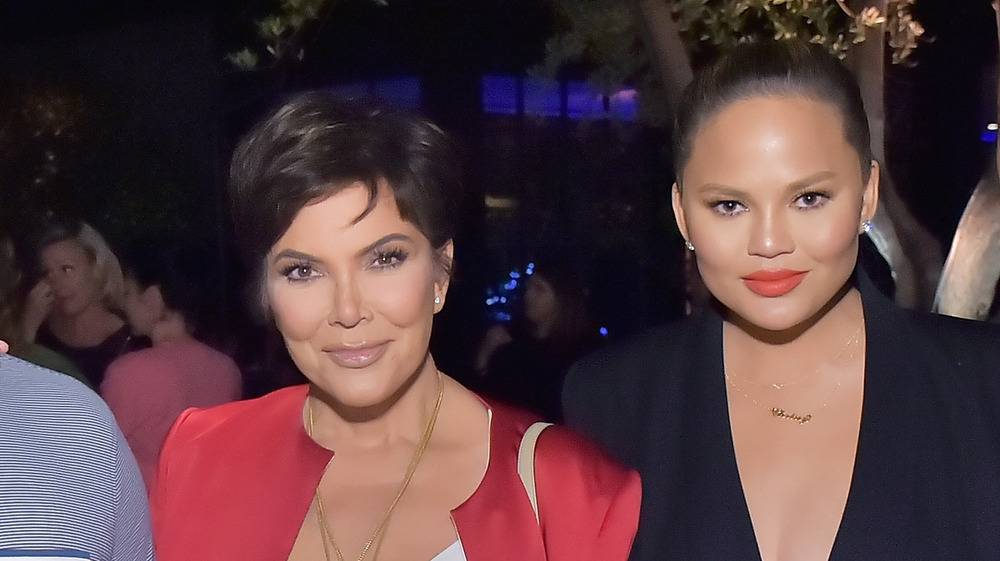 Stefanie Keenan/Getty Images
In an exclusive announcement via People, it was revealed that Chrissy Teigen, Kris Jenner, and Good American co-founder and CEO Emma Grede are teaming up to bring shoppers cleaning and self-care products that, according to a press release, are "dedicated to clean cleaning with natural aromatherapy scents." The plant-based brand is set to feature products like "hand cream, hand soap, hand sanitizer, glass cleaner, a universal cleaner, and more." However, it's important to note that prices have yet to be revealed, so fans have no clue whether this collection will fall into an affordable price range.
A tweet from the official Safely Twitter account also gave a little bit more info about the upcoming venture. "The secret's out!" the tweet reads. "Safely was created by two friends, @chrissyteigen & @krisjenner, who have two (very) different definitions of 'clean'. They both wanted the same thing: plant-powered formulas that are gentle, affordable, beautiful, and smell aaaamazing!"
You can join the Safely wait list prior to the company's official launch, which is on March 25.