The Real Meaning Of Meghan Markle's Crystal Necklace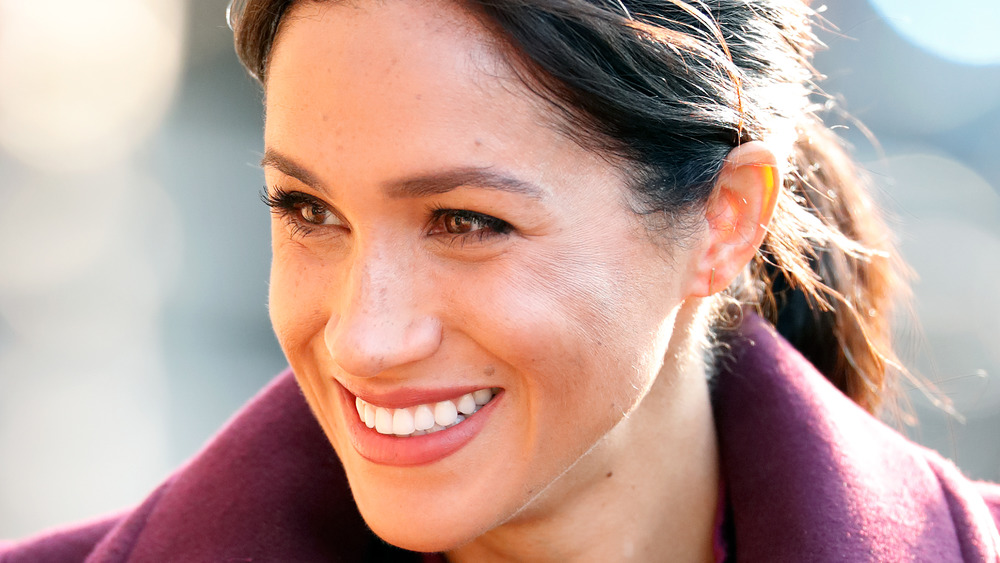 Max Mumby/indigo/Getty Images
Several days before making headlines worldwide with her Oprah Winfrey interview, Meghan Markle made a cameo on The Late Late Show With James Corden. Her husband, Prince Harry, was the main subject of the appearance, as he and Corden took a tour bus around Los Angeles as they chatted about The Crown and Archie's first word, among other things. (via Marie Claire UK).
Although Meghan didn't join the two for the tour, she popped up on FaceTime during the segment. As usual, she looked stunning in a blue dress paired with a blue stone necklace. The dress, designed by Velvet Torch, retails for an affordable $30 (via Page Six). The necklace, however, is far pricier at $1,295.
Per Page Six, Meghan's necklace is from the brand The Class, which was founded by her friend Taryn Toomey — and the stone has a powerful meaning that may be linked to her tell-all with Oprah.
Meghan Markle wore a lapis lazuli gemstone
According to its product description on The Class website, "Lapis lazuli aids in self-expression and revelation of one's inner truth ... This stone is widely regarded as a token of sincerity and wisdom — and is especially helpful to anyone in need of a boost in self-confidence and a stronger connection to their inner voice."
After reading this description, it's nearly impossible not to recall the moment Oprah asked Meghan if she was "silent or silenced" during her time in the royal family, to which she responded, "The latter."
As Page Six pointed out, this is hardly the only example of Meghan's jewelry having a deeper meaning than meets the eye. During her interview with Oprah, Meghan wore a diamond bracelet that belonged to her late mother-in-law, Princess Diana. "[Meghan and Harry] wanted to wear the bracelet to have [Harry's] mother there with them during the interview," their spokesperson told the Today show.
And, shortly before confirming to Oprah that they are indeed expecting a little girl, Meghan sparked speculation of the baby's gender when she wore a gorgeous pink sapphire ring during an appearance on Spotify's Stream On event (via Page Six).