The Poignant Meaning Of Vanessa Bryant's New Tattoo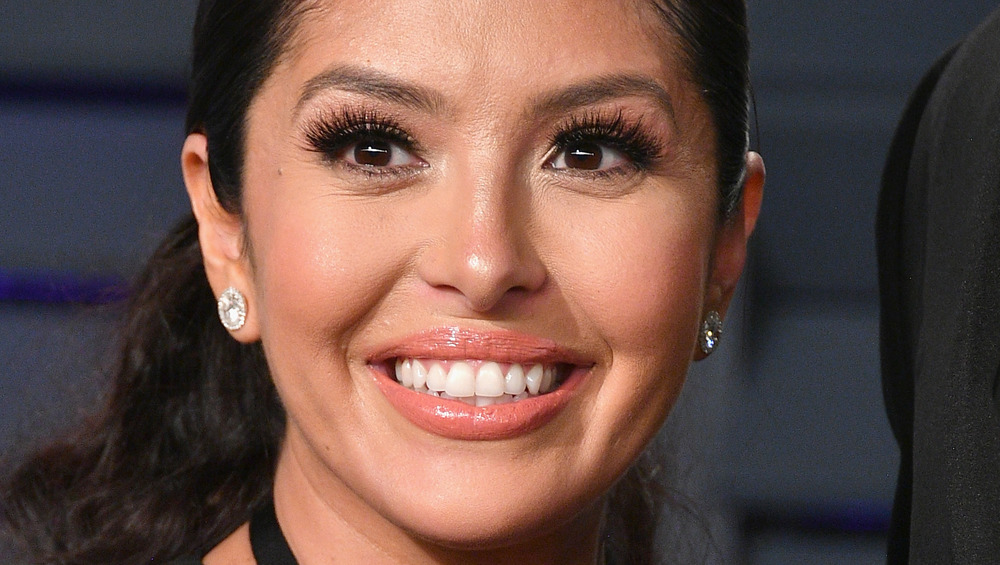 Dia Dipasupil/Getty Images
As anyone who has lost a loved one knows, the grief never fully goes away. For Vanessa Bryant, that's doubly true. A little over a year ago, she suffered the unimaginable when her husband, basketball legend Kobe Bryant, and their daughter Gianna were killed in a helicopter crash while on their way to a game (via CNN).  Since then, she and her three surviving children, Natalia, Bianka, and Capri, have done their best to uphold Kobe's and Gianna's legacy. Recently, 18-year-old Natalia signed with a modeling agency in pursuit of a longtime dream, which Vanessa said would have made her father "proud" (via People).
On Tuesday, Vanessa showed another way in which she's honoring her daughter's memory. With the help of tattoo artist Nikko Hurtado, she got a tattoo of the word "Mambacita" on her right arm. The name has a small heart over the "i" and a butterfly connected to the tail of the final "a." On her Instagram account, she showed photos and videos of the inking and the finished product. Deciding on the exact script font, she explained, took eight hours, while the tattooing itself was comparatively quick. 
"Mambacita" was the family nickname for Gianna. Her dad called himself "the Black Mamba" as a player to distinguish his on- and off-court personalities (via Business Insider), and Gianna took the feminine form when she began her own promising youth basketball career.
Vanessa Bryant has other memorial tattoos
This isn't the first time Vanessa Bryant has chosen ink to memorialize her loved ones. She has a wrist tattoo saying "My Gigi," and a neck and shoulder tat with a "sweet message" from Kobe (via The Sun). From another of her Instagram photos, it appears that her right foot also has the names of the entire family written in a line. 
In this most recent tattoo session, Natalia got in on the act, asking Hurtado for two designs. Vanessa posted a video of her giggling teen undergoing the procedures. One, written on her finger, is the simple word "Muse," which is the name of her father's 2015 documentary, plus another (as yet unidentified) tattoo on her wrist (via TMZ). Judging by the hashtag in Vanessa's caption of the video, it may say "MambaSheath."
Hurtado reposted the video of Vanessa, expressing his gratitude for the honor — and for the special Kobe sneakers he received as a bonus. "Thank you for trusting me with your tattoos," he wrote. "Always honored to tattoo you guys. Thank you for the amazing shoes."