Why The Internet Can't Stop Talking About This Miracle Foundation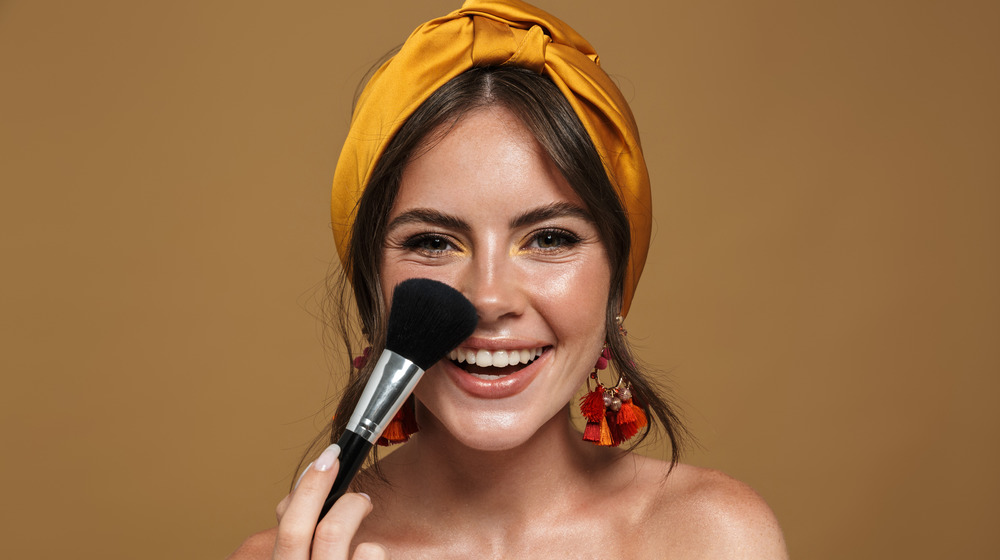 Shutterstock
When seeking a new foundation, all the endless options available to us can be more stressful than heartening. Even when we know our skin type and are pretty good at color matching, finding the perfect foundation can still often feel like seeking that needle in a haystack. So what are we makeup enthusists to do? Well, it's safe to say many of us rely fairly heavily on reviews from other beauty lovers; reading experiences of folks who have similar skin or similar tastes as we do can really help narrow down the options. 
One foundation that seems to have an overwhelming number of positive reviews everywhere we look is KVD Good Apple's cream foundation, the official name of which is Good Apple Skin-Perfecting Foundation Balm. KVD's website describes its much-beloved product as "fast, lightweight full coverage with a fresh matte finish" that never looks "flat." So what is it about this stuff that's caused it to be sold out in many shades and raved about all over the internet?   
Why all the rave reviews
According to Grazia, reasons TikTok beauty mavens are raving about this foundation abound; "KVD Beauty Foundation Balm is one of the best new products to land on my desk so far in 2021," says the publication's beauty writer Marisa Petrarca. "I could go on about this product for days on end, but the main reasons I'm so obsessed are that it's über-pigmented, yet buildable, natural-looking, and lightweight." She further gushed, "a little goes a long way, and it perfects my skin so well that I feel comfortable ditching concealer. Unlike so many full-coverage formulas, this balm melts into the skin in seconds without cakiness or heaviness. And the glow!"
Reviews on makeup-selling websites like Ulta echo these sentiments. On Ulta's website, shoppers have given this KVD foundation a glowing 4.3 star review, and customer are raving. One reviewer said, "Overall, this product is amazing! It applies like a buttery, smooth lip balm and gives that full coverage that so many of us desire." While another commented, "How do you like them apples?? I like them a lot!!!" People of all ages left positive reviews, including a woman in her forties who seemed extremely excited about her experience, saying, " I'm over 40 with redness, combo skin, and texture and this foundation covered it all. I used an It cosmetics foundation brush #77 to apply and it just glided on like butter. It sets down to a powder like finish," which, incidentally, is exactly what KVD promises it will do.