The Secret About Say Yes To The Dress You Weren't Supposed To Know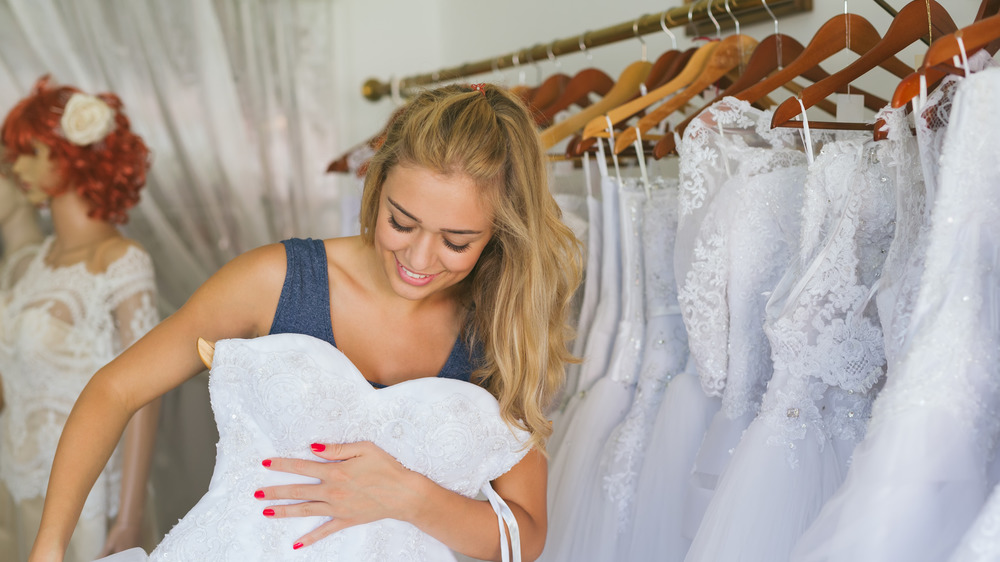 Shutterstock
Say Yes to the Dress invites fans into the process of a bride finding her dream wedding dress. Taking place inside Kleinfeld Bridal in New York City, the show features different brides trying on gowns and ultimately, saying yes to the dress. Each episode is unique, showcasing brides looking for everything from a black gown to over-the-top bling. And with 244 episodes under their belt, the TLC series is very clearly a hit (via TLC).
Throughout the years, brides and their entourages have spilled secrets after their 15-minutes of fame aired on the show. Some of the most shocking secrets have been the fact that filming an appointment that will be featured on the show can take up to 10 hours — a stunning amount of time for what would normally take less than two hours (via Good Housekeeping). We've also discovered that brides try on a limited number of dresses and ones that do not get a reaction are often cut during production (via Buzzfeed).
One SYTTD secret you weren't supposed to find out
While behind-the-scenes secrets have been exposed many times, there is one secret production hoped fans wouldn't find out — and that's the staging. A confession to Buzzfeed clued fans in on the idea that the bridal consultants may not be as all-knowing as they want you to believe. "I was part of an entourage in Say Yes to the Dress: Atlanta. My friend actually loved the first dress she tried on, which she picked herself," the anonymous tipster said. "But it was edited so that Lori came in to save the day with the perfect dress after a day of trying on duds."
Even with some slight staging and insider knowledge, the show is still pretty real. The girls featured on the show are actual brides with planned upcoming weddings and they are picked by thousands of applicants to ensure this is the case. "The production company very carefully vets the bride because everybody wants to be on the show," Randy Fenoli, former Fashion Director at Kleinfeld who still stars on the show, told Good Housekeeping. "We have to make sure this is really a bride who is really getting married with a real story and not just somebody who wants to be on TV."