Inside Jessica Walter's Relationship With Her Husband, Actor Ron Leibman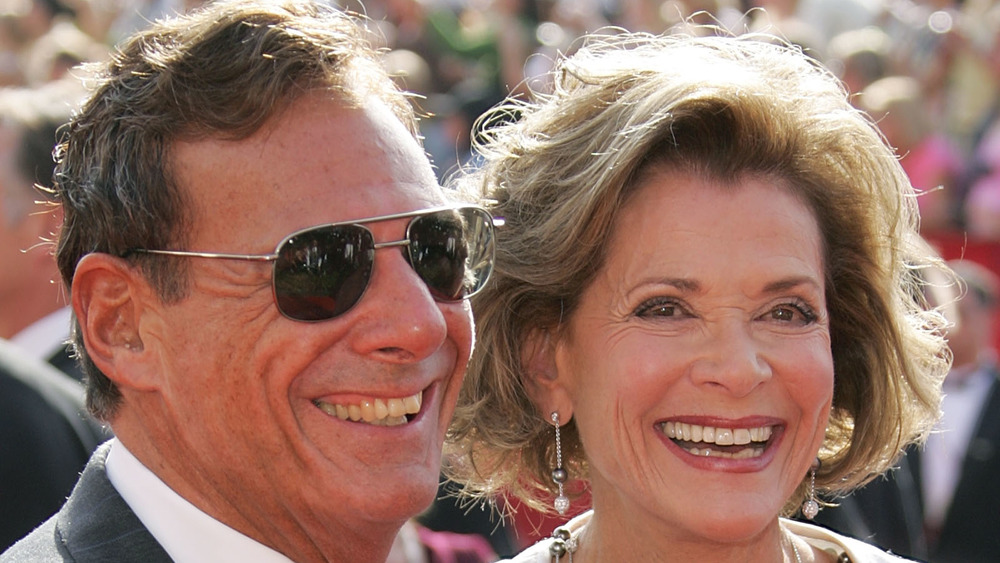 Frazer Harrison/Getty Images
Actress Jessica Walter, who just died today at the age of 80 (via Deadline), was one of those rare Hollywood types in that she and her husband, actor Ron Liebman, actually did stay together till death did them part. Liebman died in 2019 (via CBS New York). According to People, the couple owed their long and happy relationship to an Italian-American yenta, a Chinese restaurant, and one heck of a "kissarooni," as Liebman described it.
The couple, both divorced (she from Broadway stage manager Ross Bowman, he from former '70s sitcom star Linda Lavin) when they met in 1982 at the house of Brenda Vaccaro (she played Joey's mom on Friends). While Liebman was initially reluctant to date another actress after the failure of his previous marriage, Vaccaro pushed until the couple-to-be agreed to go on that first date. They shared a plate of egg rolls, things went well (evidently they didn't fall out over debating hot mustard vs. duck sauce), the date ended in a liplock, and a year later the two were saying "I do." While a mutual friend of theirs expressed skepticism that the "two very dominant, very volatile personalities" would be able to go the distance, they proved him wrong. Liebman made a "funny, generous and loving" stepdad to Walters' daughter Brooke, and the twosome even came to terms with their differing geographical preferences. While she favored the West Coast and he preferred the East, they went wherever their work took them.
They acted together in Archer
The couple's career paths seldom crossed for the first few decades of their marriage. He had recurring roles, some larger than others, on TV shows including Pacific Station, C.P.W., Law & Order: SVU, Holding the Baby, Friends, and The Sopranos (via IMDb), while some of her more memorable roles were in Dinosaurs, Coach, 90210, and Arrested Development (via IMDb). Toward the end of their long and very busy careers, though, the two finally acted together in the animated FX spy spoof Archer.
On the show, Walter played the hard-drinking spymaster (and spy mother) Malory Archer, while Liebman was Ron Cadillac, an aptonymically-correct used car dealer she married in season 4. While Liebman (or his voice) only appeared in 9 episodes of the show, the last one in 2016, the second episode of Season 11 displayed a placard reading "In Loving Memory of Ron Leibman" after his 2019 death (via Newsweek). Sadly, it seems that Season 12 may now feature a similar tribute to Walter.