Joe Biden's Body Language During His First Press Conference Says A Lot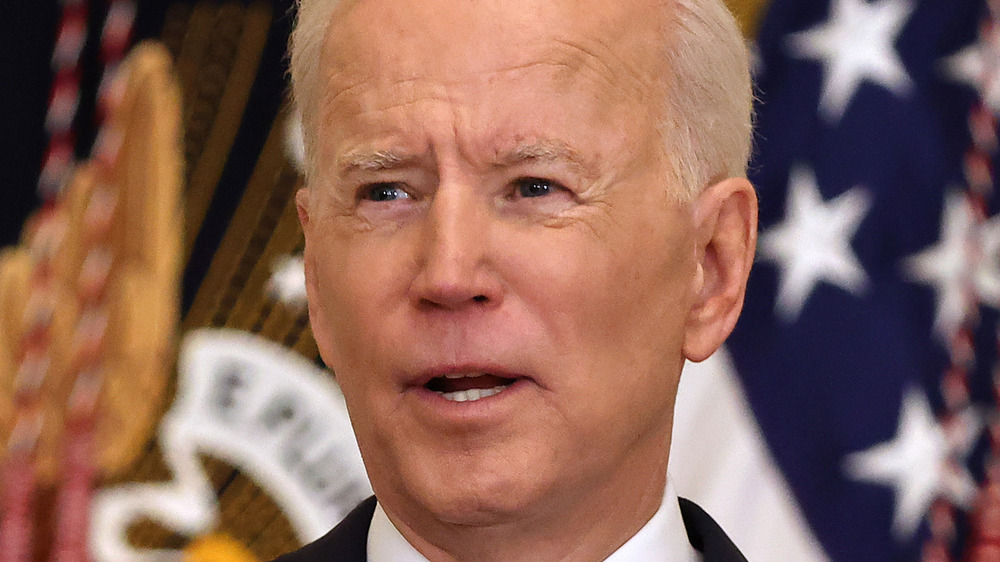 Chip Somodevilla/Getty Images
President Joe Biden may have waited a bit longer to engage the press in a formal press conference, but when he did, he was ready for action. At least, that's what body language expert and psychologist, Dr. Reneé Carr, who is also a political and corporate advisor at The Problem Solver, exclusively tells The List. In her eyes, the president was forceful and focused as he tackled two of the topics that emerged during the formal press briefing: immigration and gun control.
Carr says the president began in a forceful way, and that he was focused and ready to give the updates regarding his first 100 days progress. He did not begin by smiling or making social pleasantries. "Instead, he took off his mask, arranged his papers, and informed us that he wanted to promptly begin," Carr says. He was especially proud of the administration's ability to meet its vaccine promise, because, as Carr puts it, Biden was "leaning forward, standing on the balls of his feet, and straight shoulders; subconsciously emphasizing his pride in making a great achievement."
He even had time to take a dig at his predecessor, because as Carr points out, when Biden says he was "elected to solve problems" she saw it as "a personal jab at the former President Trump to emphasize that Biden was "elected."
Joe Biden was 'assertive,' says body language expert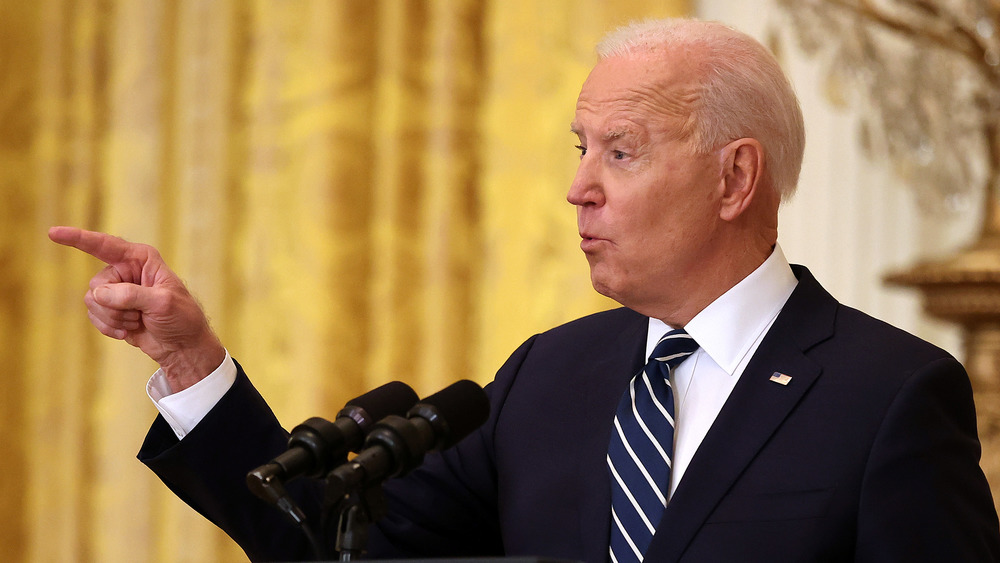 Chip Somodevilla/Getty Images
While Biden's critics went on social media to say, "Biden was in bad shape," and that it was "actually pretty sad to see him like that" (via Twitter), Carr actually tells The List that she saw the opposite. "Biden was assertive and looked the reporter straight into his eyes. He explained that he kept his campaign promise of focusing on the most pertinent issues facing our country at the time of the election — COVID-19 and restoring the peace of mind of Americans." But she also noted that Biden was not in a comfortable place, because he needed to keep "folding a piece of paper and look down to keep his voice steady and void of emotion, Carr says. 
She points out that the president was equally forceful when it came to talking about unaccompanied minors at the border. "He used his right pointer finger and emphasized that "Its important to understand" but was also respectful in verbally adding, " ... I know you understand. I don't mean to say it that way," she says.
Joe Biden was 'irritated' when asked about re-election, says body language expert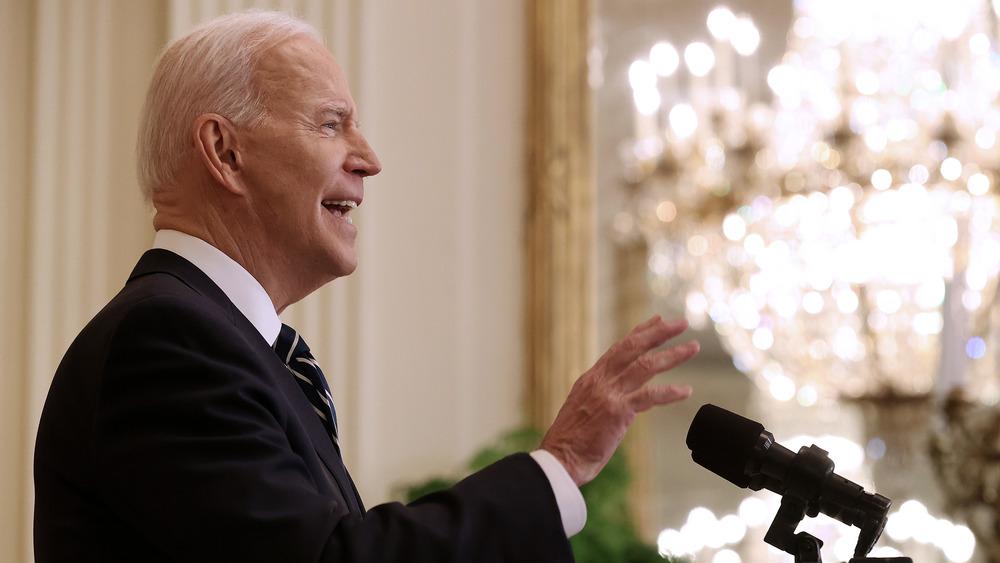 Chip Somodevilla/Getty Images
But it wasn't all hunky-dory because the president was clearly bothered when he was asked about his future plans involving a potential re-election campaign. It was then that Biden "was irritated with being forced to answer that question. He deeply breathed and sighed, "Come on man ... " And looked up and back and forth as if he were "'looking' for the most appropriate words."
She adds that "by replying, 'planning four years from now,' it is also clear that he was insulted by the question and found it trivial in that he is focusing on completing the most pressing problems during his first 100 days, yet is being pinpointed to identify his running mate in 2024."
Biden's answer veers slightly from his original position, because he had originally told donors last year that he was looking to be a transition candidate. But that appeared to also change, when he said he saw himself serving for eight years. The president made it clear that as "a respecter of fate," he wasn't preparing for an election that was several years way (via CBS News).