Inside The Life Of The Late Food Network Star Carl Ruiz
Food, fun, and friends. That could be the best way to describe Carl Ruiz. The larger-than-life celebrity chef was a popular staple on many Food Network shows as well as a name in the restaurant world. His untimely passing at the age of 44 shocked colleagues and fans alike. Here's an inside look at the life of the late Food Network star Carl Ruiz.
Ruiz was a frequent figure on the Food Network scene. He often appeared on Diners, Drive-Ins, and Dives, hosted by fellow celebrity chef Guy Fieri. Fieri and Ruiz shared a fond friendship, with Ruiz often appearing as a guest judge on Guy's Grocery Games as well (via Deadline).
In addition to his Food Network gigs, Ruiz was also the executive chef at Sabor in North Bergen, New Jersey, and at Cuban Pete's in Montclair (via The New York Times). A deli-style restaurant, Marie's Italian Specialties, which he ran with his then-wife, Marie, was another stand-out on Ruiz's culinary resume.
Carl Ruiz credited his mom and grandmother with his passion for food. "My mom and my grandmother are culinary artists in their own way, even if they don't have a degree," said Ruiz. "They had a real amazing talent" (via the Times).
Here's how Carl Ruiz died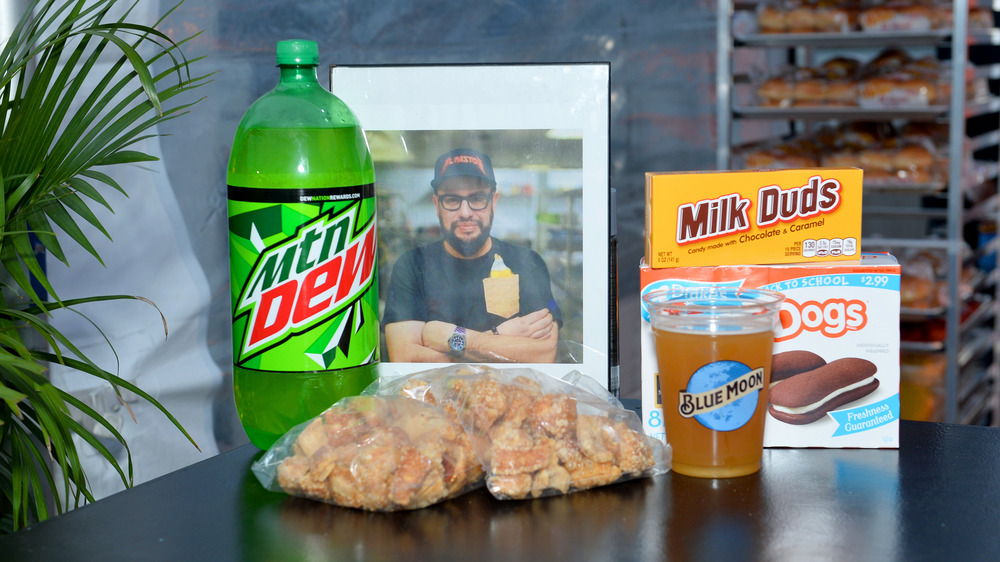 Noam Galai/Getty Images
Under his Instagram name saborchef (meaning "flavorful chef"), Carl Ruiz was humble about his successes. He wrote, "Dishwasher. Foodnetwork. Won some Awards. Didn't deserve most of them." But he did. Before his death, Ruiz had opened his latest restaurant, La Cubana, in New York City. Ruiz, who was also Cuban, enjoyed paying homage to his Cuban roots (Ruiz was half Cuban, half Colombian (via E!). The restaurant continues to post images of its late executive chef, again with the hashtag "ruizing" (via Instagram). The popular hashtag was a term that Ruiz's fans created that meant eating and drinking as often as possible at dive bars, and just living life to the fullest (via CBS News).
Carl Ruiz died on Sept. 21, 2019, having passed away in his sleep. Bruce Goldfarb, an assistant to the Maryland Department of Health's chief medical examiner, determined that the cause of death was atherosclerotic cardiovascular disease (via Today). This happens when fat, cholesterol, calcium, cellular waste products, and fibrin (a clotting material) build up in your arteries, narrowing the channel for blood flow (via the American Heart Association). Since it reduces or potentially blocks an artery, it can cause a heart attack or stroke.
Good food and fun will be what Ruiz is remembered for. In fact, his last Instagram post features an image of a plate of food. Ruiz captioned it: "Delicious Crab Cakes with collard greens and red beans and rice." Then, he wrote, simply, "Heaven."