Madonna's Latest Photos Are Raising Eyebrows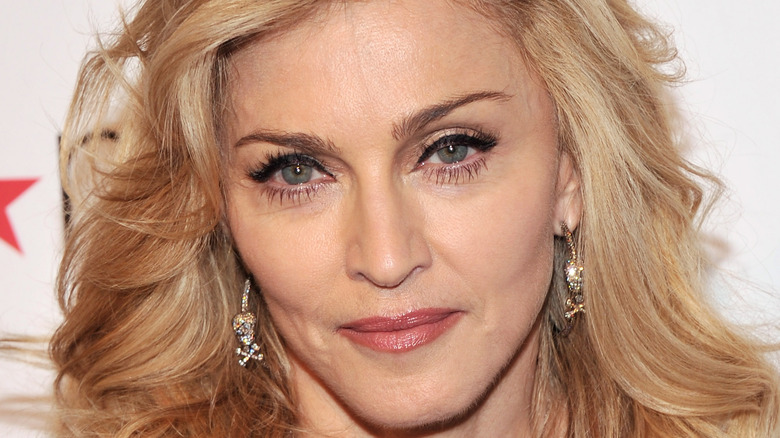 Stephen Lovekin/Getty Images
Throughout her many years on the throne, the undisputed Queen of Pop Madonna has been known to raise a few eyebrows from time to time. And, in a racy new Instagram update posted on Sunday, March 28, the "Hung Up" singer proved once again she still has what it takes to shock even the most diehard fans.
Alongside a caption that reads, "And now for a moment of self reflection ... Madame X," the Grammy Award winner leaves little to the imagination and is dressed in nothing but bondage-style underwear and a chunky gold necklace. In true Madonna style, the social media post sparked a wave of reaction online, with the likes of Snoop Dogg, Kelly Ripa, and more sharing their admiration of the 62-year-old. 
Her recent post may have been in reference to Madonna's forthcoming documentary special, which is expected to arrive on Netflix later this year. As The Sun reports, the hotly anticipated film will include behind-the-scenes clips from her most recent Madame X tour and footage from Madonna's hectic day-to-day life. 
Madonna's photos sparked lots of reactions
Teasing what fans can expect from Madonna's upcoming Netflix release, a source revealed that the "Express Yourself" performer had put "blood, sweat and tears" into her most recent tour, and she hopes this documentary will accurately depict "the spectacle" the show really was. "She's never been the type to fade into the background, so viewers will definitely get to witness her dry sense of humor," the source revealed to The Sun, adding, "She has spent weeks watching previews and helping to edit the footage at home in the US and is very hands-on with it."
The Netflix special will arrive 30 years after the release of the singer's groundbreaking "Truth Or Dare" concert film, which centered on Madonna's Blonde Ambition tour in the early 1990s (via Metro). Elsewhere, she is also gearing up for production on her self-directed big-screen biopic. As the Daily Mail reports, the film's script has been co-written in collaboration with Oscar-winning screenwriter Diablo Cody of "Juno" fame and is expected to be released under Universal Pictures. 
On Twitter, where Madonna shared the same photos, social media users responded in droves. "Imagine being this confident, youthful and so in touch with yourself at 62," tweeted one fan, while another Twitter user wrote, "Always bold! Always beautiful!" Of course, there were some less-than-enthusiastic reactions, as one person tweeted, "I think she's told old for that kind of pictures. she did all that years ago a repetition."