Here's Why Grandpa Monster Has Masked Singer Fans Seeing Red
It was the reveal seen around the country and it has several fans of The Masked Singer reeling.
Contestant Grandpa Monster was eliminated last night from the fifth season of The Masked Singer and the singer behind the mask ended up being controversial YouTube star Logan Paul.
"I can barely sing, I've never performed in this way, let alone adding dancing to this," Paul told Variety, explaining what it was like to prepare for the show. "This is a nightmare. And it was at first, until I crossed that hump and really started falling in love with the show." Logan went on to say, "I was stumped at the feedback and how many people did not guess me ... I was like, my voice is so identifiable, there are so many clips of me screaming, yelling, singing online."
A few days ago, we previously guessed Grandpa Monster was Johnny Knoxville from the MTV show Jackass, based on Grandpa Monster's reference to his "troublemaking" past in his clue package. Panelist Nicole Scherzinger had the closest guess of who Grandpa Monster was before the reveal, guessing Logan's brother Jake Paul.
In hindsight, the troublemaker clue makes perfect sense. Logan Paul has been embroiled in several controversies across the globe. 
Why the man behind the mask is controversial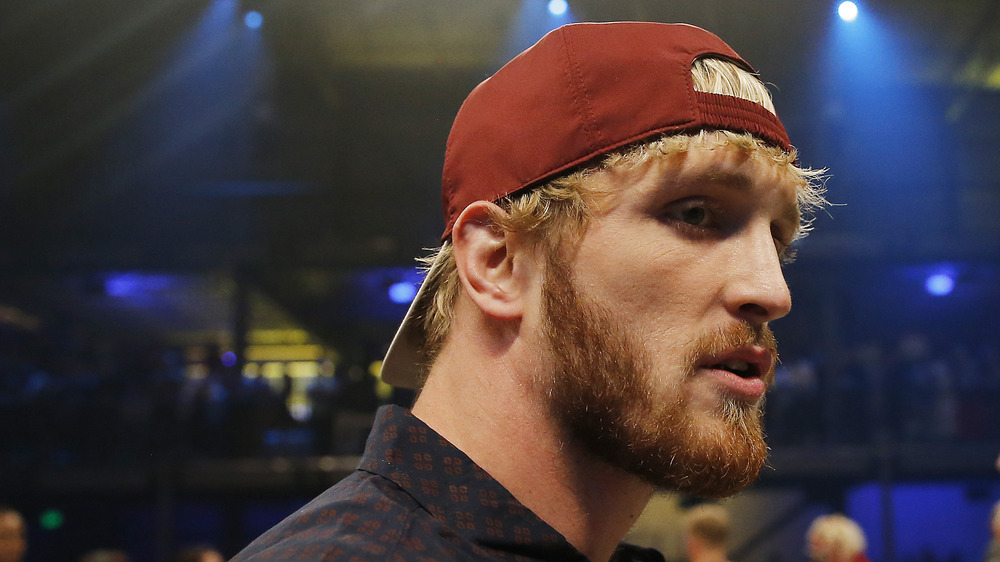 Michael Reaves/Getty Images
After removing his mask and revealing his identity, Logan Paul claimed (via Daily Mail) "I'm reformed." Not everyone is convinced; Paul has a long list of controversies from being accused of mistreating his staffers to allegedly abusing his pet Pomeranian in a risky stunt video.
His most questionable action was filming a corpse for a YouTube video in Aokigahara Forest near Mt. Fuji in Japan, which has been the site of several suicides. Paul ventured off the marked path in the forest and into a restricted area, where he filmed a corpse he found. Although he introduced his video with a graphic warning, the video's thumbnail already showed the corpse hanging from a tree with only the face blurred. He was also seen laughing with his friends in the video.
He has also been accused of covering a song and adding sexist song lyrics to the cover, without notifying the original band.
Now that Grandpa Monster has been eliminated, Wildcard contestant Crab will now be taking his spot in Group B. Before he left, Paul gave his best wishes to fellow contestant Black Swan and said, "Singing is so scary for me. And being in this costume, ironically, as restrictive as it is, you feel so free in here."
This isn't the first time a contestant's elimination angered fans. Last season's elimination of the Seahorse received negative feedback, but for other reasons. Fans were upset to see the eliminated contestant was talented, two-time Grammy winner, Tori Kelly.