How Jill Biden Just Pranked Everyone On Air Force One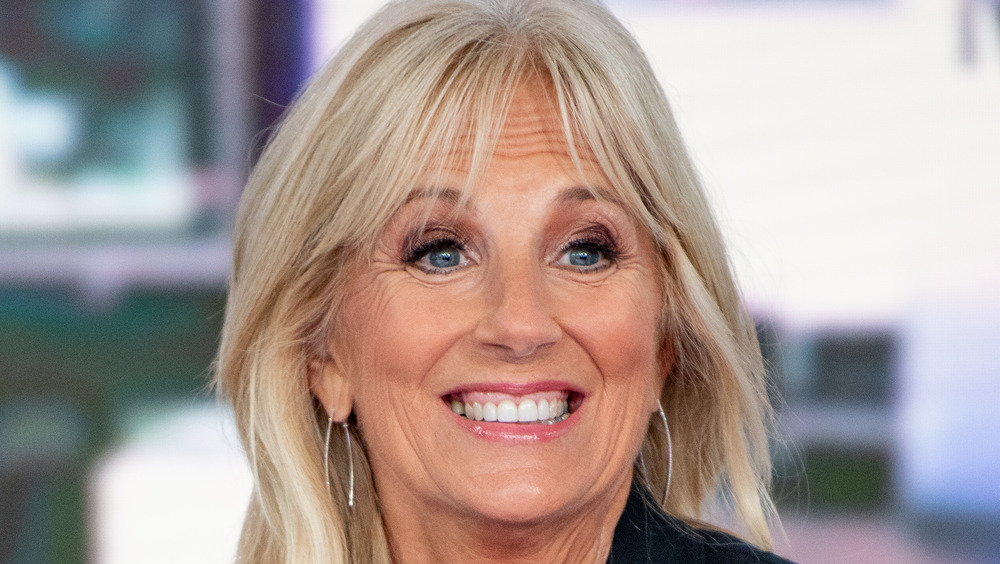 Roy Rochlin/Getty Images
First lady of the United States Jill Biden pulled off the ultimate April Fool's Day prank on board Air Force One. As NBC News reports, the light-hearted prank took place during a flight back to Washington from California, where the first lady had met with farm workers and visited a vaccination site. 
Dressed up as a flight attendant and wearing a short black wig, Jill passed out ice cream bars to passengers during the flight's meal service. However, with a "Jasmine" name tag, Biden went completely unnoticed. Moments later, the first lady removed her black wig and revealed her true identity while proclaiming "April Fools!" to the rest of the cabin. 
As Forbes reports, Jill, who had also been wearing a black face mask at the time, managed to not just fool the media on board Air Force One, but also Biden staffers including Anthony Bernal and Michael LaRosa. And, according to Daily Mail reporter Emily Goodin, the first lady was laughing and "visibly pleased with her prank."
Jill Biden is known for her April Fool's Day pranks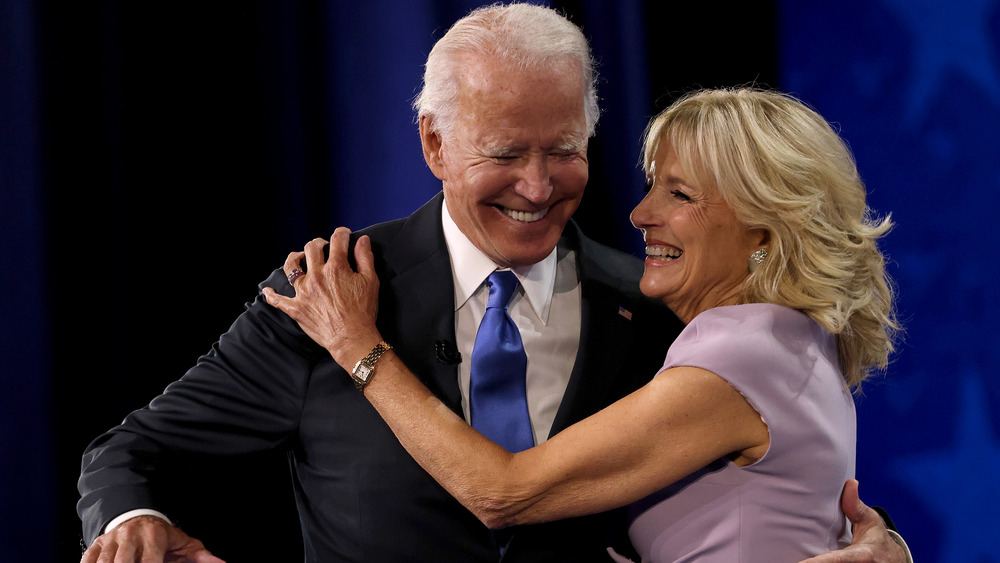 Win Mcnamee/Getty Images
Per the Independent, Jill Biden previously revealed her love of pranks in her 2019 memoir Where the Light Enters. In the book, she recalled one practical joke in particular when she hid in an overhead bin on board Air Force Two to frighten her husband President Joe Biden, who at the time was serving as Vice President under Barack Obama. "I've always believed you've got to steal the joyful moments when you can," she wrote.
Speaking back in 2014, President Biden shared details of the prank in question, revealing that April Fool's Day is "like a tradition" within Jill's family (via HuffPost). "What I worry about when I wake up on April Fool's Day is, 'what in the hell is Jill gonna do this time?'" Biden said at the time. 
"One April Fool's Day... we get in Air Force Two, we're flying and I'm saying, 'where the hell is Jill?'" Biden continued, "And I open up the baggage compartment on top, above, you know? And she jumps out of the compartment. This is the second lady of the United States of America jumping out of the overhead baggage compartment." Years later, it seems that the more things change, the more they stay the same.